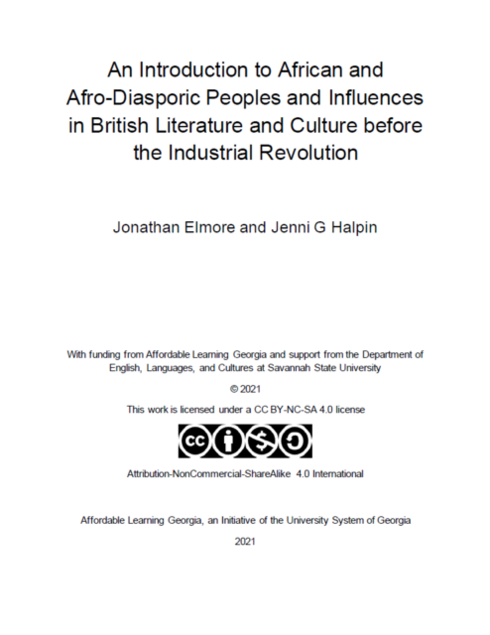 An Introduction to African and Afro-Diasporic Peoples and Influences in British Literature and Culture before the Industrial Revolution
Jonathan Elmore
Jenni Halpin
Copyright Year: 2021
Publisher: University System of Georgia
Language: English
Reviews
Reviewed by Susan Carlson, Professor of English, Pittsburg State University on 1/18/23
The book provides excellent references to scholarly articles, books and primary sources on the creative work and life experiences of Black British people in England. It would be helpful to add a chronological list of Black British poets and... read more
Reviewed by Susan Carlson, Professor of English, Pittsburg State University on 1/18/23
Comprehensiveness rating: 4 see less
The book provides excellent references to scholarly articles, books and primary sources on the creative work and life experiences of Black British people in England. It would be helpful to add a chronological list of Black British poets and writers. This would help professors, who often didn't have this information in their graduate training, to add these writers to their British surveys, undergraduate and graduate courses.
Content Accuracy rating: 5
Although I don't have the expertise to judge the accuracy of the work, the text seems very accurate, and information is consistently attributed to scholarly sources.
Relevance/Longevity rating: 5
The book is very relevant and necessary, especially since the British literary canon is far less diverse than the traditional works taught in American Literature. The text is designed so it can be updated fairly easily. .
Clarity rating: 4
The language is pretty clear, though the style can be a little convoluted at times. It would also have been helpful if historical terms like the "Windrush Generation" were defined when they were first introduced in the text.
Consistency rating: 5
Terminology is used consistently throughout the text.
Modularity rating: 4
The book is very helpful for English professors who teach British Literature; it provides a good summary of the major themes in Black British literature. The long sections of text, however, may make this book difficult for an undergraduate to read, especially an undergraduate in an introductory survey course.
Organization/Structure/Flow rating: 4
The text seems well organized. It is especially useful to have a Selected Bibliography and sometimes Suggested Further Reading Section after each chapter of the text. I especially liked the interviews with scholars, since these interviews were consistently lively, insightful, and interesting to read.
Interface rating: 5
The book was easy to follow.
Grammatical Errors rating: 5
The text did not seem to have any grammatical errors.
Cultural Relevance rating: 5
The text included a variety of races, ethnicities and backgrounds, and also included consistent discussions of the interplay of race and class.
Comments
This book was very informative and helpful.
Table of Contents
Reclamations Following a History of Exclusion

Imagining Africa: Entrenching Stereotypes

Race and Religion

Constructions of Race in Britain

An Interview with Josie Gill

An Interview with Angela F. Jacobs

An Interview with Miranda Kaufmann

An Interview with Onyeka Nubia

Brief Biographies of Black People in Britain
About the Book
Funded by the University System of Georgia's "Affordable Learning Georgia" initiative, An Introduction to African and Afro-Diasporic Peoples and Influences in British Literature and Culture before the Industrial Revolution corrects, expands, and celebrates the presence of the African Diaspora in the study of British Literature, undoing some of the anti-Black history of British studies.
About the Contributors
Authors
Jonathan Elmore
Jenni Halpin