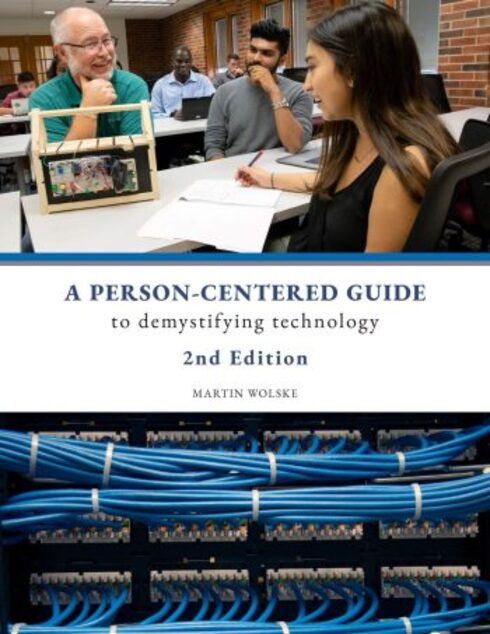 A Person-Centered Guide to Demystifying Technology: Working together to observe, question, design, prototype, and implement/reject technology in support of people's valued beings and doings - 2nd Edition
No ratings
Martin Wolske, University of Illinois at Urbana Champaign
Copyright Year: 2023
ISBN 13: 9781946011138
Publisher: University of Illinois Library - Urbana
Language: English
Table of Contents
Introduction to the Book

Orange Unit: A Person-Centered Launch

1A: Information Systems

1B: Introduction to Electronic Circuits

2A: Critical Social + Technical Perspective

2B: Electronic Components in Series

3A: The Unknown Tech Innovators

3B: Computer Building Blocks

4A: Storytelling in the Information Sciences

4B: Meet the Microcomputer

4C: Getting Started with the Raspberry Pi

4D: Coding Electronics

Orange Unit Review

Blue Unit: Computational Tinkering

1A: The Logic of Hardware and Programming

1B: Essential Coding Concepts

2A: The Methodological Landscape

2B: Make Music with Code

3A: Valued, Inclusive Information and Computing Technology Experiences

3B: Build Functions for Remixable Code

4A: Sharing Our Counterstories

4B: Raspberry Pi Counterstory Little Free Library

Blue Unit Review

REMIX: Ideating and Iterating Code: Scratch Example

Rainbow Unit: Networks Big and Small

1A: Programmable Electronics, Smart Technology, and the Internet of Things

1B: Connecting Our Electronic 'Thing' to a Wider World

2A: Digital Internets, Past and Present

2B: The Infrastructure of the Internet

3A: The Digitization of Divides

3B: A Person-Centered Network Information System Adventure

4A: Recovering Community: Designing for Social Justice

4B: Community-Centered Design: An Emergent Strategy for Community Organizing and Action

Rainbow Unit Review

Introducing the Unix Command Line

Raspberry Pi Networking 1010

Network Troubleshooting

Security and Privacy

Glossary

Bibliography
About the Book
Digital technologies old and new are not objects that can be packed inside a box. They are a seamless, indivisible combination of people, organizations, policies, economies, histories, cultures, knowledge, and material things that are continuously shaped and reshaped. Every one of us innovates-in-use our everyday technologies; we just do not always know it. We are shaped by the networked information tools in our midst, and we shape them and thereby shape others. While many of the chapters in this book can be approached as standalone explorations, as many around the world have done, its full potential comes when collaboratively taken as a journey through twelve sessions. Each session in this second, revised edition includes two thematically linked chapters, one more socially oriented and one more technically oriented. Sessions are brought together into three larger generative themes that are built from three decades of participatory design in and with community, and from the teaching of these concepts and practices in courses and workshops. Approached within a community of practice, learning outcomes include discovering ways to advance power, both power within and power with others; advancing our technical skills, but also and even more, our progressive community engagement skills, our critical sociotechnical skills, and our cognitive, information, and social-emotional skills; and progressing our culturally competent collective leadership through social justice storytelling within a framing of reciprocity. In so doing, this textbook seeks to address the call placed by the Rev. Dr. Martin Luther King, Jr. – to rapidly shift from a 'thing-oriented' society to a 'person-oriented' society.
About the Contributors
Author
Martin Wolske is a teaching assistant professor in the School of Information Sciences. His teaching and research seek to foster a rapid shift from a 'thing-orientation' to a 'person-orientation' using problem-posing education, participatory research and community-led design justice approaches. All aspects of his work have sought to integrate critically-engaged forms of community-engaged activities and scholarship to foster co-creation of knowledge that is reciprocal and of mutual benefit. Since coming to the iSchool @ Illinois in 1995 to work on issues of digital access and equity, he has served a range of boundary spanning roles facilitating community inquiry through collective leadership, shepherding community informatics projects to advance individual agency in overcoming limit-situations, developing innovative technical resources, and advocating system change. Key roles have included serving as interim director of the Center for Digital Inclusion and director of Prairienet Community Network, and as principal investigator or co-principal on a number of grants related to digital inclusion and digital literacy that have received funding through the Department of Commerce and Economic Opportunity, the American Library Association, and the Institute of Museum and Library Services. He is a member of the editorial board of the Journal of Community Informatics, a member of the Community Informatics Research Network conference committee, and is the recipient of numerous community awards for service; the Library Journal 's 2011 Teacher of the Year award; the 2013 University of Illinois Campus Award for Excellence in Public Engagement; and the 2017 iSchool Alumni Association Distinguished Service Award.