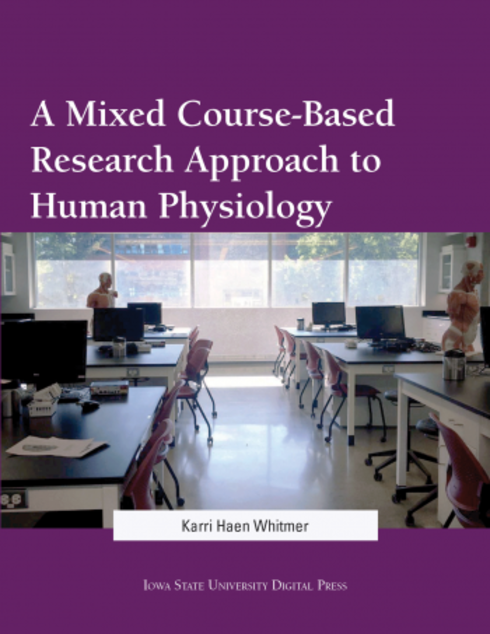 A Mixed Course-Based Research Approach to Human Physiology
Karri Haen Whitmer, Iowa State University
Copyright Year: 2021
Publisher: Iowa State University
Language: English
Reviews
Reviewed by Jade Bender-Burnett, Assistant Professor, Marymount University on 4/15/21
The text covers a wide array of human physiology with an emphasis on the foundational manual skills required to conduct physiology research in humans. read more
Reviewed by Jade Bender-Burnett, Assistant Professor, Marymount University on 4/15/21
Comprehensiveness rating: 4 see less
The text covers a wide array of human physiology with an emphasis on the foundational manual skills required to conduct physiology research in humans.
Content Accuracy rating: 5
The book is accurate in its depiction of human physiology based content.
Relevance/Longevity rating: 3
The text is dependent on integration with specific software (iWorx for use with LabScribe software) which is likely extremely helpful for the students in Biology 256 Fundamentals of Human Physiology Laboratory; however, this does limit the use of the manual to other populations/audiences.
Clarity rating: 4
The manual is clear provides adequate context without the use of jargon. There is content specific to software applications which may be confusing/unnecessary for individuals not familiar with or using the specific software integrated.
Consistency rating: 5
The text is consistent in terms of terminology and framework.
Modularity rating: 3
The text is easily digested in modules with clear headers and section divisions. The text can be easily reorganized and realigned as necessary, after removal/editing of software specific content.
Organization/Structure/Flow rating: 3
Organization would be better if content sections were organized by system.
Interface rating: 5
The text is free of interface issues, all links are in working order and images/charts are clear.
Grammatical Errors rating: 5
The text is free of grammatical errors.
Cultural Relevance rating: 5
The text is not insensitive or offensive. Given the content included and lack of case examples; there is no specific inclusion/exclusion of race, ethnicity or background.
Comments
The text is organized in a manner that is likely conducive to the students registered in Biol 256. Given the specific assignments/week/software integrated into the text; it doesn't have much extensibility to other audiences for use as a learning resource.
Table of Contents
Safety and Compliance in the Human Physiology Laboratory
Scientific Methods and Human Subjects Research
Conducting Background Research in the Sciences
Clinical Techniques: Assessment of Vital Signs
Introduction to Data Acquisition in Human Physiology
Molecules of Life: The Central Dogma and RNA Vaccines
Properties of Blood as a Buffer and Blood Glucose
Body Temperature Homeostasis
Clinical Techniques: The Neurological Assessment
Patellar and Achilles Reflexes
Human Nerve Conduction Velocity (NCV)
Auditory and Visual Pathways
Voluntary Muscle Activity
Assessment of Cardiovascular Function
Assessment of Pulmonary Function
The Electrooculogram
About the Book
The Biology 256 Laboratory course was designed to provide students with hands-on access to modern techniques in human physiological analyses using the course-based research pedagogical approach. In this course, students will learn how to perform literature searches; generate research questions and hypotheses; design experiments; collect, analyze, visualize and interpret data; and present scientific findings to others. The Biol 256L curriculum offers a high-impact human physiology experience that fosters the critical thinking skills required to be a successful citizen in a modern world filled with misinformation.
About the Contributors
Author
Karri Haen Whitmer, Iowa State University