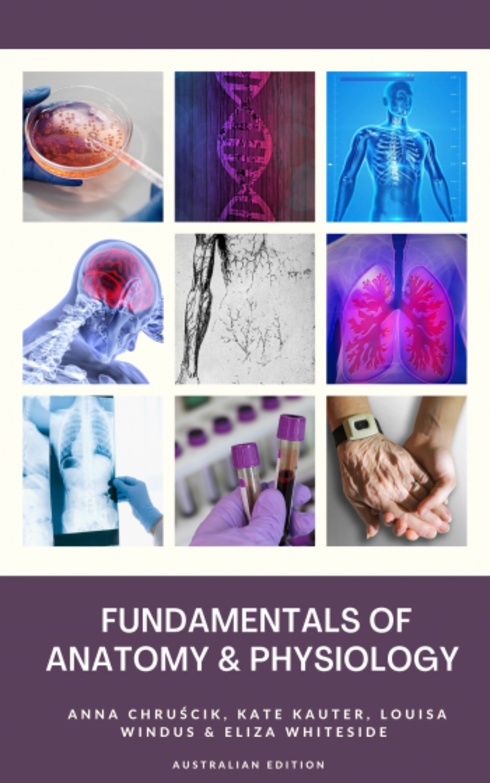 Fundamentals of Anatomy and Physiology - Australian Edition
Anna Chruścik, University of Southern Queensland, Springfield
Kate Kauter, University of Southern Queensland
Eliza Whiteside, University of Southern Queensland, Toowoomba
Louisa Windus, University of Southern Queensland
Copyright Year: 2021
ISBN 13: 9780648769859
Publisher: University of Southern Queensland
Language: English
Table of Contents
I. Levels of Organisation, Homeostasis and Nomenclature
II. Cells and Reproduction
III. Tissues, Organs, Systems
IV. Integumentary System
V. Blood
VI. Cardiovascular System
VII. Lymphatic System and Immunity
VIII. Respiratory System
IX. Muscle System
X. Skeletal System
XI. Musculoskeletal System
XII. Digestive System
XIII. Nervous System
XIV. Endocrine System
XV. Reproductive System
XVI. Pregnancy and Human Development
XVII. Urinary System
About the Book
The University of Southern Queensland (USQ) is committed to advancing the use of open textbooks in higher education. This textbook is a tool to support first year anatomy and physiology courses taught in Australia, aiming to provide students with an increased access to free, high-quality learning materials.
The material in this textbook is largely based on OpenStax's Anatomy & Physiology textbook, however, has been modified for Australian course curriculum.
About the Contributors
Authors
Dr Anna Chruścik is an academic at the University of Southern Queensland, Springfield, Australia. Anna has taught courses in human anatomy and physiology; histopathology and cytology; techniques in comparative physiology; pathophysiology; cells, tissues and regeneration; metabolism; immunology; biomolecular sciences laboratory; biochemistry and biochemical pathways in Australian universities. Her research background focused on the relationship between transforming growth factor and colon cancer stem cells. Anna strives to excite and inspire students about science by providing relatable guidance, support and knowledge.
Dr Kate Kauter is an Associate Professor in biomedical science at the University of Southern Queensland. She has taught anatomy, physiology, pathophysiology, pharmacology and microbiology to students from many disciplines including nursing, biomedical sciences, food sciences and agricultural sciences, among others. Kate has developed a number of digital activities to increase student interaction with these content areas and has deployed the use of current technologies, including use of 3D and animations in practical classes to inspire students' learning. The latest venture is the provision of an open education resource for the study of anatomy and physiology to allow all students access to the fundamental information needed in the understanding of the human body.
Dr Eliza Whiteside is a biomedical science researcher and Associate Professor at the University of Southern Queensland, Toowoomba, Australia. For the past two decades, Eliza has taught courses in introductory biomedical science, cell and molecular biology, anatomy and physiology, laboratory methods, pathophysiology and biotechnology in universities in Australia and in the United Kingdom. Eliza's passion is in improving the lives of others through accessible knowledge building, using learning and teaching scholarship, research and community outreach. Her research background is investigating dysregulated cell biology in cancer and chronic wounds. Her community outreach includes cancer education to the public and 'hands on' science, particularly in underserved communities such as regional and remote schools.
Dr Louisa Windus is a lecturer and researcher in the school of Health and Wellbeing (Biomedical Sciences) at the University of Southern Queensland, Australia. Louisa has a passion for developing methods that foster engagement and empower students to learn. Outside of the classroom, Louisa's research focusses on biomarkers or molecular factors that mediate cancer progression and growth. She has collaborated extensively with research institutes across Australia and has been influential in developing novel 3D in vitro models that have helped expediate the drug discovery pipeline.