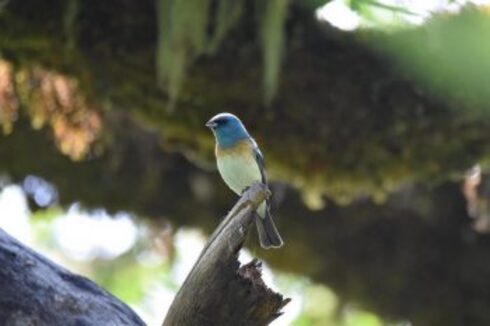 Monitoring Animal Populations and their Habitats: A Practitioner's Guide
Brenda C. McComb, Oregon State University
Benjamin Zuckerberg, Cornell University
David G. Vesely, Oregon Wildlife Institute
Christopher A. Jordan, Michigan State University
Copyright Year: 2020
Publisher: Oregon State University
Language: English
Reviews
Reviewed by Brent Pease, Assistant Professor, Southern Illinois University Carbondale on 10/18/22
This text is one of few references that take a practitioner from start (e.g., conceptualization, defining objectives) to finish (e.g., reporting results) in developing a wildlife monitoring program. While the book does discuss study design and... read more
Reviewed by Brent Pease, Assistant Professor, Southern Illinois University Carbondale on 10/18/22
Comprehensiveness rating: 5 see less
This text is one of few references that take a practitioner from start (e.g., conceptualization, defining objectives) to finish (e.g., reporting results) in developing a wildlife monitoring program. While the book does discuss study design and data analysis, the text would be best complimented with other reference material that describes the role of study design in statistical inference (e.g., Wildlife Study Design).
Content Accuracy rating: 5
The text is accurate and unbiased, although the authors lean towards bird examples.
Relevance/Longevity rating: 5
The text reads as a result of several experts' cumulative career knowledge in developing wildlife monitoring programs, and should be a timeless reference for many practitioners.
Clarity rating: 5
The authors do a particularly great job of making the text accessible to a range of audiences, including undergraduate and graduate students, and state or federal agency biologists. Little jargon exists in the book, and many definitions and graphical examples exist to assist readers through the material.
Consistency rating: 5
The chapters within are consistent in style and formatting as well as depth and content.
Modularity rating: 5
Though the text is designed to move readers through the process, chapters can be selected to fit the readers interest and usually do not rely on previous chapters (though some reference is made to other chapters throughout). For example, readers could skip Chapter 10, Database Management, still find the subsequent chapters to be useful.
Organization/Structure/Flow rating: 5
The authors were intentional in the flow and sequencing of the text and the chapters proceed in a logical fashion.
Interface rating: 5
The text is free of significant interface issues. Images appear clear and navigating between the table of contents and embedded links is logical and smooth.
Grammatical Errors rating: 5
I have not encountered grammatical errors within the text.
Cultural Relevance rating: 5
The text is professionally presented. Though many examples are from North America, there are examples from across the globe and none are subjective nor culturally insensitive.
Comments
This text has been an excellent companion for an undergraduate course in wildlife monitoring. Though I do not use all chapters for my course (mostly due to limited time), many are relevant and accessible at the undergraduate level.
Table of Contents
1. Introduction
2. Lessons Learned from Current Monitoring Programs
3. Community-Based Monitoring
4. Goals and Objectives Now and Into the Future
5. Designing a Monitoring Plan
6. Factors to Consider When Designing the Monitoring Plan
7. Putting Monitoring to Work on the Ground
8. Field Techniques for Population Sampling and Estimation
9. Techniques for Sampling Habitat
10. Database Management
11. Data Analysis in Monitoring
12. Reporting
13. Uses of the Data: Synthesis, Risk Assessment and Decision Making
14. Changing the Monitoring Approach
15. The Future of Monitoring
About the Book
We designed this book to offer a comprehensive overview of the monitoring process, from start to finish. Although there are books that deal with sampling design and the quantitative analysis of population data, there are few that provide practical advice covering the entire evolution of a monitoring plan from incorporating stakeholder input to data collection to data management and analysis to reporting. This book strives to present an overview of this process. We also acknowledge that any such effort tends to reflect the interests and expertise of the authors, and as such, there is a distinct emphasis on monitoring vertebrate populations and upland habitats. Although many of our examples tend to focus on bird populations and forested habitats, we have made an attempt to cover other taxa and habitat types as well, and many of the recommendations and suggestions that we present are applicable to a diversity of monitoring programs.
This book was written to fill a practical need and also to embrace a set of values that we hold dear. We wanted a book that could be used in a classroom because we feel that students in natural resources programs need to know how to design a monitoring program when they enter the workforce. We also realize that many former students now in the workforce did not have that training and may find this book of value to them.
About the Contributors
Authors
Brenda C. McComb is a professor and Head of the Department of Forest Ecosystems and Society, Oregon State University. She is author of over 130 technical papers dealing with forest and wildlife ecology, habitat relationships, and habitat management. She was born and raised in Connecticut at a time and place when the rural setting provided opportunities to roam forests and fields. She received a BS in Natural Resources Conservation from the University of Connecticut, a MS in Wildlife Management from the University of Connecticut, and a PhD in Forestry from Louisiana State University. She has served on the faculty at the University of Kentucky and Oregon State University. She was the Head of the Department of Natural Resources Conservation at the University of Massachusetts–Amherst for 7 years, and served as the chief of the Watershed Ecology Branch in Corvallis for U.S. Environmental Protection Agency for 1 year, and was Associate Dean for Research and Outreach in the College of Naural Resources and the Environment at the University of Massachusetts for 1 year. She has been a member of The Wildlife Society and the Society of American Foresters for over 25 years. Her current work addresses interdisciplinary approaches to management of multi-ownership landscapes in Pacific Northwest forests and agricultural areas
Benjamin Zuckerberg is a post-doctoral research associate in the Citizen Science program at the Cornell Lab of Ornithology in Ithaca, New York. He was born and raised in Brooklyn, New York, and despite his urban surroundings, became a nature enthusiast and conservationist. He received his B.A. in Zoology from Connecticut College, a M.S. in Wildlife and Fisheries Conservation from the University of Massachusetts–Amherst, and a Ph.D. in Ecology at the State University of New York College of Environmental Science and Forestry. His research has focused on the management and conservation of early successional birds and the use of breeding bird atlases for documenting the effects of climate change and land use practices on bird populations at regional scales. His current research focuses on using spatial statistics and citizen science for addressing the effects of climate change and habitat loss on bird populations throughout the United States.
David G. Vesely is the executive director of the Oregon Wildlife Institute in Corvallis, Oregon. He received a B.A. in psychology from the University of Minnesota, a B.F.A. in illustration from Oregon State University, and a M.S. in forest science also from Oregon State University. He was president of Pacific Wildlife Research Inc., a consulting firm that assisted government agencies and private companies conduct special wildlife studies and prepare environmental analyses. He is a member of The Wildlife Society and Northwest Scientific Association. The current focus of his work involves the conservation of threatened wildlife in the Pacific Northwest and investigating the use of conservation detector dogs for surveys of rare plants and animals.
Christopher A. Jordan is a PhD candidate in the Department of Fisheries and Wildlife at Michigan State University. He received a B.S. in Wildlife and Fisheries Conservation, a B.A. in Spanish, and a certificate in Latin American Studies from the University of Massachusetts-Amherst. He has worked with a number of universities and organizations to engage communities in the United States, Guatemala, and Nicaragua in the monitoring of their local ecosystems and has extensive experience playing with motion sensor cameras in all of these countries. His proposed research aims to assess the impact of globalization on resource use and biodiversity along the Caribbean Coast of Nicaragua by collaborating closely with local assistants and a team of researchers from multiple disciplines.