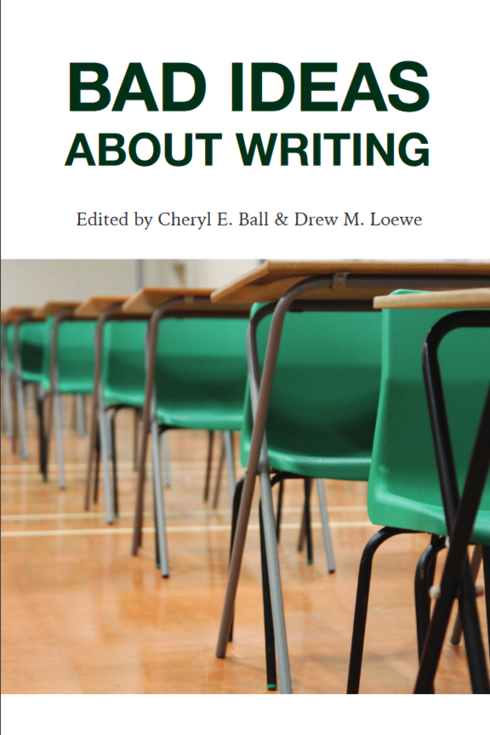 Bad Ideas About Writing
Cheryl E Ball
Drew M Loewe
Copyright Year: 2017
Publisher: West Virginia University
Language: English
Table of Contents
Bad Ideas About What Good Writing Is
Bad Ideas About Who Good Writers Are
Bad Ideas About Style, Usage, and Grammar
Bad Ideas About Writing Techniques
Bad Ideas About Genres
Bad Ideas About Assessing Writing
Bad Ideas About Writing and Digital Technology
Bad Ideas About Writing Teachers
About the Book
We intend this work to be less a bestiary of bad ideas about writing than an effort to name bad ideas and suggest better ones. Some of those bad ideas are quite old, such as the archetype of the inspired genius author, the five-paragraph essay, or the abuse of adjunct writing teachers. Others are much newer, such as computerized essay scoring or gamification. Some ideas, such as the supposed demise of literacy brought on by texting, are newer bad ideas but are really instances of older bad ideas about literacy always being in a cycle of decline. Yet the same core questions such as what is good writing, what makes a good writer, how should writing be assessed, and the like persist across contexts, technologies, and eras. The project has its genesis in frustration, but what emerges is hope: hope for leaving aside bad ideas and thinking about writing in more productive, inclusive, and useful ways.
About the Contributors
Authors
Cheryl E. Ball is associate professor of digital publishing studies in the Professional Writing and Editing program at West Virginia University. She is also editor of Kairos: A Journal of Rhetoric, Technology, and Pedagogy as well as the #writing book series with the WAC Clearinghouse/Colorado State University Open Press, both of which are open-access publishing venues available to anyone with an Internet connection. She teaches the importance of edit-ing content in a digital world, and offers a special thank you to all of the undergraduate and graduate students at WVU who helped with the publication of this book. She also thanks WVU Libraries for its support of the Digital Publishing Institute. Finally, she is grateful to Drew M. Loewe for coming up with the idea for this book and for agreeing to let her work on it with him. 
Drew M. Loewe is an associate professor of writing and rhetoric at St. Edward's University in Austin, Texas, where he also directs the Writing Center. His scholarly and teaching interests include rhetorical theory and criticism, argumentation, prose style, legal writing, writing centers, research methods, and the first-year writ-ing sequence. He thanks St. Edward's for supporting this project with time and money, and especially thanks Cheryl E. Ball for being the best co-editor anyone could hope for.