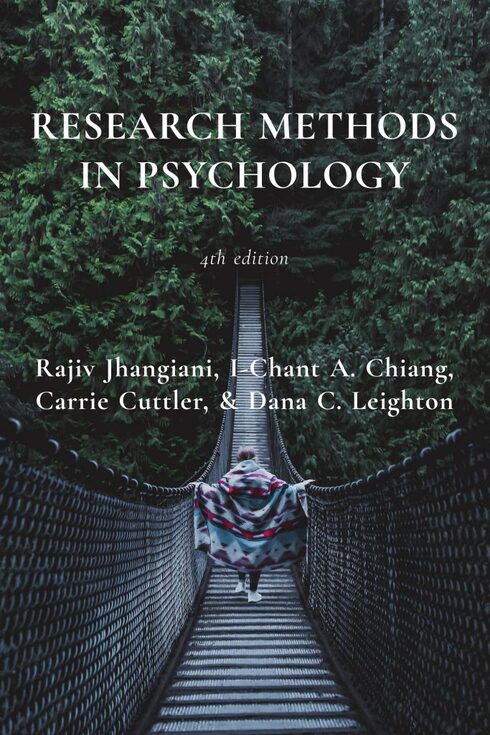 Research Methods in Psychology - 4th American Edition
Carrie Cuttler, Washington State University
Rajiv S. Jhangiani, Kwantlen Polytechnic University
Dana C. Leighton, Texas A&M University, Texarkana
Copyright Year: 2019
ISBN 13: 9781999198107
Publisher: Kwantlen Polytechnic University
Language: English
Table of Contents
Chapter 1: The Science of Psychology
Chapter 2: Overview of the Scientific Method
Chapter 3: Research Ethics
Chapter 4: Psychological Measurement
Chapter 5: Experimental Research
Chapter 6: Non-experimental Research
Chapter 7: Survey Research
Chapter 8: Quasi-Experimental Research
Chapter 9: Factorial Designs
Chapter 10: Single-Subject Research
Chapter 11: Presenting Your Research
Chapter 12: Descriptive Statistics
Chapter 13: Inferential Statistics
About the Book
This fourth edition (published in 2019) was co-authored by Rajiv S. Jhangiani (Kwantlen Polytechnic University), Carrie Cuttler (Washington State University), and Dana C. Leighton (Texas A&M University—Texarkana) and is licensed under a Creative Commons Attribution-NonCommercial-ShareAlike 4.0 International License. Revisions throughout the current edition include changing the chapter and section numbering system to better accommodate adaptions that remove or reorder chapters; continued reversion from the Canadian edition; general grammatical edits; replacement of "he/she" to "they" and "his/her" to "their"; removal or update of dead links; embedded videos that were not embedded; moved key takeaways and exercises from the end of each chapter section to the end of each chapter; a new cover design.
About the Contributors
Authors
Dr. Carrie Cuttler received her Ph.D. in Psychology from the University of British Columbia. She has been teaching research methods and statistics for over a decade. She is currently an Assistant Professor in the Department of Psychology at Washington State University, where she primarily studies the acute and chronic effects of cannabis on cognition, mental health, and physical health. Dr. Cuttler was also an OER Research Fellow with the Center for Open Education and she conducts research on open educational resources. She has over 50 publications including the following two published books: A Student Guide for SPSS (1st and 2nd edition) and Research Methods in Psychology: Student Lab Guide. Finally, she edited another OER entitled Essentials of Abnormal Psychology. In her spare time, she likes to travel, hike, bike, run, and watch movies with her husband and son. You can find her online at @carriecuttler or carriecuttler.com.
Dr. Rajiv Jhangiani is the Associate Vice Provost, Open Education at Kwantlen Polytechnic University in British Columbia. He is an internationally known advocate for open education whose research and practice focuses on open educational resources, student-centered pedagogies, and the scholarship of teaching and learning. Rajiv is a co-founder of the Open Pedagogy Notebook, an Ambassador for the Center for Open Science, and serves on the BC Open Education Advisory Committee. He formerly served as an Open Education Advisor and Senior Open Education Research & Advocacy Fellow with BCcampus, an OER Research Fellow with the Open Education Group, a Faculty Workshop Facilitator with the Open Textbook Network, and a Faculty Fellow with the BC Open Textbook Project. A co-author of three open textbooks in Psychology, his most recent book is Open: The Philosophy and Practices that are Revolutionizing Education and Science (2017). You can find him online at @thatpsychprof or thatpsychprof.com.
Dr. Dana C. Leighton is Assistant Professor of Psychology in the College of Arts, Science, and Education at Texas A&M University—Texarkana. He earned his Ph.D. from the University of Arkansas, and has 15 years experience teaching across the psychology curriculum at community colleges, liberal arts colleges, and research universities. Dr. Leighton's social psychology research lab studies intergroup relations, and routinely includes undergraduate students as researchers. He is also Chair of the university's Institutional Review Board. Recently he has been researching and writing about the use of open science research practices by undergraduate researchers to increase diversity, justice, and sustainability in psychological science. He has published on his teaching methods in eBooks from the Society for the Teaching of Psychology, presented his methods at regional and national conferences, and received grants to develop new teaching methods. His teaching interests are in undergraduate research, writing skills, and online student engagement. For more about Dr. Leighton see http://www.danaleighton.net and http://danaleighton.edublogs.org