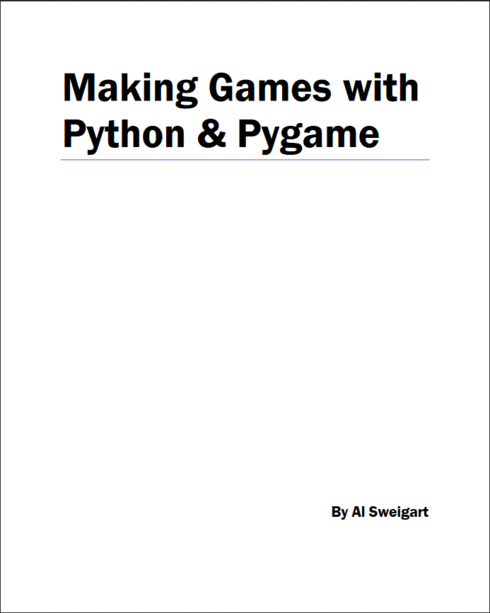 Making Games with Python & Pygame
Al Sweigart
Copyright Year: 2012
ISBN 13: 9781469901732
Publisher: Albert Sweigart
Language: English
Reviews
Reviewed by Siwei Cao, instructor, Virginia Tech on 5/17/22
Being an intermediate python textbook focused merely on game making using the pygame module, this book is clearly structured and easy to navigate. It spent the first two chapters going over some of the fundamentals and dives deeper into actual... read more
Reviewed by Siwei Cao, instructor, Virginia Tech on 5/17/22
Comprehensiveness rating: 5 see less
Being an intermediate python textbook focused merely on game making using the pygame module, this book is clearly structured and easy to navigate. It spent the first two chapters going over some of the fundamentals and dives deeper into actual game programming in later chapters. For each game, a piece of code is provided so you may copy the code for the game and study it. The author also offers a step-by-step explanation so it's easy to grasp what the code does.
Content Accuracy rating: 4
It's nice that the author has an up-to-date errata for this book. So that covers a few discovered typos and bugs in that book's prose and code.
http://inventwithpython.com/pygame/errata/
Relevance/Longevity rating: 5
Very closely tied to its subject.
Clarity rating: 4
Mostly great, except for a few places where the concept was introduced a little vaguely.
Consistency rating: 5
The text is internally consistent in terms of terminology and framework.
Modularity rating: 5
The modularity of this book is one-game-per-chapter, complete code first and then explanation. The references are clearly presented and well-aligned with the contents.
Organization/Structure/Flow rating: 5
I don't find any issue with the organization.
Interface rating: 4
There are both pdf and HTML versions of this book. Overall, I felt that the HTML version offers a better interface and thus is easier to read than the pdf. One thing that's noteworthy is that the HTML version of this book offers buggy programs for users to download and play with, this is great supplemental exercise materials.
Grammatical Errors rating: 5
Not much.
Cultural Relevance rating: 5
Does not apply.
Table of Contents
Chapter 1 - Installing Python and Pygame
Chapter 2 - Pygame Basics
Chapter 3 - Memory Puzzle
Chapter 4 - Slide Puzzle
Chapter 5 - Simulate
Chapter 6 - Wormy
Chapter 7 - Tetromino
Chapter 8 - Squirrel Eat Squirrel
Chapter 9 - Star Pusher
Chapter 10 - Four Extra Games
About the Book
This book will teach you how to make graphical computer games in the Python programming language using the Pygame library.This book assumes you know a little bit about Python or programming in general. If you don't know how to program, you can learn by downloading the free book "Invent Your Own Computer Games with Python" from http://inventwithpython.com. Or you can jump right into this book and mostly pick it up along the way. This book is for the intermediate programmer who has learned what variables and loops are, but now wants to know, "What do actual game programs look like?" There was a long gap after I first learned programming but didn't really know how to use that skill to make something cool. It's my hope that the games in this book will give you enough ideas about how programs work to provide a foundation to implement your own games.
About the Contributors
Author
Albert Sweigart (but you can call him Al), is a software developer in San Francisco, California who enjoys bicycling, volunteering, haunting coffee shops, and making useful software. "Making Games with Python & Pygame" is his second book.His first book, "Invent Your Own Computer Games with Python" can be read online at http://inventwithpython.com. He is originally from Houston, Texas. He finally put his University of Texas at Austin computer science degree in a frame. He laughs out loud when watching park squirrels, which makes people think he's a simpleton.