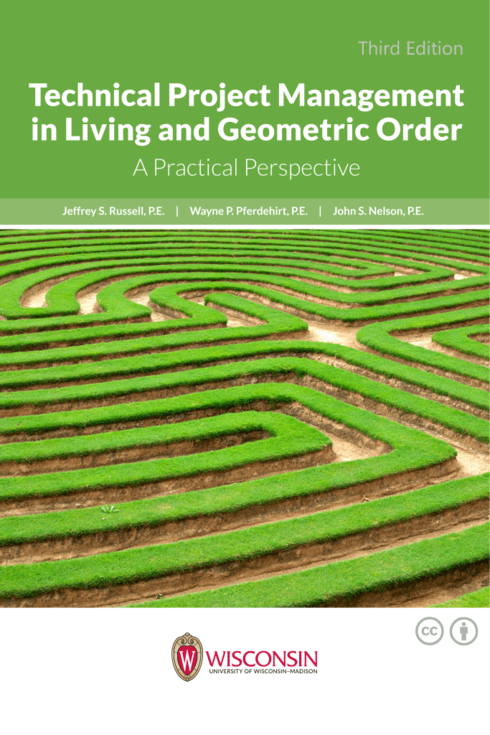 Technical Project Management in Living and Geometric Order - Third Edition
Jeffrey Russell, University of Wisconsin-Madison
Wayne Pferdehirt, University of Wisconsin-Madison
John Nelson, University of Wisconsin-Madison
Brian Price, Aston University
Copyright Year: 2018
Publisher: University of Wisconsin - Madison
Language: English
Reviews
Reviewed by Ossama Elhadary, Associate Professor, New York City College of Technology on 12/15/21
The textbook covers all areas of project management and includes the much-needed perspective of the AGILE technique as well. read more
Reviewed by Ossama Elhadary, Associate Professor, New York City College of Technology on 12/15/21
Comprehensiveness rating: 4 see less
The textbook covers all areas of project management and includes the much-needed perspective of the AGILE technique as well.
Content Accuracy rating: 5
The text book is quite accurate and uses many relevant references.
Relevance/Longevity rating: 4
The textbook is quite relevant. This area is changing a lot nowadays and so this book will need to be constantly updated to remain relevant.
Clarity rating: 5
The book is well written, and the quotes used are interesting and attractive. A lot of relevant examples are being used which complement the text nicely.
Consistency rating: 5
I could not find any issues with consistency.
Modularity rating: 5
The chapters are self contained and can easily be read on their own. There are still linkages between the chapters though but not to the extent that would make it difficult to understand a chapter if read separately.
Organization/Structure/Flow rating: 4
Overall the book is well organized although in a few cases it was not clear clear to me why the authors chose certain chapters sequence.
Interface rating: 5
I could not find any issues with the interface.
Grammatical Errors rating: 5
The book is well written and I could not notice any grammatical errors.
Cultural Relevance rating: 5
The book does not exhibit any form of culture insensitivity.
Table of Contents
1. Project Management Foundations: Principles and Practices
2. Strategy, Project Selection, and Portfolio Management
3. Project Initiation, Scope, and Structure
4. Procurement
5. Team Formation, Team Management, and Project Leadership
6. Project Planning
7. Project Scheduling
8. Managing Project Risks
9. Managing Project Value, Budgets, and Costs
10. Allocating and Managing Constrained Resources
11. Project Monitoring, Analytics, and Control
12. Critical Project Management Skill: Negotiation
13. Project Closure and Audits
14. Personal and Organizational Project Management Growth
15. Putting It All Together
About the Book
The Technical Project Management class is designed to help students build on their past experiences and develop effective strategies for managing complex technical projects, with an emphasis on applying project management concepts to real-world problems. In the weekly web conferences, the class comes together in community to discuss the lesson topics, considering the practical applications of the concepts in each subject area.
About the Contributors
Authors
Jeffrey S. Russell is Vice Provost for Lifelong Learning, Dean of Continuing Studies, Professor of Civil and Environmental Engineering, and Executive Director of the Consortium for Project Management at the University of Wisconsin-Madison. In his role as vice provost and dean, he is responsible for leading the university's programs and services for lifelong learners and nontraditional students. He has published widely in the areas of contractor failure, prequalification, surety bonds, constructability, automation, maintainability, warranties, and quality control/quality assurance. He has served as editor-in-chief of the Journal of Management in Engineering and served as founding editor-in-chief of Leadership and Management in Engineering. At the University of Wisconsin-Madison, he co-teaches the course "Technical Project Management" within the Engineering Management program.
Wayne P. Pferdehirt (1952-2019) was the director of the University of Wisconsin-Madison's Master of Engineering Management and Master of Engineering Data Analytics programs. He taught the courses "Technical Project Management" and "Foundations of Engineering Leadership" within the Engineering Management program. Prior to joining UW-Madison, Wayne directed Midwest solid waste consulting services for an international environmental consulting firm, led energy conservation research projects for Argonne National Laboratory, and led water resources projects for the Army Corps of Engineers. He held a bachelor's degree in engineering from Carnegie-Mellon University and a master's degree in civil engineering with an emphasis in regional planning from Northwestern University. Wayne was a frequent speaker and author on continuing education for engineers and project management and was a member of the College of Engineering's Education Innovation Committee.
John S. Nelson is the Chief Technical Officer for Global Infrastructure Asset Management LLC, an asset management firm specializing in sustainable infrastructure investments, and Chairman of MEP Associates LLC, a US Consulting Engineering Firm. He teaches at the University of Wisconsin-Madison as an Adjunct Professor of Civil and Environmental Engineering, in the Construction Engineering Management program. He co-teaches the course "Technical Project Management" within the Engineering Management program. Previously, John was CEO of Affiliated Engineers as the firm became nationally recognized for designing dynamic building systems and infrastructure for large and complicated projects. His technical background includes design and application of, and research on, dynamic energy and water systems. His management background includes company management and consulting for the investment, design, and construction industries.
Editor
Brian Price is an academic based at Aston University in the UK, teaching engineering and product design. Active research areas include ultra low carbon vehicles, charging/fueling networks and engine/transmission design. With over 25 years experience in industry, working worldwide on engine design consultancy, he brings a pragmatic approach to new product development. Previously chief engineer or technical director at a number of leading automotive companies, including Lotus Engineering, Cosworth Technology, Mercury Marine, Harley-Davidson and Ricardo Consulting. He presents regularly at international conferences and is a visiting professor at Loughborough University, UK, University of Wisconsin-Madison, USA and Hanyang University, South Korea.