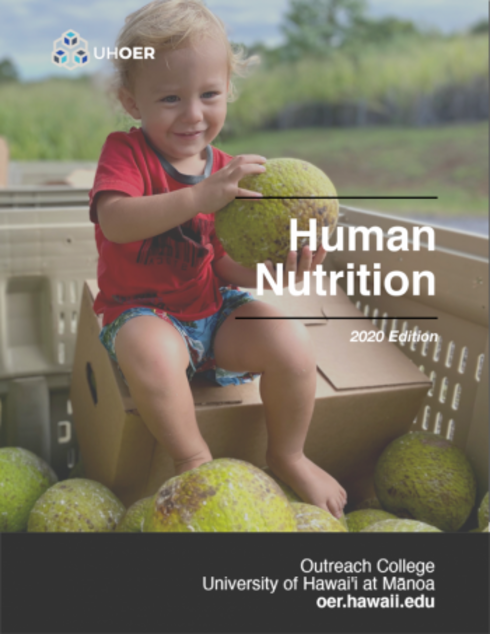 Human Nutrition - 2020 Edition
Marie Kainoa Fialkowski Revilla, University of Hawai'i, Mānoa
Alan Titchenal, University of Hawai'i, Mānoa
Jennifer Draper, University of Hawai'i, Mānoa
Copyright Year: 2018
Last Update: 2020
ISBN 13: 9781948027014
Publisher: University of Hawaii Manoa
Language: English
Table of Contents
I. Chapter 1. Basic Concepts in Nutrition
II. Chapter 2. The Human Body
III. Chapter 3. Water and Electrolytes
IV. Chapter 4. Carbohydrates
V. Chapter 5. Lipids
VI. Chapter 6. Protein
VII. Chapter 7. Alcohol
VIII. Chapter 8. Energy
IX. Chapter 9. Vitamins
X. Chapter 10. Major Minerals
XI. Chapter 11. Trace Minerals
XII. Chapter 12. Nutrition Applications
XIII. Chapter 13. Lifespan Nutrition From Pregnancy to the Toddler Years
XIV. Chapter 14. Lifespan Nutrition During Childhood and Adolescence
XV. Chapter 15. Lifespan Nutrition in Adulthood
XVI. Chapter 16. Performance Nutrition
XVII. Chapter 17. Food Safety
XVIII. Chapter 18. Nutritional Issues
About the Book
This textbook serves as an introduction to nutrition for undergraduate students and is the OER textbook for the FSHN 185 The Science of Human Nutrition course at the University of Hawai'i at Mānoa. The book covers basic concepts in human nutrition, key information about essential nutrients, basic nutritional assessment, and nutrition across the lifespan.
About the Contributors
Authors
Marie Kainoa Fialkowski Revilla is a Native Hawaiian faculty member in the Department of Human Nutrition, Food, and Animal Sciences at the University of Hawai'i at Mānoa. She teaches a number of courses in nutrition both face to face and online. She is dedicated to developing readily available and accessible nutrition education materials and curricula that reflect Hawai'i and the Pacific to ensure that her students can relate to the content being learned. She enjoys spending time with her 'ohana (family) at their home in Ahuimanu on the island of O'ahu.
Dr. Alan Titchenal received a PhD in nutrition from the University of California at Davis with emphasis on exercise physiology and physiological chemistry. His work at the University of Hawai'i at Mānoa has focused on the broad areas of nutrition and human performance and translation of nutrition science for public consumption. This has included the "GotNutrients?" project that provides daily messages on topics related to nutrition, fitness, and health and the publication of over 600 articles in the Honolulu Star-Advertiser newspaper.
Jennifer Draper is a Lecturer in the Department of Human Nutrition, Food and Animal Sciences. She received her MA in Nutrition Science from the University of Texas at Austin. She is a Registered Dietitian in private practice specializing in eating disorders and emotional over-eating. She enjoys interacting with students and is passionate about helping people have a healthy relationship with food and their bodies.