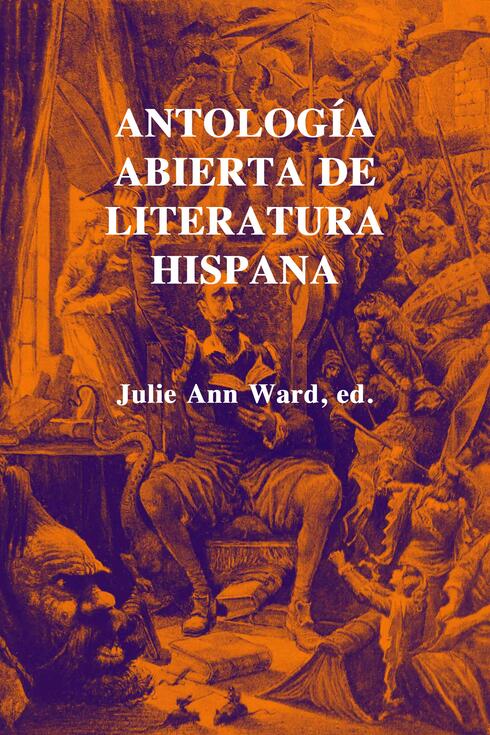 Antología Abierta De Literatura Hispana
Julie Ann Ward, University of Oklahoma
Copyright Year: 2017
Publisher: Rebus Community
Language: Spanish
Table of Contents
Parte I. Rubén Darío
Introducción
A Roosevelt
Bibliografía
Parte II. Horacio Quiroga
1. Introducción
2. El hijo
3. Bibliografía
Parte III. Emilia Pardo Bazán
4. Introducción
5. Las medias rojas
6. Bibliografía
Parte IV. Gertrudis Gómez De Avellaneda
7. Introducción
8. Al partir
9. Bibliografía
Parte V. Don Juan Manuel
10. Introducción
11. Lo que sucedió a un mancebo el día que se casó
12. Bibliografía
Parte VI. Cristóbalcolón
13. Introducción
14. Carta a Luis de Santángel
15. Bibliografía
Parte VII. Alfonsinastorni
16. Introducción
17. Peso Ancestral
18. Bibliografía
Parte VIII. Juana Mansode Noronha
19. Introducción
20. Emancipación moral de la mujer
21. Bibliografía
Parte IX. La Condesa De Merlin
22. Introducción
23. Viaje a la Habana: Carta 1
24. Bibliografía
About the Book
Una antología crítica de textos literarios del mundo hispanohablante. Se enfoca en autores canónicos y también se intenta incluir voces marginadas. Cada texto tiene una introducción y anotaciones creadas por estudiantes.
A critical anthology of literary texts from the Spanish-speaking world. A focus on canonical authors and an attempt to include voices that have been marginalized. Each text includes an introduction and annotations created by students.
About the Contributors
Author
Julie Ann Ward joined the faculty of the University of Oklahoma in 2014 as Assistant Professor of 20th- and 21st-Century Latin American Literature. Her research focuses on representations of the real in contemporary Latin America, with a particular focus on Mexican drama, narrative, and performance. Dr. Ward's publications on this topic have appeared in Theatre Journal, TransModernity, Latin American Theatre Review, Revista de Literatura Mexicana Contemporánea, and Paso de Gato, as well as the Routledge Companion to Dramaturgy and the Routledge Companion to Gender, Sex and Latin American Culture. She is the General Editor of student-generated Open Educational Resource, the Antología abierta de literatura hispana.