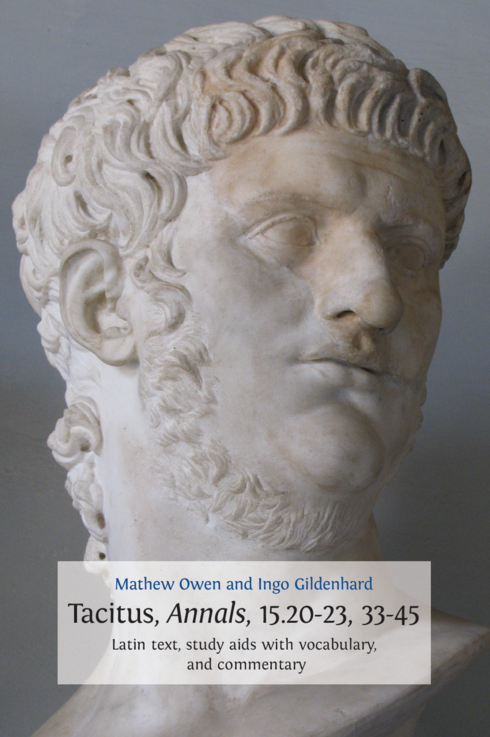 Tacitus, Annals, 15.20­-23, 33­-45. Latin Text, Study Aids with Vocabulary, and Commentary
Mathew Owen, Caterham School
Ingo Gildenhard, Cambridge University
Copyright Year: 2013
ISBN 13: 9781783740024
Publisher: Open Book Publishers
Language: English
Reviews
Reviewed by Geraldine Poizat Newcomb, Senior Instructor II, University of Oregon on 6/10/21
The book presents chosen excerpts from Tacitus' Annals. Each is accompanied by a historical and political commentary, grammar questions and vocabulary list. It is well adapted to intermediate students of Latin, who will reinforce their... read more
Reviewed by Geraldine Poizat Newcomb, Senior Instructor II, University of Oregon on 6/10/21
Comprehensiveness rating: 5 see less
The book presents chosen excerpts from Tacitus' Annals. Each is accompanied by a historical and political commentary, grammar questions and vocabulary list. It is well adapted to intermediate students of Latin, who will reinforce their understanding of the language, learn the key points of Tacitus' book and receive a clear and useful historical background.
Content Accuracy rating: 5
The Latin text is excellent, the historical background clear, detailed and informative, and the questions are well thought-out.
Relevance/Longevity rating: 5
The text is an enduring analysis and presentation of a classical text, and there is little danger of it becoming obsolete soon.
Clarity rating: 5
It is a detailed, in-depth scholarly work, but it is clearly written and very user friendly.
Consistency rating: 5
The author sets out to present the Annals to the reader and at the same time reinforce his/her understanding and practice of the Latin language. Those objectives are clear at the beginning of the book and the contents of the book are consistent with that goal.
Modularity rating: 5
Once you have read the introduction, the Table of contents allows you to choose any of the excerpts. They are well identified and described, in a sometimes humorous, clever way. E.g. 2.5 "Tacitus' Nero Narrative: Rocky-Horror-Picture-Show and Broadway on the Tiber".
Organization/Structure/Flow rating: 5
The book is remarkably clear and well organized; it is very easy to maneuver.
Interface rating: 5
The text is easy to read and navigate, there is no distortion or cause for confusion.
Grammatical Errors rating: 5
The text is written by Latin scholars with a very high command of grammatical matters, and grammar teaching is one of its goals.
Cultural Relevance rating: 5
Even though the Table of contents sometimes relates the text with modern topics, it is entirely focused on Nero's reign during the Roman Empire and there is little opportunity for cultural offensiveness as it does not relate to modern culture.
Comments
If you are teaching intermediate Latin and looking for a book with cultural and historical background as well as linguistic content, this would be an excellent choice. Well written, well organized, informative and reader-friendly.
Table of Contents
1. Preface and acknowledgements
2. Introduction
2.1 Tacitus: life and career
2.2 Tacitus' times: the political system of the principate
2.3 Tacitus' oeuvre: opera minora and maiora
2.4 Tacitus' style (as an instrument of thought)
2.5 Tacitus' Nero-narrative: Rocky-Horror-Picture Show and Broadway on the Tiber
2.6 Thrasea Paetus and the so-called 'Stoic opposition'
3. Latin text with study questions and vocabulary aid
4. Commentary
Section 1: Annals 15.20–23
(i) 20.1–22.1: The Meeting of the Senate
(ii) 22.2: Review of striking prodigies that occurred in AD 62
(iii) 23.1–4: Start of Tacitus' account of AD 63: the birth and death of Nero's daughter by Sabina Poppaea, Claudia Augusta
Section 2: Annals 15.33–45 (AD 64)
(i) 33.1–34.1: Nero's coming-out party as stage performer
(ii) 34.2–35.3: A look at the kind of creatures that populate Nero's court – and the killing of an alleged rival
(iii) 36: Nero considers, but then reconsiders, going on tour to Egypt
(iv) 37: To show his love for Rome, Nero celebrates a huge public orgy that segues into a mock-wedding with his freedman Pythagoras
(v) 38–41: The fire of Rome
(vi) 42–43: Reconstructing the Capital: Nero's New Palace
(vii) 44: Appeasing the Gods, and Christians as Scapegoats
(viii) 45: Raising of Funds for Buildings
5. Bibliography
6. Visual aids
6.1 Map of Italy
6.2 Map of Rome
6.3 Family Tree of Nero and Junius Silanus
6.4 Inside the Domus Aurea
About the Book
The emperor Nero is etched into the Western imagination as one of ancient Rome's most infamous villains, and Tacitus' Annals have played a central role in shaping the mainstream historiographical understanding of this flamboyant autocrat.
This section of the text plunges us straight into the moral cesspool that Rome had apparently become in the later years of Nero's reign, chronicling the emperor's fledgling stage career including his plans for a grand tour of Greece; his participation in a city-wide orgy climaxing in his publicly consummated 'marriage' to his toy boy Pythagoras; the great fire of AD 64, during which large parts of central Rome went up in flames; and the rising of Nero's 'grotesque' new palace, the so-called 'Golden House', from the ashes of the city.
This building project stoked the rumours that the emperor himself was behind the conflagration, and Tacitus goes on to present us with Nero's gruesome efforts to quell these mutterings by scapegoating and executing members of an unpopular new cult then starting to spread through the Roman empire: Christianity.
All this contrasts starkly with four chapters focusing on one of Nero's most principled opponents, the Stoic senator Thrasea Paetus, an audacious figure of moral fibre, who courageously refuses to bend to the forces of imperial corruption and hypocrisy.
This course book offers a portion of the original Latin text, study aids with vocabulary, and a commentary. Designed to stretch and stimulate readers, Owen's and Gildenhard's incisive commentary will be of particular interest to students of Latin at both A2 and undergraduate level. It extends beyond detailed linguistic analysis and historical background to encourage critical engagement with Tacitus' prose and discussion of the most recent scholarly thought.
About the Contributors
Authors
Mathew Owen is a teacher in Classics at Caterham School, Surrey. In 2009, he gained a first class degree in Classics at Brasenose College, Oxford. He is also author of Ovid Unseens: Practice Passages for Latin Unseen Translation and Comprehension (London, 2014).
Ingo Gildenhard is Reader in Classics and the Classical Tradition at Cambridge University, and a Fellow of King's College Cambridge. His previous publications include the monographs Paideia Romana: Cicero's Tusculan Disputations (Cambridge, 2007) and Creative Eloquence: The Construction of Reality in Cicero's Speeches (Oxford, 2011). He has also published three textbooks with Open Book Publishers: Cicero, Against Verres, 2.1.53-86. Latin Text with Introduction, Study Questions, Commentary and English Translation, Virgil, Aeneid, 4.1-299: Latin Text, Study Questions, Commentary and Interpretative Essays, and more recently Cicero, On Pompey's Command (De Imperio), 27–49. Latin Text, Study Aids with Vocabulary, Commentary, and Translation.