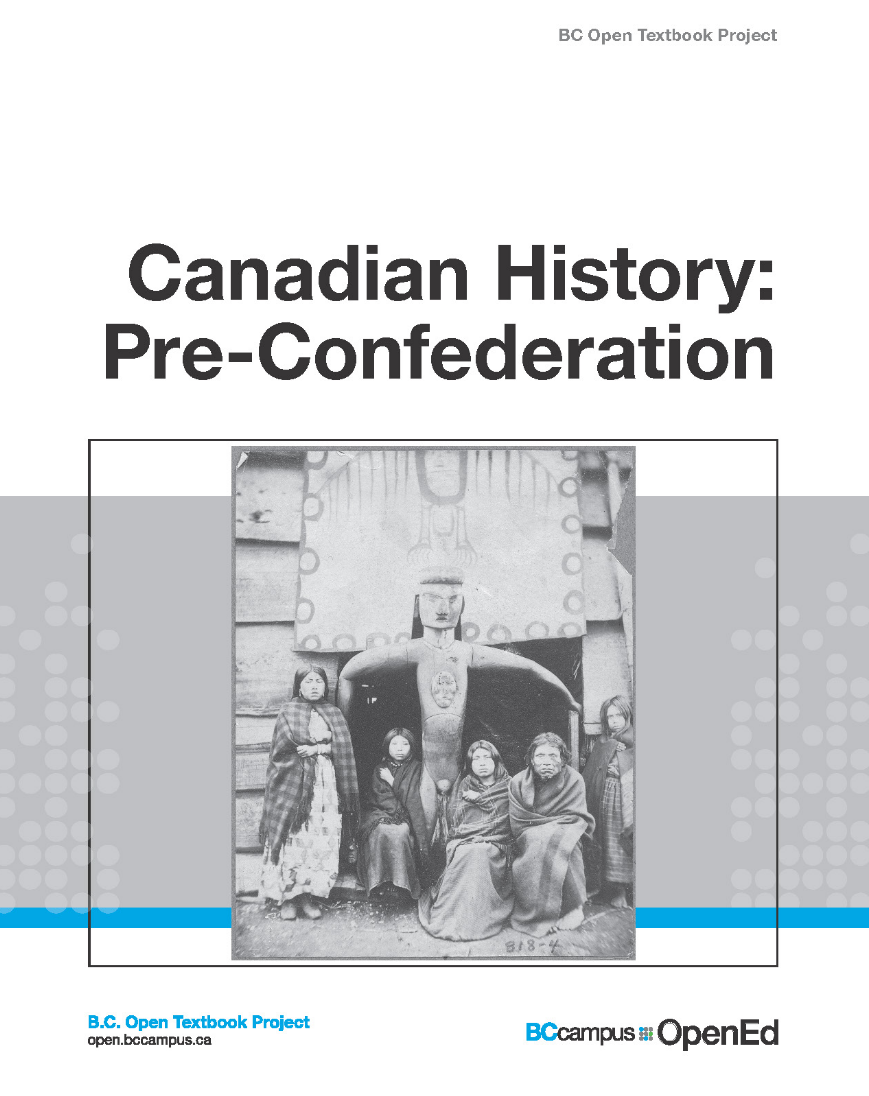 Canadian History: Pre-Confederation
John Douglas Belshaw, Thompson Rivers University
Copyright Year: 2015
ISBN 13: 9781775352419
Publisher: BCcampus
Language: English
Reviews
Reviewed by Cara S, Adjunct, American University on 2/2/21
Very thorough and thoughtful in how the history is presented. While the focus is on Canada, the content is placed in the greater context of other histories that were happening at the same time. This provides a broader and balanced perspective... read more
Reviewed by Cara S, Adjunct, American University on 2/2/21
Comprehensiveness rating: 5 see less
Very thorough and thoughtful in how the history is presented. While the focus is on Canada, the content is placed in the greater context of other histories that were happening at the same time. This provides a broader and balanced perspective that grounds the history in a global timeline. The book starts with a discussion about history in general, "what is history" "researching history" "making histories" followed by "the current state of historical writing in Canada." This approach makes the content applicable to other courses – the early chapters can be used when reading histories of other countries.
Content Accuracy rating: 5
The content is accurate and the focus on broader world history provides a good framework for providing an unbiased look at history. Within Canadian history, many audiences and populations are presented in a balanced approach.
Relevance/Longevity rating: 5
The content is up-to-date and while the topic is seemingly Canadian history, this book would work as reading material in American and European history courses not only to show how the histories relate to each other but also to show different points of view and perspectives on history.
Clarity rating: 5
Great writing style – clear, accessible prose with definitions and details that elucidate the content.
Consistency rating: 5
The book is organized well and the framework is based on historical timelines, but with the added organization of greater history, which provides a solid through line. Terminology is defined when appropriate or explained with examples and stories to ensure clarity and cohesion.
Modularity rating: 5
Modules work well as single units that can be pulled out of the book but also lead easily from one to the other to ensure full comprehension of the history being presented.
Organization/Structure/Flow rating: 5
History has its own built-in logic as one follows events from year to year and century to century, therefore this book has a solid base on which to build. The topics are not only arranged in chronological order but within the modules the combination of social, economic, and political history are also presented clearly and logically.
Interface rating: 5
The text was easy to navigate and use – no interface issues presented during use.
Grammatical Errors rating: 5
Grammar and writing style are excellent – clear, presented well, and thoughtfully proofread.
Cultural Relevance rating: 5
Book presents the histories of a variety of races, ethnicities, and backgrounds in an unbiased, well-thought-out, and careful presentation of facts.
Table of Contents
Chapter 1. When Was Canada?
Chapter 2. Aboriginal Canada before Contact
Chapter 3. The Transatlantic Age
Chapter 4. New France
Chapter 5. Aboriginal Canada in the Era of Contact
Chapter 6. Intercolonial Rivalries, Imperial Ambitions, and the Conquest
Chapter 7. British North America at Peace and at War (1763-1818)
Chapter 8. Rupert's Land and the Northern Plains, 1690-1870
Chapter 9. Economic Transformation and Continuity, 1818-1860s
Chapter 10. Societies of British North America to 1860
Chapter 11. Politics to 1860
Chapter 12. Children and Childhood
Chapter 13. The Farthest West
Chapter 14. The 1860s: Confederation and Its Discontents
About the Book
Canadian History: Pre-Confederation is a survey text that introduces undergraduate students to important themes in North American history to 1867. It provides room for Aboriginal and European agendas and narratives, explores the connections between the territory that coalesces into the shape of modern Canada and the larger continent and world in which it operates, and engages with emergent issues in the field. The material is pursued in a largely chronological manner to the early 19th century, at which point social, economic, and political change are dissected. Canadian History: Pre-Confederation provides, as well, a reconnaissance of historical methodology and debates in the field, exercises for students, Key Terms and a Glossary, and section-by-section Key Points. Although this text can be modified, expanded, reduced, and reorganized to suit the needs of the instructor, it is organized so as to support learning, to broaden (and sometimes provoke) debate, and to engage students in thinking like historians. Written and reviewed by subject experts drawn from colleges and universities, this is the first open textbook on the topic of Canadian history.
About the Contributors
Author
Dr. John Douglas Belshaw is an Open Learning faculty member at Thompson Rivers University, a consultant to the post-secondary sector, and a writer. He has authored, co-authored, and edited several books and articles on the history of British Columbia.