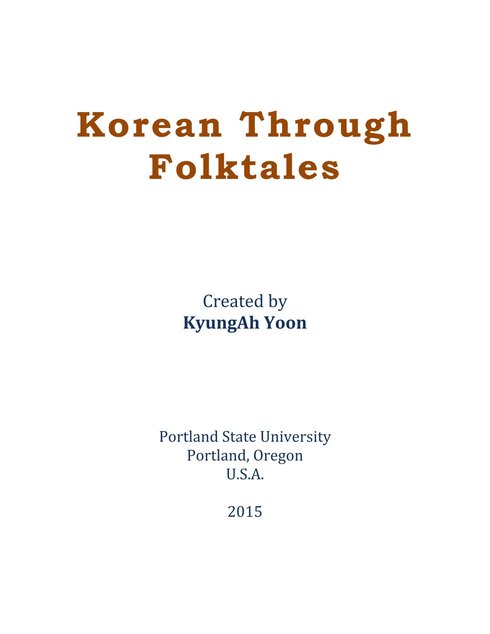 Korean Through Folktales
KyungAh Yoon, Portland State University
Copyright Year: 2017
ISBN 13: 9781329999091
Publisher: Portland State University Library
Language: English
Reviews
Reviewed by Kyung Min Kim, Visiting Assistant Professor, Miami University on 2/1/18
The text covers quite a lot of aspects of Korean language effectively, from grammar, proverbs, and idioms to cultural symbolism behind the terms in the folktales covered. However, it doesn't offer an index, glossary, and answer keys. read more
Reviewed by Kyung Min Kim, Visiting Assistant Professor, Miami University on 2/1/18
Comprehensiveness rating: 4 see less
The text covers quite a lot of aspects of Korean language effectively, from grammar, proverbs, and idioms to cultural symbolism behind the terms in the folktales covered. However, it doesn't offer an index, glossary, and answer keys.
Content Accuracy rating: 4
As a Korean native speaker and a language teacher, I would say that the content is relatively accurate. Particularly, with plenty of links to videos, sounds, and images relevant to the context, language learners can get a rich understanding of the Korean culture.
Relevance/Longevity rating: 5
I wouldn't say that the content is most up-to-date. However, I can say that the content is relevant in any period because it addresses Korean folktales to teach Korean and its cultural perspectives. The text can be used in Korean language courses, perhaps advanced levels, for many years.
Clarity rating: 3
The text is written in accessible prose in both Korean, the target language, and English for an explanation. But occasionally it can be confusing to Korean language learners. For example, although the author attempted to provide grammatical terminology in an accessible manner, it might be hard to understand the grammatical jargons without a decent amount of knowledge of Korean.
Consistency rating: 5
The structure, terminology, and framework of the text are consistent across chapters throughout.
Modularity rating: 5
The text can be divided into smaller sections that can definitely be assigned at different points within the course. Each chapter can stand alone since it centers around a different folktale. Teachers can choose any chapter without considering the sequence of the chapters.
Organization/Structure/Flow rating: 4
The topics in the text are efficiently organized by guiding students through steps: the introduction of the stories, warm-up activities, essential vocabulary in context, multiple versions of a folktale in different difficulty levels, important linguistic forms, and creative writing activities based on the folktale.
Interface rating: 5
The text is free of any navigation issues. Many useful links are embedded in the text, which would be very useful in Korean language courses. Students can hear the folktales both in Korean and English, see relevant images, get helpful information on the symbolism expressed in the stories, and take quizzes for key vocabulary. But the overall design of the text could have been more inviting.
Grammatical Errors rating: 3
It is relatively well-written.
Cultural Relevance rating: 5
The text is very culturally responsive in many ways. In addition to the fact that it is organized around traditional Korean folktales, which in itself is culturally sensitive, the text explains what central terms symbolize in Korean culture by providing explanations about the associations of particular keywords, links to images, and more.
Comments
I would have liked to see less emphasis on decontextualized grammar exercises and a stronger emphasis on activities to engage students in creative writing. One unique feature of the text I like is that folktales are provided in three different levels, from simple to more elaborate versions. Overall, the text is highly recommended for advanced Korean language courses.
Table of Contents
Chapter 1 Heungbu And Nolbu 흥부와 놀부
A. Key Themes & Topics
B. Introduction
C. Warm-up Activities
D. The Story with Key Vocabulary
E. Key Patterns & Forms
F. Post-viewing Activities
Chapter 2 KongJwi And PatJwi 콩쥐와 팥쥐
A. Key Themes & Topics
B. Introduction
C. Warm-up Activities
D. The Story with Key Vocabulary
E. Key Patterns & Forms
F. Post-viewing Activities
Chapter 3 The Story of ShimCheong 심청전
A. Key Themes & Topics
B. Introduction
C. Warm-up Activities
D. The Story with Key Vocabulary
E. Key Patterns & Forms
F. Post-viewing Activities
Chapter 4 The Myth of DanGoon 단군신화
A. Key Themes & Topics
B. Introduction
C. Warm-up Activities
D. The Story with Key Vocabulary
E. Key Patterns & Forms
F. Post-viewing Activities
About the Book
Korean Through Folktales consists of four chapters and each centers on a famous Korean folktale. The lessons and values that famous folktales teach are embedded and permeated in various aspects of the Koran culture. Using folktales in the curriculum will provide an engaging way to expose students to a slice of the target culture that native Koreans are naturally exposed to at an early age. Through the selected folktales and various activities offered in the book, students can gain cultural knowledge and insights into traditional and cultural values while they are given linguistic lessons to reinforce their acquired skills and to apply the learned materials in an integrated approach.
Korean Through Folktales is designed to accompany 1st-year, 2nd-year, and 3rd-year Korean courses offered at Portland State University. However, any Korean teacher can adopt this book to supplement his/her course materials at elementary, intermediate, and advanced levels.
There are four chapters in the book. Each chapter will note main themes of a widely known folktale introduced in the chapter, followed by the links to several videos to watch and get a gist or a background of the story. The ensuing section will introduce important elements and symbolism embedded in the story so as to provide insights and to enhance the depth of appreciation. After that, three versions of the folktale are presented for different levels, followed by grammar lessons, exercises, and tasks.
Traces of folktales and allusions to them are evident in cultural products that many students enjoy, such as dramas, movies, and music. Therefore, knowledge in folktales will help students make cultural connections as well as enrich their experience of learning the Korean language.
About the Contributors
Author
KyungAh Yoon is a senior instructor and the section head for Korean program in the department of World Languages & Literature at Portland State University, Portland, Oregon. Prior to coming to Portland State University, she taught elementary, intermediate, and advanced Korean language courses at Columbia University for seven years, and instructed professionals as an adjunct at The Korea Society, New York City. Prior to teaching at Columbia, she lectured at The Ohio State University and taught Korean language and culture. She is interested in developing technology-assisted instruction and developing online and mobile learning environments for Korean language.
Ms. Yoon holds an Ed.M. in International Educational Development with a concentration in Language, Literacy, & Technology from Columbia University. She received an M.A. in East Asian Languages & Cultures with a concentration in language pedagogy from The Ohio State University, and earned a B.A. in Asian Studies from Williams College.