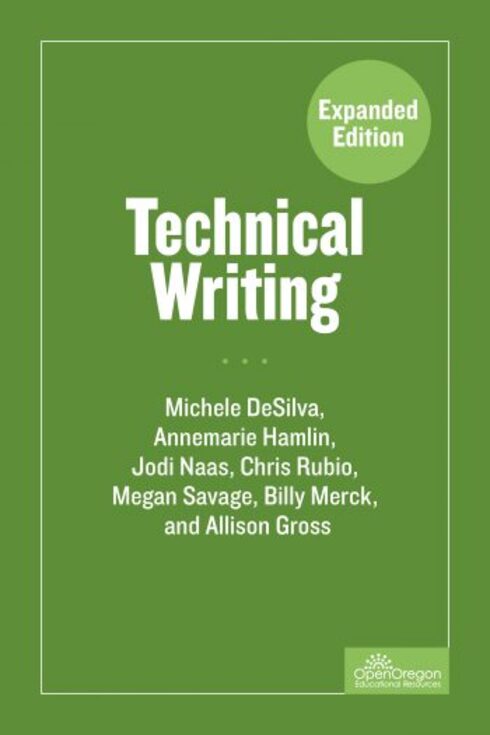 Technical Writing
Annemarie Hamlin, Central Oregon Community College
Chris Rubio, Central Oregon Community College
Copyright Year: 2016
ISBN 13: 9781636350653
Publisher: Open Oregon Educational Resources
Language: English
Table of Contents
1. Professional Communications
2. Audience Analysis
3. Proposals
4. Information Literacy
5. Citations and Plagiarism
6. Progress Reports
7. Outlines
8. Creating and Integrating Graphics
9. Ethics in Technical Writing
10. Technical Reports: Components and Design
11. Basic Design and Readability in Publications
12. Employment Materials
13. Communicating across Cultures
14. Thinking about Writing
About the Book
This open textbook offers students of technical writing an introduction to the processes and products involved in professional, workplace, and technical writing. The text is broken up into sections reflecting key components of researching, developing, and producing a technical report. Readers will also learn about other professional communication, designing documents, and creating and integrating graphics. Written especially for an academic setting, this book provides readers with guidance on information literacy and documenting sources. This book was collected, adapted, and edited from multiple openly licensed sources.
About the Contributors
Authors
Annemarie Hamlin is an Associate Professor of English at Central Oregon Community College.
Chris Rubio is an Assistant Professor at Central Oregon Community College in Bend, OR.