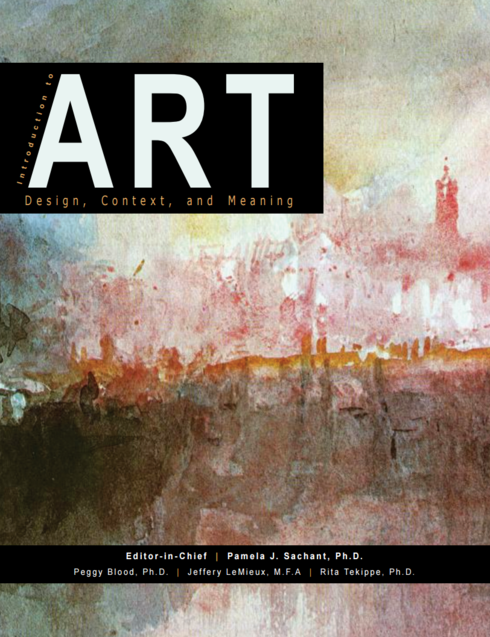 Introduction to Art: Design, Context, and Meaning
Pamela Sachant, University of North Georgia
Peggy Blood, Savannah State University
Jeffery A LeMieux, Brunswick, GA
Copyright Year: 2016
Publisher: University of North Georgia Press
Language: English
Table of Contents
Chapter One: What is Art?
Chapter Two: The Structure of Art
Chapter Three: Significance of Materials Used in Art
Chapter Four: Describing Art
Chapter Five: Meaning in Art
Chapter Six: Connecting Art to Our Lives
Chapter Seven: Form in Architecture
Chapter Eight: Art and Identity
Chapter Nine: Art and Power
Chapter Ten: Art and Ritual Life
Chapter Eleven: Art and Ethics
About the Book
Introduction to Art: Design, Context, and Meaning offers a comprehensive introduction to the world of Art. Authored by four USG faculty members with advance degrees in the arts, this textbooks offers up-to-date original scholarship. It includes over 400 high-quality images illustrating the history of art, its technical applications, and its many uses.
Combining the best elements of both a traditional textbook and a reader, it introduces such issues in art as its meaning and purpose; its meaning and purpose; its structure, material, and form; and its diverse effects on our lives. Its digital nature allows students to follow links to applicable sources and videos, expanding the students' educational experiences beyond the textbook. Introduction to Art: Design, Context, and Meaning provides a new and free alternative to traditional textbooks, making it an invaluable resource in our modern age of technology and advancement.
About the Contributors
Authors
Pamela Sachant is an art history professor at North Georgia College & State University located in Dahlonega, Georgia.
Peggy Blood is Director of Confucius Institute and Full Professor in the Department of Fine Arts Humanities & Wellness. Prior to SSU she Directed satellite campuses (Fairfield &Travis AFD) for Chapman Universities in California. Her area of specialization is Fine Arts, Higher Education & Administration. She is a Fulbright Specialist & Fulbright Specialist Program Peer Reviewer, and reviewer for other academic fellowships and scholarships. Blood is a visiting scholar at Jiujiang University in Jiujiang, China. 
Jeffery A. LeMieux is Professor Emeritus of Art at the College of Coastal Georgia. He is a practicing artist with works in private and public collections including the University System of Georgia Board of Regents and the College of Coastal Georgia. He holds an M.F.A in 2D Studio Art from the University of Wisconsin-Madison, and a B.S. in Philosophy from the University of Wisconsin-Oshkosh. His area of specialization is college level art foundations and art appreciation which he has been teaching for over 20 years.