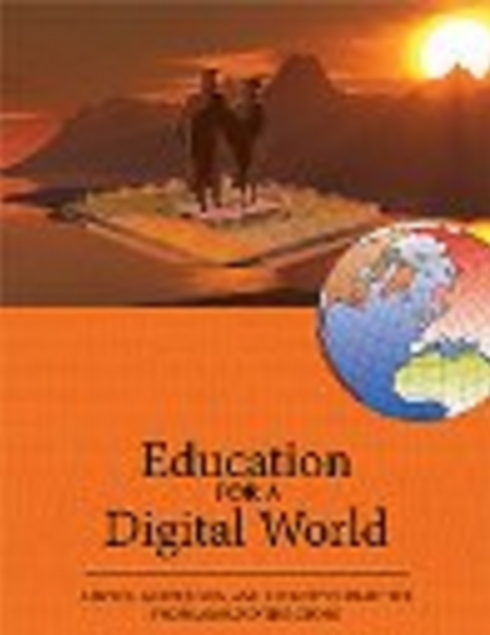 Education for a Digital World: Advice, Guidelines and Effective Practice from Around Globe
Sandy Hirtz
David G. Harper, Harvard Medical School
Copyright Year: 2008
ISBN 13: 9781894975292
Publisher: BCcampus
Language: English
Table of Contents
Chapter Abstracts
Introduction
Part 1: The Impact of Instructional Technologies
1 Emerging Technologies in E-learning
2 Virtual Design Studios: Solving Learning Problems in Developing Countries
3 Challenges Confronted and Lessons (Un)Learned: Linking Students from the University of Ghana and Kwantlen University College
4 Addressing Diversity in Design of Online Courses
5 Mobile Learning in Developing Countries: Present Realities and Future Possibilities
6 The Impact of Technology on Education
Part 2: Preparing Online Courses
7 Learning Management Systems
8 Exploring Open Source for Educators: We're Not in Kansas Anymore – Entering OS
9 Quality Assurance by Design
10 General Principles of Instructional Design
11 Accessibility and Universal Design
12 Articulation and Transfer of Online Courses
13 Planning Your Online Course
14 Assessment and Evaluation
Part 3: Implementing Technology
15 Understanding Copyright: Knowing Your Rights and Knowing When You're Right
16 'Open Licences' of Copyright for Authors, Educators, and Librarians
17 E-learning Standards
18 Leadership and E-learning: Change Processes for Implementing Educational Technologies
19 Building Communities of Practice
Part 4: E-learning in Action
20 Instructional Strategies
21 Media Selection
22 Computer-Based Resources for Learning
23 Computer-Based Games for Learning
24 Evaluating and Improving Your Online Teaching Effectiveness
Part 5: Engagement and Communication
25 Tools for Online Engagement and Communication
26 Techno Expression
27 Social Media for Adult Online Learners and Educators
28 Online Collaboration: An Overview
29 Identity in Online Education
30 Supporting E-learning through Communities of Practice
31 Looking Forward: Stories of Practice
Contributors
About the Book
Education for a Digital World contains a comprehensive collection of proven strategies and tools for effective online teaching, based on the principles of learning as a social process. It offers practical, contemporary guidance to support e-learning decision-making, instructional choices, as well as program and course planning, and development.

Practical advice, real-life examples, case studies, and useful resources supply in-depth perspectives about structuring and fostering socially engaging learning in an online environment. A plethora of e-learning topics provide insights, ideas, and usable tools. Tips and evidence-based theory guide administrators, program and course developers, project teams, and teachers through the development of online learning opportunities.

Education for a Digital World is an indispensable guide, resource, textbook and manual for policymakers and practitioners in developing and developed countries.
About the Contributors
Authors
Sandy Hirtz
David G. Harper, PhD, is the associate director for research for the Division of Geriatric Psychiatry at McLean Hospital. He is also an assistant professor in psychology in the Department of Psychiatry at Harvard Medical School.
Dr. Harper's research focuses on the behavioral symptoms of neurodegenerative illnesses. He is author of numerous journal articles and has presented national and internationally on this topic.