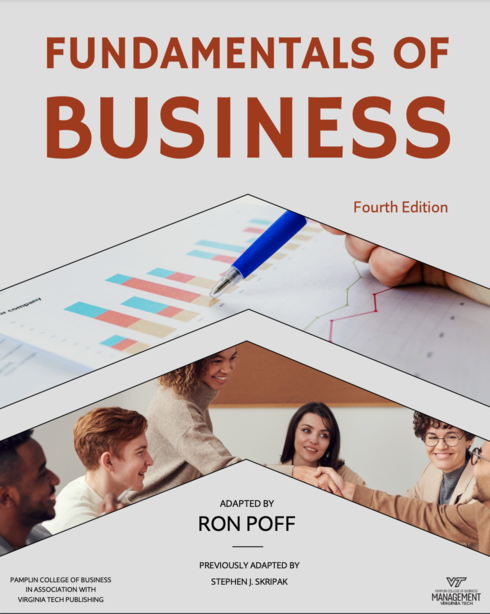 Fundamentals of Business - 4th Edition
Stephen J. Skripak, Virginia Tech
Ron Poff, Virginia Tech
Copyright Year: 2023
ISBN 13: 9780997920178
Publisher: Virginia Tech Libraries
Language: English
Table of Contents
Chapter 1 Teamwork in Business
Chapter 2 The Foundations of Business
Chapter 3 Economics and Business
Chapter 4 Ethics and Social Responsibility
Chapter 5 Business in a Global Environment
Chapter 6 Forms of Business Ownership
Chapter 7 Entrepreneurship and Small Business Development
Chapter 8 Management and Leadership
Chapter 9 Structuring Organizations
Chapter 10 Operations Management
Chapter 11 Motivating Employees
Chapter 12 Managing Human Resources
Chapter 13 Union/Management Issues
Chapter 14 Marketing: Providing Value to Customers
Chapter 15 Pricing Strategy
Chapter 16 Hospitality and Tourism
Chapter 17 Accounting and Financial Information
Chapter 18 Personal Finances
Chapter 19 Technology in Business
About the Book
Fundamentals of Business, 4th Edition is an open education resource intended to serve as a no-cost, faculty-customizable primary text for one-semester undergraduate introductory business courses. It covers the following topics in business: Teamwork; economics; ethics; entrepreneurship; business ownership, management, and leadership; organizational structures and operations management; human resources and motivating employees; managing in labor union contexts; marketing and pricing strategy; hospitality and tourism, accounting and finance, personal finances, and technology in business. The textbook was designed for use in Virginia Tech's Pamplin College of Business introductory level business course, MGT1104 Foundations of Business and is shared under a Creative Commons Attribution Non-Commercial ShareAlike 4.0 license.
If you are an instructor reviewing, adopting, or adapting this textbook, please help us understand your use by filling out this form http://bit.ly/business-interest.
A testbank is now available by request for this book: http://hdl.handle.net/10919/93404. The testbank covers chapters 1-18 and (currently) aligns to previous editions of the textbook. It is  available to any instructor who has adopted Fundamentals of Business in their course.
About the Contributors
Authors
Stephen J. Skripak is (retired) Professor of Practice in Management at Pamplin College of Business, Virginia Tech (2005  – 2021) and former Associate Dean for Graduate Programs (2006-2014). He is a senior executive with 25 years of business leadership experience, including positions as General Manager and Chief Financial Officer with divisions of Fortune 500 companies. His background includes financial services, consumer packaged goods, apparel, and industrial companies, with emphasis in turnaround situations. He was the lead contributor and subject matter expert for the 2016 and 2018 editions of Fundamentals of Business, and reviewed the 2020 and 2023 versions of the book.
Ron Poff is Assistant Professor of Management Practice in the Management Department at Pamplin College of Business, Virginia Tech, where he teaches management courses. He began his career as an enlisted member of the US Navy Reserves before entering his primary career in supply chain operations then sales and marketing, where he served in executive roles with large corporations for over 25 years. As an entrepreneur, he then founded his own marketing agency. His education includes a B.S. in Business Management, M.S. Marketing, and a Graduate Certificate in eMarketing. He is the project lead, chief contributor, and coordinator of contributors for the third (2020) and fourth editions (2023) of Fundamentals of Business.