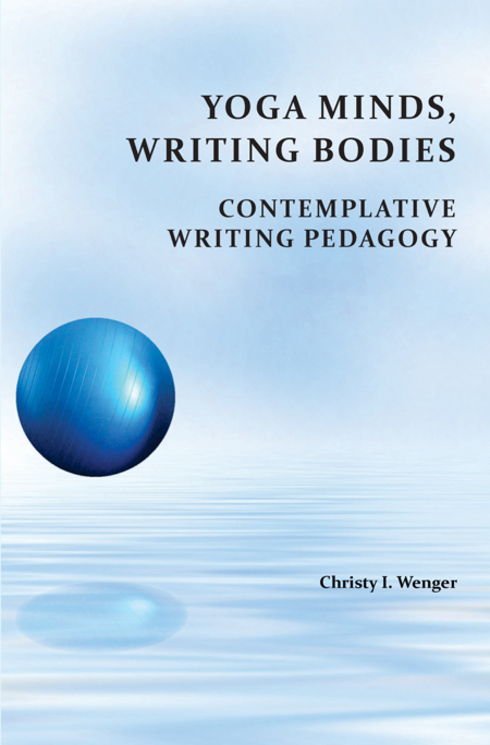 Yoga Minds, Writing Bodies: Contemplative Writing Pedagogy
Christy Wenger, Shepherd University
Copyright Year: 2015
ISBN 13: 9781602356603
Publisher: WAC Clearinghouse
Language: English
Table of Contents
Introduction: From the Sticky Mat to the Classroom: Toward Contemplative Writing Pedagogy
Chapter One: The Writing Yogi: Lessons for Embodied Change
Interchapter One: Using "Body Blogs" to Embody the Writer's Imagination
Chapter Two: Personal Presence, Embodied Empiricism and Resonance in Contemplative Writing
Interchapter Two: Habits of Yoga Minds and Writing Bodies
Chapter Three: Situating Feelings in Contemplative Writing Pedagogy
Interchapter Three: The Writer's Breath
Conclusion: Namaste
About the Book
In Yoga Minds, Writing Bodies, Christy Wenger argues for the inclusion of Eastern-influenced contemplative education within writing studies. She observes that, although we have "embodied" writing education in general by discussing the rhetorics of racialized, gendered, and disabled bodies, we have done substantially less to address the particular bodies that occupy our classrooms. She proposes that we turn to contemplative education practices that engages student bodies through fusing a traditional curriculum with contemplative practices including yoga, meditation, and the martial arts. Drawing strength from the recent "quiet revolution" (Zajonc) of contemplative pedagogy within postsecondary education and a legacy of field interest attributable to James Moffett, this project draws on case studies of first-year college writers to present contemplative pedagogy as a means of teaching students mindfulness of their writing and learning in ways that promote the academic, rhetorical work accomplished in first-year composition classes while at the same time remaining committed to a larger scope of a writer's physical and emotional well-being.
About the Contributors
Author
Christy I. Wenger is Assistant Professor of English, Rhetoric and Composition at Shepherd University, where she directs the Writing and Rhetoric program. Her research has focused on the intersections between feminisms, contemplative traditions and composition. In addition to bringing her own practice of yoga into the classroom, she has partnered with local yoga instructors to create learning communities between first-year experience courses and first-year writing courses and her research has benefited greatly from the generosity of her yoga community. Her work on the materiality of teaching and the value of contemplative pedagogy for writing studies has previously appeared in journals including English Teaching and Practice and JAEPL, and has been shared at conferences held by the Conference on College Composition and Communication, the Rhetorical Society of America, and the Association for the Contemplative Mind in Higher Education, among others. She serves on the board of the Assembly for the Expanded Perspectives on Learning, an organization that allows her to connect with other compositionists interested in alternative pedagogies. Her additional scholarly interests include feminist writing program administration, digital pedagogy and feminist disability studies.