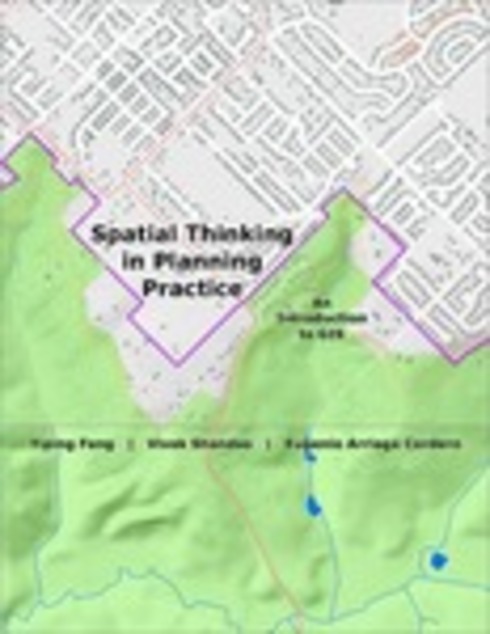 Spatial Thinking in Planning Practice: An Introduction to GIS
Yiping Fang, Portland State University, Portland, OR
Vivek Shandas, Portland State University
Eugenio Arriaga Cordero, Portland State University
Copyright Year: 2014
ISBN 13: 9781312778986
Publisher: Portland State University Library
Language: English
Table of Contents
Chapter 1: Defining a Geographic Information System
Chapter 2: Coordinate Systems and Projecting GIS Data
Chapter 3: Topology and Creating Data
Chapter 4: Mapping People with Census Data
Chapter 5: Lying with Maps
Chapter 6: To Standardize or Not to Standardize?
Chapter 7: Geographic Considerations in Planning Practice.
Chapter 8: Manipulating GIS Data
Chapter 9: Raster Data Models
Chapter 10: The Future of GIS
About the Book
The goals of this textbook are to help students acquire the technical skills of using software and managing a database, and develop research skills of collecting data, analyzing information and presenting results. We emphasize that the need to investigate the potential and practicality of GIS technologies in a typical planning setting and evaluate its possible applications. GIS may not be necessary (or useful) for every planning application, and we anticipate these readings to provide the necessary foundation for discerning its appropriate use. Therefore, this textbook attempts to facilitate spatial thinking focusing more on open-ended planning questions, which require judgment and exploration, while developing the analytical capacity for understanding a variety of local and regional planning challenges.
While this textbook provides the background for understanding the concepts in GIS as applicable to urban and regional planning, it is best when accompanied by a hands-on tutorial, which will enable readers to develop an in-depth understanding of the specific planning applications of GIS. In the end of each chapter, we also provided several discussion questions, together with contextual applications through some web links.
About the Contributors
Authors
Yiping Fang is an Assistant Professor of Urban Studies and Planning at Portland State University. Her research and teaching examines spatial structures from social sciences' perspective, focusing on China's urbanization, and other international urban development challenges. Dr. Fang has an undergraduate degree in Architecture, Masters in Urban planning from Tsinghua University in Beijing, and completed her PhD in Design and Planning at the University of Colorado. Prior to joining Portland State, she worked as a research associate at Brown University (Rode Island), and an academic staff at Erasmus University (Rotterdam, the Netherlands).
Vivek Shandas is an Associate Professor of Urban Studies and Planning at Portland State University. His research and teaching interests focus on the intersection of humans, their biophysical environment, and the role of institutions in guiding the growth of urban areas. Dr. Shandas has an undergraduate degree in Biology, Masters in Economics, and Environmental Management and Policy, and completed his PhD at the University of Washington. Prior to joining Portland State, he worked as an outdoor school teacher (Oregon), grade-school curriculum developer (California), and a policy analyst and regional planner (New York).
Eugenio Arriaga is a doctoral candidate in Urban Studies and Planning at Portland State University. His areas of research are sustainable transportation –with an emphasis on bicycling; access to public transit; and the role of the built environment on gendered travel behavior and how it vary by class, race, and family structure. Eugenio has an undergraduate degree in Law, a Masters in Sustainable International Development from Brandeis University, and a Masters in Public Management from ITESO University. Before starting his PhD in Portland he worked for the city of Guadalajara in Mexico in the fields of social policy, cultural affairs, city planning, and active transportation, where he was responsible of the construction of the first segregated cycle-track.