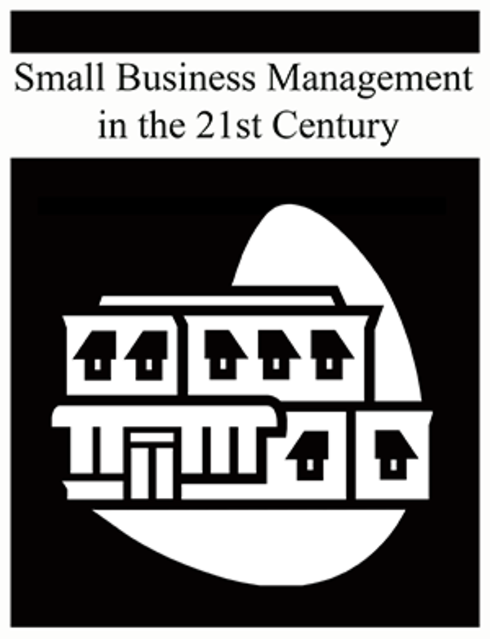 Small Business Management in the 21st Century
David Cadden, Quinnipiac University
Sandra L. Lueder, Southern Connecticut State University
Copyright Year: 2012
ISBN 13: 9781453345566
Publisher: Saylor Foundation
Language: English
Table of Contents
Chapter 1: Foundations for Small Business
Chapter 2: Your Business Idea: The Quest for Value
Chapter 3: Family Businesses
Chapter 4: E-Business and E-Commerce
Chapter 5: The Business Plan
Chapter 6: Marketing Basics
Chapter 7: Marketing Strategy
Chapter 8: The Marketing Plan
Chapter 9: Accounting and Cash Flow
Chapter 10: Financial Management
Chapter 11: Supply Chain Management: You Better Get It Right
Chapter 12: People and Organization
Chapter 13: The Search for Efficiency and Effectiveness
Chapter 14: Icebergs and Escapes
Chapter 15: Going Global: Yes or No?
Chapter 16: Appendix: A Sample Business Plan
About the Book
Small Business Management in the 21st Century offers a unique perspective and set of capabilities for instructors. The authors designed this book with a "less can be more" approach, and by treating small business management as a practical human activity rather than as an abstract theoretical concept.
The text has a format and structure that will be familiar to you if you use other books on small business management. Yet it brings a fresh perspective by incorporating three distinctive and unique themes and an important new feature (Disaster Watch) which is embedded throughout the entire text. These themes assure that students see the material in an integrated context rather than a stream of separate and distinct topics.
First, the authors incorporate the use of technology and e-business as a way to gain competitive advantage over larger rivals. Technology is omnipresent in today's business world. Small business must use it to its advantage. We provide practical discussions and examples of how a small business can use these technologies without having extensive expertise or expenditures.
Second, they explicitly acknowledge the constant need to examine how decisions affect cash flow by incorporating cash flow impact content in several chapters. As the life blood of all organizations, cash flow implications must be a factor in all business decision-making.
Third, they recognize the need to clearly identify sources of customer value and bring that understanding to every decision. Decisions that do not add to customer value should be seriously reconsidered.
Small Business Management in 21st Century boasts a new feature called Disaster Watch scenarios. Few texts cover, in any detail, some of the major hazards that small business managers face. Disaster Watch scenarios, included in most chapters, cover topics that include financing, bankers, creditors, employees, customers who don't pay, economic downturns, and marketing mistakes.
About the Contributors
Authors
David Cadden, Professor Emeritus, Quinnipiac University. Dr. Cadden was born in New York and received his undergraduate degree in engineering from the Brooklyn Polytechnic Institute. He received an M.S. in Management from the same institution. He attended Baruch College, which is part of the City University of New York, where he received his MBA and earned his PhD in Management Planning Systems. Dr. Cadden is the author of many journal articles, book chapters, and proceedings' publications. For several years he ran a program at Quinnipiac University where students traveled to Nicaragua to assist local small businesses improve their operations. He teaches in the areas of operations and strategy and places special emphasis in these courses on the unique demands of small businesses. Cadden has consulted with several firms including McDonald-Douglas Aircraft and Blue Cross/Blue Shield. Prior to coming to Quinnipiac, Dr. Cadden worked for Hazeltine Corporation, Baruch College, and Fairfield University.
Sandra L. Lueder is an Associate Professor Emeritus, Southern Connecticut State University. She has a PhD in Marketing from the City University of New York (Baruch College), an MBA in Management and Marketing from the University of Connecticut, and a B.A. from the University of Wisconsin in Madison. She has also taught at Sacred Heart University in Fairfield, CT. Her non-education employment includes working in government, small business, and United Engineers and Constructors, a large corporation that is a division of Raytheon. Dr. Lueder has been passionate about small business for more than 25 years. As the proud daughter of a twice-entrepreneur, she has lived the life and has seen the ups and downs of small business ownership. She has taught small business management courses and has integrated the small business perspective into most of the marketing and leadership courses that she teaches. Dr. Lueder has published in the New England Journal of Entrepreneurship and The E-Business Review. She has also made many presentations at academic conferences.