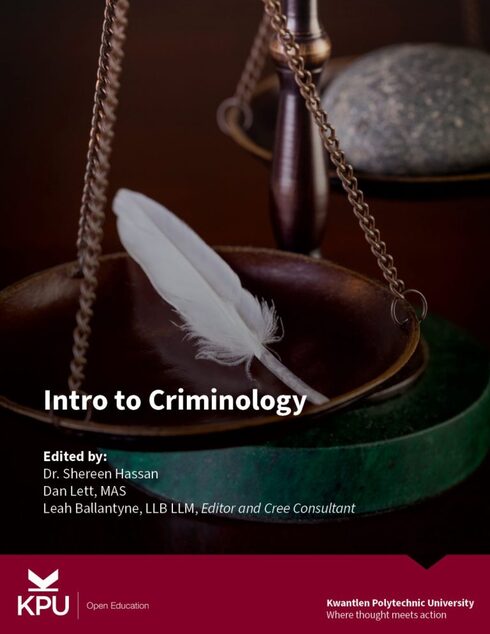 Introduction to Criminology
Shereen Hassan, Surrey, British Columbia
Dan Lett, Surrey, British Columbia
Leah Ballantyne, Pukatawagan, Manitoba
Copyright Year: 2023
ISBN 13: 9781989864647
Publisher: Kwantlen Polytechnic University
Language: English
Table of Contents
Licensing Info
Accessibility Statement
For Students: How to Use this Book
Acknowledgments
Introduction
1. What is Crime?

2. Typologies and Patterns of Crime

3. Media and Crime

4. Race and Crime

5. Methods and Counting Crime

6. Biological Influences on Criminal Behaviour

7. Psychological Theories of Crime

8. Sociological Theories of Crime

9. Learning Theories

10. Critical Criminology

11. Feminist Criminology

12. Cultural Criminology

13. Green Criminology

14. Victimology

15. Crimes of the Powerful

16. Environmental Criminology

17. Restorative, Transformative Justice

Glossary
Contributors
About the Book
Although this open education resource (OER) is written with the needs and abilities of first-year undergraduate criminology students in mind, it is designed to be flexible. As a whole, the OER is amply broad to serve as the main textbook for an introductory course, yet each chapter is deep enough to be useful as a supplement for subject-area courses; authors use plain and accessible language as much as possible, but introduce more advanced, technical concepts where appropriate; the text gives due attention to the historical "canon" of mainstream criminological thought, but it also challenges many of these ideas by exploring alternative, critical, and marginalized perspectives. After all, criminology is more than just the study of crime and criminal law; it is an examination of the ways human societies construct, contest, and defend ideas about right and wrong, the meaning of justice, the purpose and power of laws, and the practical methods of responding to broken rules and of mending relationships.
Special thanks to Leah Ballantyne, LLB LLM, a Cree lawyer from the Mathias Colomb Cree Nation in Pukatawagan, Manitoba, who provided expert Indigenous consultation/editing for this textbook.
About the Contributors
Authors
Dr. Shereen Hassan — I have been a faculty member of the Criminology department at Kwantlen Polytechnic University since 2004. I studied at Simon Fraser University, where I earned by PhD in 2010. But I did not enter SFU with the intention of pursuing a career in criminology or criminal justice. In fact, it was during my first-year experience enrolled in courses in the social sciences where topics like human rights and social justice were introduced, and this is when I developed a keen interest in this field of study. It was also my experience being racially profiled while travelling across the U.S./Canada border, which occurred for the first time during my 2nd year at SFU, that really lead to my decision to pursue my degrees in criminology. As it turns out, flying while Arab has proven to be quite challenging. I expand on these experiences in the vignette at the start of the Race and Racism chapter of this textbook, and I touch on these experiences at the start of each term with my students, as I feel stories and lived experience are valuable ways to make these issues relevant in the classroom.
I grew up in a low-income family in Port Coquitlam, B.C., not far from the Pickton farm. I was one of the only 3 people of colour in my elementary school (my brother was one of them). I always felt like I had to fight to get through challenges in life, and have not been afforded the privileges that many of my classmates enjoyed. Developing a text that was easily accessible to students trying to pave their own path, some with very little support and resources, was really a dream come true for me. While my own experiences of racism and marginalization differ significantly from the experiences of Indigenous peoples of Canada, my background has certainly heightened my sensitivity around these complex issues and my appreciation for the need for culturally sensitive and trauma-informed approaches to teaching and learning.
Dan Lett, Kwantlen Polytechnic University
Editor
Leah Ballantyne, LLB LLM is from the Mathias Colomb Cree Nation in Pukatawagan, Manitoba. The community is signatory to Treaty 6 in the northern boreal forest. Leah is the first and only member of her community to become a lawyer and she follows a long line of both elected and hereditary leadership from her Nation.
Leah graduated from UBC faculty of law in 2005 and earned her Masters-in-law (LLM) in international law and governance in 2017 as class valedictorian at the University of Hawaii at Manoa School of Law. Leah is a member of the law societies of both Manitoba and British Columbia.
Ms. Ballantyne serves grassroots leaders, Chiefs and other First Nation-led organizations in upholding treaty and inherent rights. Currently, Leah provides her time to the Lower Fraser Fishery Alliance for the RELAW project – "Revitalizing Indigenous Land, Air and Water." LFFA RELAW produced a legal synthesis report aimed at Indigenous law-based fish habitat restoration strategies for the Lower Fraser. The work is created in collaboration with the RELAW team of Relawyers at the West Coast Environmental Law Foundation. Leah also provides her expertise to a C-92 Child Welfare Law reform project, and recently to residential site school reclamation and memorialization work. She is currently an active board member with the First Nation Health Authority and the Canadian Mountain Network.
Kwantlen Polytechnic University has hired Leah to edit this textbook to ensure that culturally appropriate and safe language is used when involving Indigenous peoples and pedagogy.