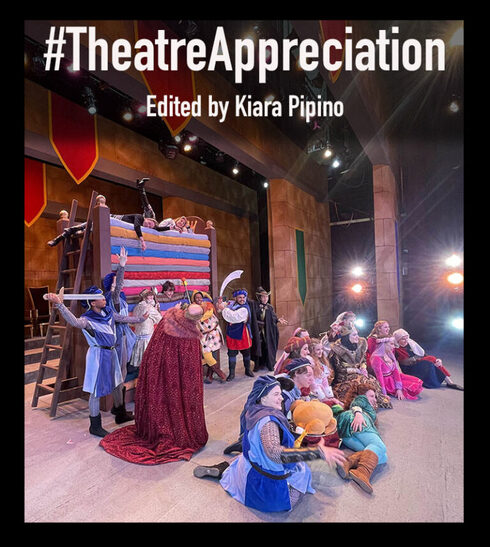 #TheatreAppreciation
Kiara Pipino, Oneonta, NY
Copyright Year: 2022
Publisher: SUNY Oneonta
Language: English
Table of Contents
Foreword
Title Page
I. Theatre: The Basics

1. Why Theater?
2. Theatrical Spaces
3. How to Read a Play and Watch a Production
4. Genres and Styles

II. Professionals in Theatre: Who Does What?

5. The Actor
6. The Director
7. The Producer
8. The Playwright
9. The Set Team
10. The Costume Team
11. The Lighting and Sound Teams

III. The Culture of Theatre

12. Theater History, in Brief!
13. Applied Theater
14. Musical Theatre
15. Global Theatre

Theatre Appreciation: A Student's Perspective
Essential Bibliography
About the Book
#TheatreAppreciation is a textbook for introductory level lecture classes such as Theatre Appreciation and Introduction to Theatre. It provides insight about the art and craft of theatre, a brief exploration of theatre history, and discussion about the styles and forms of theatre along with an overview of professions in the field.
About the Contributors
Editor
Kiara Pipino is an Associate Professor of Theatre at SUNY Oneonta and a freelance director and translator. She has worked nationally and internationally, including Off Broadway, in Italy for the Italian National Theatre, in the Czech Republic for the Prague Shakespeare Company, in the Philippines for Ateneo de Manila University, and in Greece, for Theatre of Changes. Her research fields include the role of women and gender in theatre, classic Greek theatre, and Movement for Actors. She is a graduate of the Universita' degli Studi di Genova (Italy) and of the University of Arkansas and she holds a certification in the Michael Chekhov Technique from GLMCC. She is the author of Women Writing and Directing in the USA: A Stage of Our Own, published by Rutledge in 2020, she co-authored Conquering the Stage, for Kendall Hunt, in 2017 and she wrote Theatre and Pietas for the University of Trento Press also in 2017.