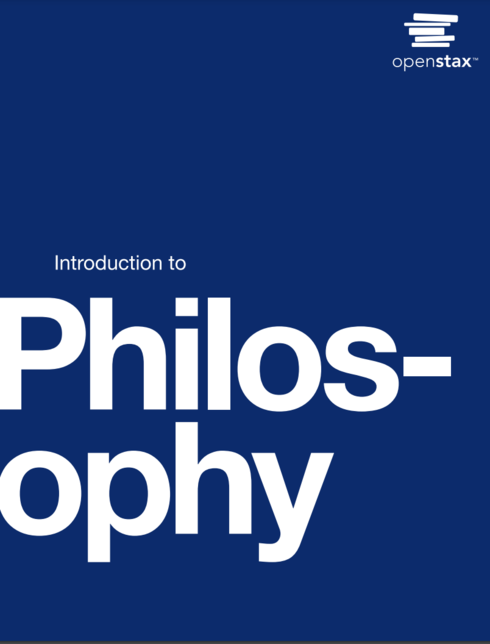 Introduction to Philosophy
Nathan Smith, Houston, TX
Gregory Browne, Ypsilanti, MI
Parish Conkling, Houston, TX
Copyright Year: 2022
ISBN 13: 9781951693596
Publisher: OpenStax
Language: English
Table of Contents
Chapter 1. Introduction to Philosophy
Chapter 2. Critical Thinking, Research, Reading, and Writing
Chapter 3. The Early History of Philosophy around the World
Chapter 4. The Emergence of Classical Philosophy
Chapter 5. Logic and Reasoning
Chapter 6. Metaphysics
Chapter 7. Epistemology
Chapter 8. Value Theory
Chapter 9. Normative Moral Theory
Chapter 10. Applied Ethics
Chapter 11. Political Philosophy
Chapter 12. Contemporary Philosophies and Social Theories
About the Book
Designed to meet the scope and sequence of your course, Introduction to Philosophy surveys logic, metaphysics, epistemology, theories of value, and history of philosophy thematically. To provide a strong foundation in global philosophical discourse, diverse primary sources and examples are central to the design, and the text emphasizes engaged reading, critical thinking, research, and analytical skill-building through guided activities.
About the Contributors
Authors
Nathan Smith has a PhD in philosophy from Boston College and the University of Paris, Sorbonne. His dissertation was on René Descartes's early scientific and mathematical work. He has been a full-time instructor of philosophy at Houston Community College (HCC) since 2008. He has published on Descartes, phenomenology, and topics in Open Educational Resources (OER), including chapter contributions to an OER textbook through the Rebus Foundation. At HCC, he served as Chair of the Philosophy, Humanities, and Library Sciences Department from 2015 to 2017 and has served as the Open Educational Resources Coordinator since 2017. In this capacity he has secured and managed over $500,000 in grants for the institution and leads a cross-disciplinary, district-wide effort to provide "zero cost books" courses and degree plans for students.
Gregory Browne, Eastern Michigan University
Parish Conkling, Houston Community College