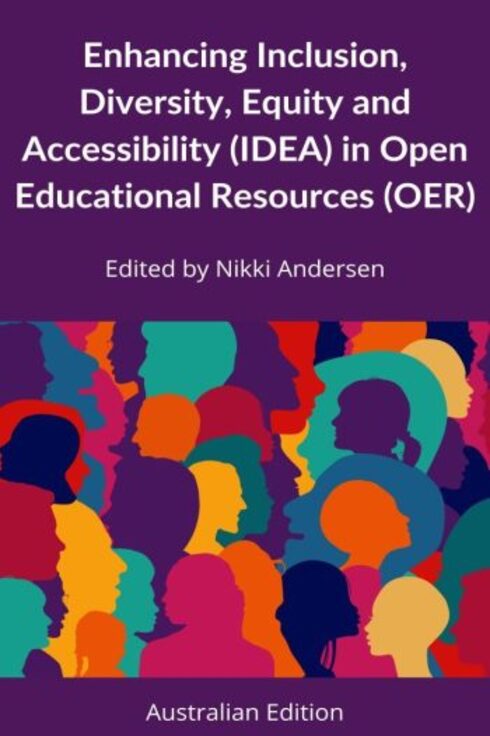 Enhancing Inclusion, Diversity, Equity and Accessibility (IDEA) in Open Educational Resources (OER) - Australian Edition
Nikki Andersen, Toowoomba, Australia
Copyright Year: 2022
ISBN 13: 9780645326
Publisher: University of Southern Queensland
Language: English
Reviews
Reviewed by Caroline Toscano, Instructional Designer (PhD in Educational Psychology), Century College on 6/20/23
This book provides a very comprehensive overview of how Open Educational Resources (OERs) can be designed with Equity, Diversity, and Inclusion in mind. The audience appears to be educators/academics/scholars who wish to create OER using... read more
Reviewed by Caroline Toscano, Instructional Designer (PhD in Educational Psychology), Century College on 6/20/23
Comprehensiveness rating: 5 see less
This book provides a very comprehensive overview of how Open Educational Resources (OERs) can be designed with Equity, Diversity, and Inclusion in mind. The audience appears to be educators/academics/scholars who wish to create OER using frameworks and principles that reflect social justice, recognitive justice, and representational justice. A plethora of specific examples are provided on how to design equitable OERs, along with ample resources to learn more about the particular topic areas, such as: diverse and inclusive images; example names; inclusive language; researchers and references; diverse examples and balanced perspectives; appropriate terminology and inclusive metadata; indigenisation, decolonisation, and cultural inclusion; accessibility, usability, and Universal Design for Learning; and anti-racist and inclusive open pedagogy.
Content Accuracy rating: 5
The contents of the book appear to have gone through a rigorous peer reviewer process. Nine peer reviewers representing various diversity perspectives have gone through the materials and have provided their feedback and suggestions. In addition, the author, Nikki Andersen, acknowledges contributions by other subject matter experts to support the information in the book chapters.
Relevance/Longevity rating: 4
The content appears to be up-to-date and reflective of the latest information related to equity, diversity, and inclusion. The author also mentions at the beginning of the book that she encourages any updates or corrections from readers. Because the book examines the Australian context, it does not discuss people in other countries, although it does provide important implications for discussing indigenous peoples in a holistic manner. If authors from, for example, the US, would like to apply these principles to discussing First Peoples in the US, there is useful and relevant information that the authors can use in writing their own OER.
Clarity rating: 5
The book emphasizes the use of clarity and simple English language to make the contents accessible. If any terms are used, they are described for the reader. The prose is very readable and easy to understand.
Consistency rating: 5
The author is careful to make sure that the text is internally consistent in terms of the terminology and framework. Toward the end of the book, the author nicely draws relationships among open pedagogy, culturally responsive pedagogy, critical pedagogy, and trauma-informed pedagogy. The author is also mindful throughout the book to keep accessibility and usability at the forefront.
Modularity rating: 5
The book is 90 pages in total and is divided into 10 chapters with subsections that include aims, actions and considerations, examples, and references. The sections are succinct enough to read through quickly and retain the main points.
Organization/Structure/Flow rating: 5
The book chapters begins by providing a general framework for designing OER with equity, diversity, and inclusion in mind. The following chapters examine more granular points about designing OER, such as inclusive language, diverse examples and balanced perspectives, and Universal Design for Learning.
Interface rating: 5
The book appears to be free of significant interface issues. There are links throughout the chapters that are all functional, and H5P is used as external tools that are functional as well. The photos all contain alt text and are clear in quality.
Grammatical Errors rating: 5
The book contains almost no grammatical issues. I noticed that sometimes periods are not used when discussing titles such as Mr and Mrs. A very small issue is in the introduction when discussing "redistributive justice, recognitive justice, and representational justices." Justice could be singular with each category or pluralized at the end of the sentence.
Cultural Relevance rating: 5
I believe this is the main strength of the book. The author is very mindful of cultural respect and examples. There is an ample array of contexts and instances that readers can use in designing their own OERs and avoiding insensitive or offensive representations. Intersectionality is used throughout the book chapters to examine how various identities interact with one another.
Comments
This is a very important resource for educators/academics/scholars in designing their own OER to be equitable, diverse, and inclusive. It provides useful and actionable principles to implement in building OERs. There is a dearth of resources in this area, so it is a welcome addition to the body of knowledge on OER creation.
Table of Contents
Acknowledgement of First Peoples
Accessibility Information
About the Editor
Peer Reviewers
Introduction
Definitions
I. Main Body

Framework for Reviewing Inclusion, Diversity, Equity, and Accessibility in Open Educational Resources

Diverse and Inclusive Imagery

Researchers and References

Diverse Examples and Balanced Perspectives

Appropriate Terminology and Inclusive Metadata

Accessibility, Usability and Universal Design for Learning

Anti-Racist and Inclusive Open Pedagogy

Resources
References
Accessibility Assessment
About the Book
This practical guide provides a framework and tips to enhance inclusion, diversity, equity, inclusion and accessibility in Open Educational Resources.
About the Contributors
Author
Nikki Andersen is the Open Education Content Librarian at the University of Southern Queensland (UniSQ). In this role she supports open educational practices, including the development of open textbooks using the open publishing platform, Pressbooks. She has previous experience as a Copyright Officer, Diversity and Inclusion Officer, and is the editor the Australasian Open Educational Practice Digest. Nikki is also a part of the Council of Australian University Librarian's (CAUL) Open Educational Resources Professional Development Program Project Team, and the ASCILITE Open Educational Practice Special Interest Group.
She identifies as disabled and Deaf and speaks nationally about issues relating to diversity, equity, inclusion and accessibility. Her advocacy for diversity and inclusion has been featured in The Australian, the Australian Government's EmployAbility initiative, and in several library and information studies courses across Australian universities. In 2017, she received UniSQ's Head of School Award for Excellence in Education for her work on creating accessible and inclusive digital learning environments for blind and visually-impaired students.
She is interested in the relationship between open educational practice, social justice and student success.