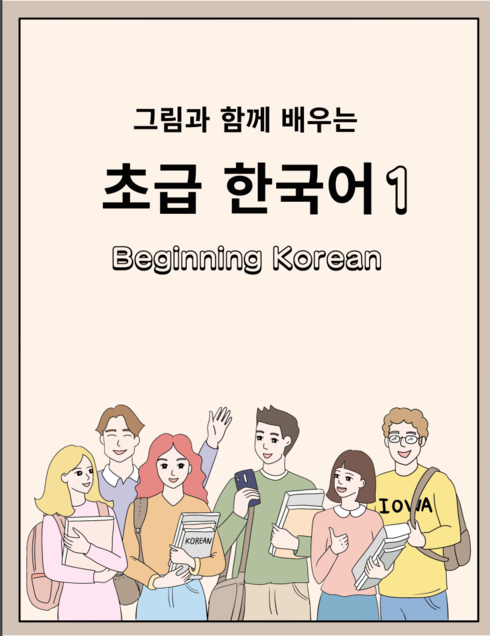 Beginning Korean 1
Sang-Seok Yoon, Johnson County, Iowa
Joung-A Park, Johnson County, Iowa
Jeehae Yoo, University of Hawaii System
Copyright Year: 2022
Publisher: University of Iowa
Language: English
Reviews
Reviewed by Noori Kim, Assistant Professor, Purdue University on 12/3/23
The textbook is more like a workbook for students who learn Korean as a second or third language for the first time. Each chapter is linked with a YouTube lecture link and a necessary audio file link for testing the concept learned. The textbook... read more
Reviewed by Noori Kim, Assistant Professor, Purdue University on 12/3/23
Comprehensiveness rating: 5 see less
The textbook is more like a workbook for students who learn Korean as a second or third language for the first time. Each chapter is linked with a YouTube lecture link and a necessary audio file link for testing the concept learned. The textbook covers all the basics for Novice level Korean language learners.
Content Accuracy rating: 5
The content is error-free, and the author translates Korean content into English based on the context. For example, if one translates "Let's discuss" literally, it could have been written in Korean differently. But the author, wrote it as "Let's think" (if I translate the sentence literally in English), which is more suitable based on the context.
Relevance/Longevity rating: 5
The textbook uses up-to-date content and applications popular in South Korea, such as Kakaotalk (like a messenger that 99.99% of Koreans use) and pictures of contemporary Koreans. The text is also arranged in such a way that necessary updates will be relatively easy and straightforward to implement, as it uses separate YouTube links for delivering each chapter's main concept.
Clarity rating: 3
The clarity of this textbook is fair but may need improvement in terms of students' activities (such as group work and the structure of questions in each chapter).
Consistency rating: 4
The text is internally consistent in terms of terminology but the framework varies in each chapter. However, I think this variation can turn into a good approach for learners.
Modularity rating: 4
The textbook is more like a workbook or practice book of lecture series. The textbook consists of 7 chapters, and each chapter is linked to relevant YouTube lecture links. Each chapter involves numerous practice pages to master the concept of the chapter. Visual aids provided also help students digest the learnings. The chapter is the highest category and there is no subunit under each chapter.
Organization/Structure/Flow rating: 4
The topics in the text are presented in a logical, but there is no clear structure to form each chapter. The overall organization of the textbook is free but contains necessary content for readers to learn Korean.
Interface rating: 3
The textbook does not have any interface issues, but it heavily depends on YouTube links. In case of internet disruption, the textbook's identity will be lost.
Grammatical Errors rating: 5
The text contains no grammatical errors.
Cultural Relevance rating: 5
The examples used in the textbook makes use of examples that are inclusive of a variety of genders, races, ethnicities, and backgrounds.
Comments
This textbook does not stand alone. Without watching the Youtube lectures, this book cannot provide necessary learnings to readers.
Table of Contents
책을 펴내면서 Forward
등장인물 Characters
0. 과 한글 Hangeul, Korean Characters
1. 과 안녕하세요 Hello
2. 과 오늘 뭐 해요 What are you doing today
3. 과 집이 어디예요 Where is your house
4. 과 오늘 한국어 수업이 있어요 I have a Korean class today
5. 과 어제 왜 안 왔어요 Why didn't you come yesterday
6. 과 생일 파티를 했어요 I had a birthday party
About the Book
The Beginning Korean 1 is designed for elementary Korean learners to practice and learn how to communicate in Korean. It provides basic grammar, vocabulary, and discourse information that are essential to beginning level students. This book is ideal for learners at the Novice Low to Novice High levels who want to practice writing and pronouncing hangeul, communicate in Korean by creating sentences using basic grammar and vocabulary, and understand and create simple conversations that are useful in everyday conversations
About the Contributors
Author
Sang-Seok Yoon, University of Iowa
Illustrator
Jeehae Yoo, University of Hawaii System
Editor
Joung-A Park, University of Iowa