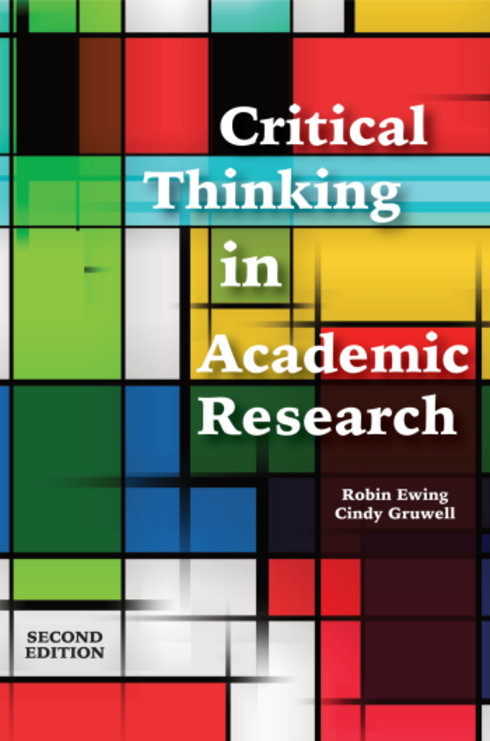 Critical Thinking in Academic Research - Second Edition
Cindy Gruwell, University of West Florida
Robin Ewing, St. Cloud State University
Copyright Year: 2022
Last Update: 2023
Publisher: Minnesota State Colleges and Universities
Language: English
Table of Contents
Introduction
Part I. What is Critical Thinking?
Part II. Barriers to Critical Thinking
Part III. Analyzing Arguments
Part IV. Making an Argument
Part V. Research Questions
Part VI. Sources and Information Needs
Part VII. Types of Sources
Part VIII. Precision Searching
Part IX. Evaluating Sources
Part X. Ethical Use and Citing Sources
Part XI. Copyright Basics
Works Cited
About the Authors
About the Book
Critical Thinking in Academic Research - 2nd Edition provides examples and easy-to-understand explanations to equip students with the skills to develop research questions, evaluate and choose the right sources, search for information, and understand arguments. This 2nd Edition includes new content based on student feedback as well as additional interactive elements throughout the text.
About the Contributors
Authors
Cindy Gruwell is an Assistant Librarian/Coordinator of Scholarly Communication at the University of West Florida. She is the library liaison to the department of biology and the College of Health which has extensive nursing programs, public health, health administration, movement, and medical laboratory sciences. In addition to supporting health sciences faculty, she oversees the Argo IRCommons (Institutional Repository) and provides scholarly communication services to faculty across campus. Cindy graduated with her BA (history) and MLS from the University of California, Los Angeles and has a Masters in Education from Bemidji State University. Cindy's research interests include academic research support, publishing, and teaching.
Robin Ewing is a Professor/Collections Librarian at St. Cloud State University. Robin is the liaison to the College of Education and Learning Design. She oversees content selection for the Library's collections. Robin graduated with her BBA (Management) and MLIS from the University of Oklahoma. She also has a Masters of Arts in Teaching from Bemidji State University. Robin's research interests include collection analysis, assessment, and online teaching.