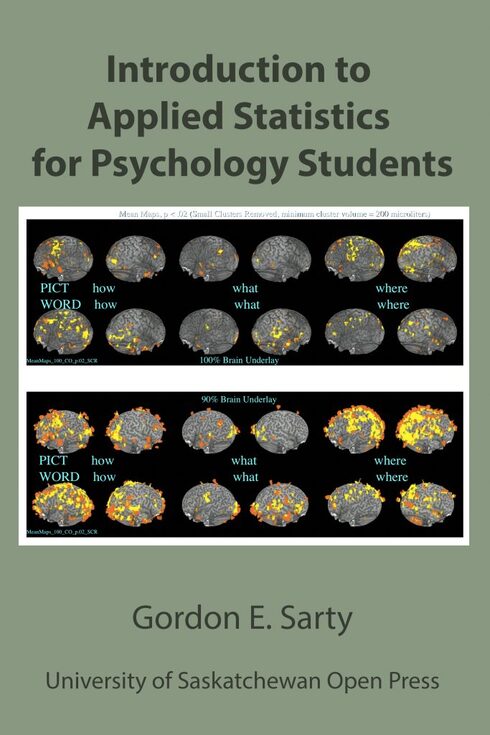 Introduction to Applied Statistics for Psychology Students
Gordon E. Sarty, University of Saskatchewan
Copyright Year: 2022
Publisher: University of Saskatchewan
Language: English
Reviews
Reviewed by Mike Love, Instructor, Lewis-Clark State College on 5/18/22
This text provides surface-level overview of many concepts in statistics and probability. read more
Reviewed by Mike Love, Instructor, Lewis-Clark State College on 5/18/22
Comprehensiveness rating: 4 see less
This text provides surface-level overview of many concepts in statistics and probability.
Content Accuracy rating: 5
I did not notice any significant errors in the presentation of formulas or definitions. Any variance I noticed could be easily dismissed as a difference in preferred notation or terminology.
Relevance/Longevity rating: 4
There is nothing wrong with the examples used, however, I would like t see more examples beyond abstract lists of numbers. Providing more word/application problems would be useful, particularly for independent learners.
Course mentions its intended use with specifically numbered psychology courses at author's institution (i.e. PSY 233/234). Would prefer a more generalized description of courses this is targeted to.
Clarity rating: 4
The online version of the text has some formatting issues that make figures unclear. Some times, multi-line examples have "broken" alignment that makes their illustrative intent unclear.
For example, in 3.1.2: Median, if your viewing window is too small, the arrows pointing to relevant values can be horribly misaligned.
In 1.1.2 Intro to Univariate Statistics, the graphics used do not scale well with different zoom levels.
Consistency rating: 4
The author seems to try and inject some humor into establishing some computational ideas, but that is difficult to express in a format like this. I sometimes felt the attempts at humor came across as judgmental or dismissive.
Modularity rating: 5
The author has recommended modules based on course intent, but each section seems largely independent of the others, and can be used in different orders, based on need and curriculum preference.
Organization/Structure/Flow rating: 5
The organization is not the way I would have structured the text, but it is organized in a way that makes intuitive sense. The modularity of the text allows nicely for content to be re-arranged and re-organized.
Interface rating: 5
Links back to definitions and formulas make it easy to look back and check what symbols mean. Navigating through and across sections is very easy.
Grammatical Errors rating: 5
No grammatical mistakes or vague wording that I noticed.
Cultural Relevance rating: 5
I did not notice any potentially insensitive or offensive content or presentation.
Comments
I do not feel the material goes quite deep enough for STEM students or for curious Psychology students, but also manages to not quite focus enough on meaning and application for students to build an intuitive understanding of what the measurements mean and how they can be used.
A good start for a statistics class, but faculty would need to supplement with more detailed examples and exercises.
Not particularly useful for an independent learner outside of a motivated STEM student
Table of Contents
1. Background and Motivation

2. Descriptive Statistics: Frequency Data (Counting)

3. Descriptive Statistics: Central Tendency and Dispersion

4. Probability and the Binomial Distributions

5. The Normal Distributions

6. Percentiles and Quartiles

7. The Central Limit Theorem

8. Confidence Intervals

9. Hypothesis Testing

10. Comparing Two Population Means

11. Comparing Proportions

12. ANOVA

13. Power

14. Correlation and Regression

15. Chi Squared: Goodness of Fit and Contingency Tables

16. Non-parametric Tests

17. Overview of the General Linear Model
About the Book
Introduction to Applied Statistics for Psychology Students, by Gordon E. Sarty (Professor, Department of Psychology, University of Saskatchewan) began as a textbook published in PDF format, in various editions between 2014-2017. The book was written to meet the needs of University of Saskatchewan psychology students at the undergraduate (PSY 233, PSY 234) level.
In 2019-2020, funding was provided through the Gwenna Moss Centre for Teaching and Learning, along with technical assistance from the Distance Education Unit, to update and adapt this book, making it more widely available in an easy-to-use and more adaptable digital (Pressbooks) format. The update also made revisions so that the book could be published with a license appropriate for open educational resources (OER).
OERs are defined as "teaching, learning, and research resources that reside in the public domain or have been released under an intellectual property license that permits their free use and re-purposing by others" (Hewlett Foundation). This textbook and other OERs like it are openly licensed using a Creative Commons license, and are offered in various digital and e-book formats free of charge.
Printed editions of this book can be obtained for a nominal fee through the University of Saskatchewan bookstore.
About the Contributors
Author
Gordon E. Sarty, University of Saskatchewan