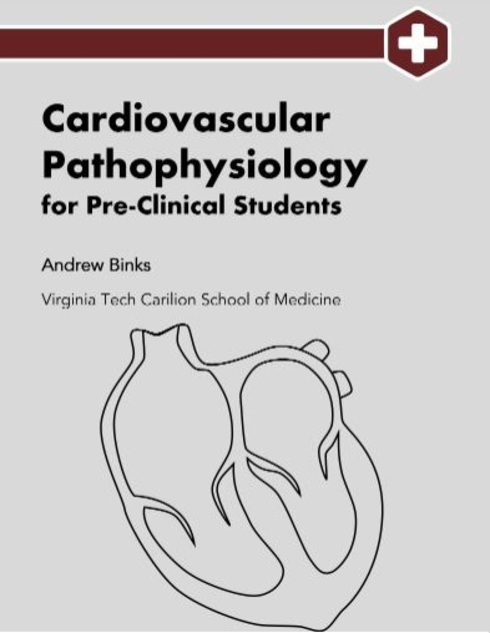 Cardiovascular Pathophysiology for Pre-Clinical Students
Andrew Binks, Roanoke, VA
Copyright Year: 2022
Publisher: Virginia Tech Libraries
Language: English
Reviews
Reviewed by Kristine Ramos-Reyes, Faculty, Dominican University on 11/30/22
The book only covers adult cardiovascular pathophysiology, not pediatric pathophysiology. There is no index or glossary as well. read more
Reviewed by Kristine Ramos-Reyes, Faculty, Dominican University on 11/30/22
Comprehensiveness rating: 3 see less
The book only covers adult cardiovascular pathophysiology, not pediatric pathophysiology. There is no index or glossary as well.
Content Accuracy rating: 4
Great illustrations and tables across the chapters especially the tombstoning appearance in STEMI.
Relevance/Longevity rating: 5
The text is easy and straightforward.
Clarity rating: 4
The book provides explanations of most medical terms.
Consistency rating: 4
This book is consistent in terminology and framework.
Modularity rating: 4
The chapters are outlined in subsections which are organized and aligned.
Organization/Structure/Flow rating: 4
The flow of the text is presented in logical and clear fashion.
Interface rating: 4
The interface of the book is good. There is no distracting figure or issues.
Grammatical Errors rating: 4
No grammatical errors noted in this book.
Cultural Relevance rating: 4
This text did not use so much of examples of a variety of races or backgrounds.
Comments
Overall, this book is a good resource for pre-clinical students before entering medical school or other postgraduate studies.
Table of Contents
1. Arrhythmias2. Heart Failure3. Hypertension4. Valvular Disease5. Heart Sounds and Murmurs6. Congenital Heart Disease7. Ischemic Heart Disease
About the Book
Cardiovascular Pathophysiology for Pre-Clinical Students, is an undergraduate medical-level resource for foundational knowledge of common cardiovascular diseases, disorders and pathologies. This text is designed for a course pre-clinical undergraduate medical curriculum and it is aligned to USMLE(r) (United States Medical Licensing Examination) content guidelines. The text is meant to provide the essential information from these content areas in a concise format that would allow learner preparation to engage in an active classroom. Clinical correlates and additional application of content is intended to be provided in the classroom experience. The text assumes that the students will have an understanding of basic cardiovascular physiology that will be helpful to understand the content presented here. This resource should be assistive to the learner later in medical school and for exam preparation given the material is presented in a succinct manner, with a focus on high-yield concepts.
Instructors interested in reviewing, adopting, or adapting parts or the whole of the text are requested to register their interest at: https://bit.ly/interest-preclinical.
About the Contributors
Author
Dr. Andrew Binks is a cardiopulmonary physiologist who gained his BSc (Hons) in Physiological Sciences at the University of Newcastle upon Tyne, then a MSc in Human and Applied Physiology from King's College, London. He returned to Newcastle to do his PhD and study the underlying physiological mechanisms of dyspnea, the cardinal symptom of cardiopulmonary disease. He continued investigating dyspnea at Harvard School of Public Health as a postdoctoral fellow and then as a research scientist. After seven years at Harvard, Andrew took his first faculty position at the University of New England where he taught cardiovascular and pulmonary physiology to health profession and medical students. He continued to teach medical students their heart and lung physiology after moving to the University of South Carolina's Medical School in Greenville where he also directed the school's heart and lung pathophysiology courses. Andrew currently teaches heart and lung physiology and pathophysiology at Virginia Tech Carilion School of Medicine, directs the heart and lung pathophysiology course and has also served as the departmental director of faculty development.
In his two decades of teaching medical physiology, Andrew has regularly drawn upon his dyspnea research experience to generate an active, clinically focused approach to medical education. This book is part of that approach and supports students preparing for class with the basic information with the intention to apply and contextualize that information in a guided case-based classroom experience.
Andrew has published numerous peer-reviewed research papers and book chapters about dyspnea and about contemporary medical education. He has also given keynote presentations, faculty workshops and international webinars to promote effective medical education for the modern adult learner.