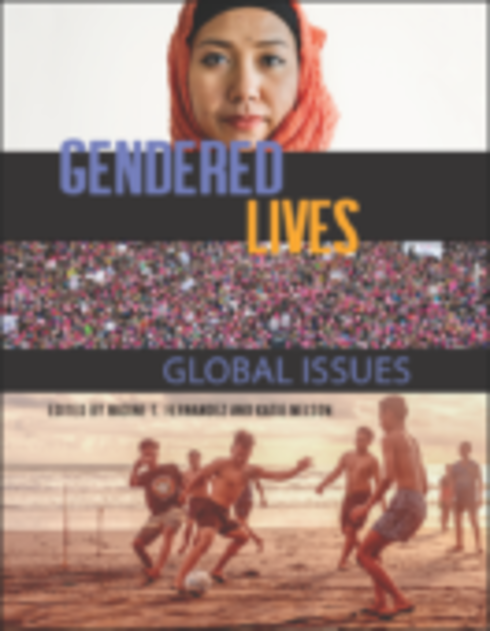 Gendered Lives: Global Issues
Nadine T. Fernandez, SUNY Empire State College
Katie Nelson, Inver Hills Community College
Copyright Year: 2021
Publisher: Milne Open Textbooks
Language: English
Reviews
Reviewed by Katrina Heimark, Lecturer, Century College on 5/1/23
While not an expert in Gender Studies, this book does a great job of exploring a diversity of gender-related issues from an anthropological perspective, such as indigenous women, coming-of-age rituals, masculinity, fatherhood, motherhood, and... read more
Reviewed by Katrina Heimark, Lecturer, Century College on 5/1/23
Comprehensiveness rating: 4 see less
While not an expert in Gender Studies, this book does a great job of exploring a diversity of gender-related issues from an anthropological perspective, such as indigenous women, coming-of-age rituals, masculinity, fatherhood, motherhood, and feminism. The text does a fantastic job of delving into different issues surrounding gender in South Asia, Latin America and the Carribbean, and the Global North. Additional focus on other regions of the world, such as the Middle East and Africa would bring additional strength to this text. Also, I was surprised by the lack of a chapter dedicated to Ni Una Menos, one of the largest feminist movements in Latin America.
Content Accuracy rating: 5
As far as I am able to tell, this is a highly accurate text book that relies on many deep dives into case studies.
Relevance/Longevity rating: 5
This text was published in 2022 and the case studies contained within will be relevant for many years to come.
Clarity rating: 5
The textbook does an exceptional job of providing context for terminology, which makes this book particularly accessible for a non-gender studies audience.
Consistency rating: 5
The framework of the text is consistent throughout the chapters.
Modularity rating: 5
The design of the text is fantastic for undergraduates, with many sub-blocks of text, images, and sub-units that contribute to learning and understanding.
Organization/Structure/Flow rating: 5
The organization of the text is logical and clear.
Interface rating: 4
The interface of the text is a pdf, which makes it slightly more difficult to navigate easily (it has more than 400 pages). An online text would be easier to navigate for students, in my opinion.
Grammatical Errors rating: 5
I did not identify glaring grammatical errors.
Cultural Relevance rating: 5
This text does an incredible job of contextualizing gender and gender studies across diverse cultural contexts throughout the world. The examples draw on multiple groups of people from diverse ethnic, racial, socioeconomic, educational, and other backgrounds.
Table of Contents
Part I: Introduction

Chapter 1: Key Concepts

Chapter 2: Key Perspectives

Part II: South Asia

Chapter 3: Introducing the Region

Chapter 4: Controlling National Borders by Controlling Reproduction

Chapter 5: Understanding Caste and Kinship within Hijras, a "Third" Gender Community in India

Chapter 6: The "City" and "The Easy Life": Work and Gender among Sherpa in Nepal

Part III: Latin America

Chapter 7: Latin America: Introducing the Region

Chapter 8: Being a Good Mexican Man by Embracing "Erectile Dysfunction"

Chapter 9: Intersectionality and Normative Masculinity in Northeast Brazil

Chapter 10: Mexico's Antipoverty Program Oportunidades and the Shifting Dynamics of Citizenship for Ñuu Savi (Mixtec) Village Women

Chapter 11: Q'eqchi'-Maya Women: Memory, Markets, and Multilevel Marketing in Guatemala

Part IV: The Caribbean

Chapter 12: The Caribbean: Introducing the Region

Chapter 13: Quinceañeras: Girls' Coming-of-Age Parties in Contemporary Havana, Cuba

Chapter 14: Jamaican Realities of Masculinities and Sexualities: "How Far Have We Come since Michel Foucault?"

Part V: The Global North (North America and Europe)

Chapter 15: The Global North: Introducing the Region

Chapter 16: Mothers Acting up Online

Chapter 17: Male Sex Work in Canada: Intersections of Gender and Sexuality

Chapter 18: Intersectionality and Muslim Women in Belgium

Chapter 19: Fatherhood and Family Relations in Transnational Migration from Mezcala, Mexico
About the Book
A gender studies textbook that takes an anthropological approach.
Gendered Lives takes a regional approach to examine gender issues from an anthropological perspective with a focus on globalization and intersectionality. Chapters present contributors' ethnographic research, contextualizing their findings within four geographic regions: Latin America, the Caribbean, South Asia, and the Global North. Each regional section begins with an overview of the broader historical, social, and gendered contexts, which situate the regions within larger global linkages. These introductions also feature short project/people profiles that highlight the work of community leaders or non-governmental organizations active in gender-related issues. Each research-based chapter begins with a chapter overview and learning objectives and closes with discussion questions and resources for further exploration. This modular, regional approach allows instructors to select the regions and cases they want to use in their courses. While they can be used separately, the chapters are connected through the book's central themes of globalization and intersectionality.
About the Contributors
Authors
Dr. Nadine T. Fernandez is a cultural anthropologist and professor in the Social Science & Public Affairs Department at SUNY Empire State College. She has BA in Urban Studies and History from the University of Pennsylvania, and a Masters and PhD in Cultural Anthropology from the University of California, Berkeley. She has over 20 years of experience teaching traditional and non-traditional students in the classroom and online, and has recently begun creating and using Open Educational Resources (OERs) in her courses. Her research examines migration, race and gender relations in Cuba. In 2015 she received the SUNY Chancellor's Award for Excellence in Scholarship and Creative Activities. Her publications include: Revolutionizing Romance: interracial couples in contemporary Cuba (Rutgers University Press 2010); an edited book (with Christian Groes) Intimate Mobilities: sexual economies, marriage and migration in a disparate world (Berghahn Books 2018); and several book chapters and journal articles.
Katie Nelson is an instructor of anthropology at Inver Hills Community College. Her research focuses on identity, belonging and citizenship(s) among migrant and undocumented populations in the U.S., Mexico and Morocco. She is particularly interested in examining how migrants forge a sense of identity and belonging in the contexts of national discourses that problematize their presence.
She received her BA in Anthropology and Latin American Studies from Macalester College, her MA in Anthropology from the University of California, Santa Barbara, an MA in Education and Instructional Technology from the University of Saint Thomas and her Ph.D. in socio-cultural anthropology from CIESAS Occidente, Guadalajara, Mexico.
Dr. Nelson serves as the Online Content Editor for the Teaching and Learning Anthropology Journal. She is also a managing editor for Explorations: An Open Invitation to Biological Anthropology, a forthcoming open access textbook. She recently authored a chapter in Perspectives: An Open Access to Cultural Anthropology, an open access textbook.