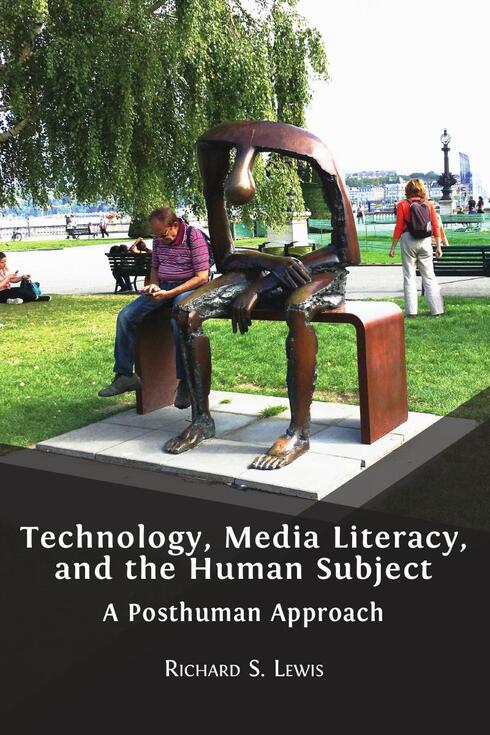 Technology, Media Literacy, and the Human Subject: A Posthuman Approach
Richard S. Lewis, Prescott College
Copyright Year: 2021
ISBN 13: 9781800641846
Publisher: Open Book Publishers
Language: English
Reviews
Reviewed by Sandra McGee, Adjunct Instructor, Old Dominion University on 6/24/23
One of the notable strengths of this book lies in its comprehensive analysis of the subject matter. The author demonstrates an impressive command of the interdisciplinary aspects involved, seamlessly weaving together theories from media studies,... read more
Reviewed by Sandra McGee, Adjunct Instructor, Old Dominion University on 6/24/23
Comprehensiveness rating: 4 see less
One of the notable strengths of this book lies in its comprehensive analysis of the subject matter. The author demonstrates an impressive command of the interdisciplinary aspects involved, seamlessly weaving together theories from media studies, philosophy, cultural studies, and technology studies. This multidisciplinary approach enriches the reader's understanding of the topics at hand and allows for a more holistic exploration of the subject matter.
Content Accuracy rating: 5
In terms of accuracy, "Technology, Media Literacy, and the Human Subject: A Posthuman Approach" demonstrates a well-researched and well-informed perspective on the subject matter. The author displays a strong grasp of relevant theories and concepts from various disciplines, and their arguments are supported by scholarly references and citations.
The book effectively presents a comprehensive analysis of the topics it covers, providing readers with a solid understanding of the intersection between technology, media literacy, and the evolving nature of the human subject. The author's exploration of posthumanism and its implications is grounded in academic research and philosophical insights, lending credibility to their arguments.
Relevance/Longevity rating: 5
"Technology, Media Literacy, and the Human Subject: A Posthuman Approach" is a highly relevant book in today's digital age, where technology and media play significant roles in shaping our lives, identities, and interactions. The book explores the impact of technology on the human subject and delves into the concept of posthumanism, providing a framework for understanding the evolving relationship between humans, technology, and media.
The subject matter addressed in this book is particularly relevant as society grapples with the transformative effects of digital technologies. It examines how our understanding of self, communication, and knowledge acquisition has been reshaped by technological advancements, and it raises important questions about the implications of these changes. The book's exploration of media literacy within the context of the posthuman era is also timely, as individuals increasingly need to navigate complex media landscapes to critically engage with information and digital platforms.
Clarity rating: 3
"Technology, Media Literacy, and the Human Subject: A Posthuman Approach" generally achieves a commendable level of clarity in its presentation of complex ideas and theories. However, I question if the book is suitable for all classroom levels. The author makes a concerted effort to explain key concepts and provide relatable examples to enhance understanding. However, there are areas where further clarity could have been beneficial.
One of the book's strengths is its ability to engage readers by using accessible language and relatable scenarios. The author often employs concrete examples and case studies to illustrate abstract concepts, making it easier for readers to grasp the significance and implications of the subject matter. This approach enhances the clarity of the book and ensures that readers from various backgrounds can follow along.
However, due to the inherently intricate nature of the topics covered, some sections of the book may still present challenges for readers without a solid background in the subject matter. At times, the book delves into highly theoretical discussions, which could potentially be overwhelming for those less familiar with the field. In such instances, additional explanations or clarification of terms and concepts could have been beneficial to ensure a smoother reading experience.
Consistency rating: 4
The book's consistency is evident in its organization and structure. The chapters and sections flow logically, building upon each other to create a cohesive narrative. The author provides a strong framework from the beginning, establishing key concepts and theories that are consistently referred back to throughout the book. This structure aids readers in following the author's arguments and understanding the overall progression of ideas.
Modularity rating: 5
I really enjoyed this textbook's modularity. Within each chapter, the author often presents concepts, theories, and case studies in a modular manner. They provide clear headings, subheadings, and section breaks to demarcate different topics and ideas. Each chapter explores a different aspect of the subject matter, making it easier for readers to focus on particular areas of interest or relevance to their studies or research.
Organization/Structure/Flow rating: 5
I think the book's organization is well-structured and aids readers in navigating the book's content effectively. The author employs a logical and cohesive organization that enhances the overall reading experience. The book begins with a clear introduction that sets the stage for the subsequent discussions. The author establishes the key concepts, objectives, and the posthuman framework that will be explored throughout the book.
Within each chapter, the author employs subheadings and section breaks to further organize the content. This helps readers locate specific information or revisit particular sections easily. The use of clear headings and subheadings aids in quickly identifying the main ideas and arguments within each chapter, facilitating comprehension and enhancing the book's usability as a reference resource.
Interface rating: 2
This book does not include many images or charts, and including these can help aid the reader with advance topics and theories. I would recommend (for future editions) adding in more visual components, such as charts and images, and hyperlinks to learn more about advanced topics.
Grammatical Errors rating: 5
I think this book provides consistent and accurate grammar throughout its chapters. A book that demonstrates strong grammar usage, like this one, enhances readability and ensures effective communication with the reader.
Cultural Relevance rating: 5
I do not find this book culturally insensitive or offensive in any way. However, it is always best for inclusion to include diverse examples, names, and stories to reach all readers. A culturally sensitive book should promote understanding, dialogue, and respect for cultural diversity.
Comments
I was drawn to review this book based on its posthuman approach. I find too many media literacy articles focus on the human responsibility to evaluate messages and technological meaning, but fail to address how technology shapes us and our understanding. I plan on using this textbook for a course I'm developing on Communication and the Blue Economy, specifically showing students how technology can shape our messages and how we find meaning in climate change message through technology. Exploring the posthuman perspective in relation to technology and media literacy can shed light on the ways in which our understanding and engagement with these domains and climate change are evolving.
Table of Contents
1. Introduction: Problematizing our Relations with Media Technologies
Part I: Situating the Interdisciplinary Concepts

2. Situating Media Literacy
3. Understanding the Medium Through the Technological Relation
4. The Posthuman: Situating the Subject in Human-Tech Relations

Part II: Developing a Posthuman Approach: A Framework and Instrument

5. Developing the Intrasubjective Mediating Framework
6. Developing an Instrument to Leverage the Framework
7. Conclusion
About the Book
What does it mean to be media literate in today's world? How are we transformed by the many media infrastructures around us? We are immersed in a world mediated by information and communication technologies (ICTs). From hardware like smartphones, smartwatches, and home assistants to software like Facebook, Instagram, Twitter, and Snapchat, our lives have become a complex, interconnected network of relations. Scholarship on media literacy has tended to focus on developing the skills to access, analyze, evaluate, and create media messages without considering or weighing the impact of the technological medium—how it enables and constrains both messages and media users. Additionally, there is often little attention paid to the broader context of interrelations which affect our engagement with media technologies.
This book addresses these issues by providing a transdisciplinary method that allows for both practical and theoretical analyses of media investigations. Informed by postphenomenology, media ecology, philosophical posthumanism, and complexity theory the author proposes both a framework and a pragmatic instrument for understanding the multiplicity of relations that all contribute to how we affect—and are affected by—our relations with media technology. The author argues persuasively that the increased awareness provided by this posthuman approach affords us a greater chance for reclaiming some of our agency and provides a sound foundation upon which we can then judge our media relations. This book will be an indispensable tool for educators in media literacy and media studies, as well as academics in philosophy of technology, media and communication studies, and the post-humanities.
About the Contributors
Author
Richard S. Lewis is currently faculty—and the library director—at Prescott College (an innovative and experiential university in the US focused on the environment and social justice). He completed his interdisciplinary doctorate in Philosophy of Technology and Media & Communications Studies from the Free University of Brussels (Vrije Universiteit Brussel) in 2020, following that with a one-year postdoc at the Catholic University of Lille. His posthuman approach brings philosophical posthumanism together with postphenomenology, media ecology, and complexity to better understand the impact of media and technology at both the personal and sociocultural levels. He earned his Master's in 2003 from the University of Arizona in information research and library sciences, with a concentration on the usability of technology.