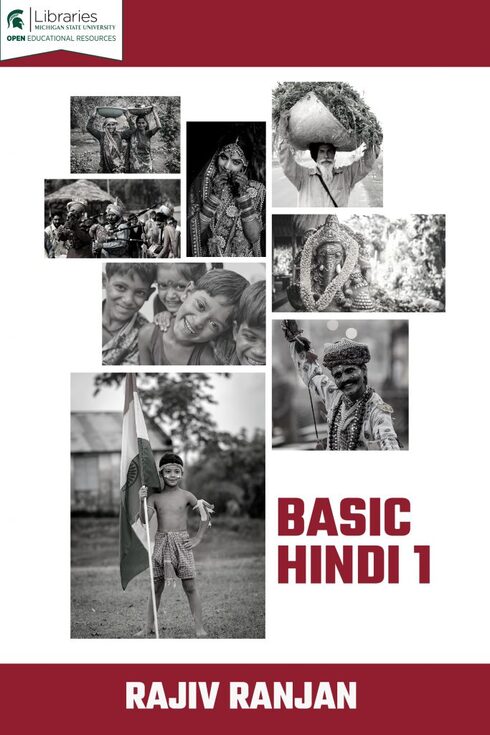 Basic Hindi I
Rajiv Ranjan, Michigan State University
Copyright Year: 2021
ISBN 13: 9781626101050
Publisher: LibreTexts
Language: English
Reviews
Reviewed by Carl Polley, Instructor, Kapiolani Community College on 11/30/21
A solid first-semester introduction to the Hindi language, this textbook includes an introductory chapter on Hindi script and the sounds represented by Hindi letters, as well as a variety of lessons that are focused either on topics of... read more
Reviewed by Carl Polley, Instructor, Kapiolani Community College on 11/30/21
Comprehensiveness rating: 4 see less
A solid first-semester introduction to the Hindi language, this textbook includes an introductory chapter on Hindi script and the sounds represented by Hindi letters, as well as a variety of lessons that are focused either on topics of conversation like family and common places (home, school, market) or on functional elements of the language like expressions of actions in the past, present, and future. Numerous instructional videos accompany the lesson materials. An overall glossary of vocabulary terms is not included, though each chapter does contain lists of key vocabulary items specific to each lesson.
Content Accuracy rating: 5
The English content is accurate, generally error-free, and unbiased. As a reviewer who specializes in second-language instruction for other languages, and not Hindi, I'm not in a position myself to comment on the accuracy of the Hindi lesson texts.
Relevance/Longevity rating: 5
Lesson content is presented in a way that will be helpful for true beginners to the language, focusing on basic conversational settings and fundamentals of Hindi grammar. Each chapter includes review activities relevant to a study abroad setting, making the course more relevant and meaningful for students who are preparing for a study abroad experience in a Hindi-speaking area.
One of this textbook's key strengths is the abundance of interactive activities and review exercises throughout all of the chapters. Interactive activities are programmed in H5P, allowing for instant feedback. There are also some task-based speaking activities that require a classroom setting where students can interact with each other, and individual speaking activities that involve self-directed audio recording of student responses.
Clarity rating: 4
The text is clear and concise, and should be accessible to most undergraduate students. Common grammar concepts such as gender and case marking for nouns, as well as tense and aspect marking for verbs, are introduced in a somewhat perfunctory manner and may require additional explanation on the part of the instructor, where students are not already familiar with such concepts. The reading examples in certain lessons, such as the one on family, include clickable glosses for key vocabulary, but other readings in later lessons do not include any glosses.
Consistency rating: 4
The textbook is highly consistent across chapters, with each chapter including a number of reading and listening examples. Transliteration of Hindi script is provided only for the first lesson. An area for further improvement could be to provide alternative views of the reading examples including transliteration and glosses for all of the lessons.
Modularity rating: 4
Introductory foreign language textbooks generally do not lend themselves to modular presentation since certain language skills, such as an introduction to the script and pronunciation, provide a foundation for more generalized learning. With that in mind, the book is reasonably divided into smaller reading sections and activities that make sense for a first-semester college course.
The format in which the dialogues are presented, in table format with separate sentences in each line and translations in each column, is relatively static and does not allow for easy adaptation or reorganization.
Organization/Structure/Flow rating: 5
The topics in the text are presented in a clear fashion, which follows a logic of introducing progressively more advanced grammar points over the course of study.
Interface rating: 5
The text is straightforward to use. All of the accompanying instructional videos include full transcripts.
Future iterations of the textbook could be further improved by including supplementary materials that would make the course content even more easily navigated and managed, such as a full glossary of vocabulary with links to lesson pages for each vocab item, and vocabulary flashcard materials that could either be provided in OER format or hosted on an external site like Quizlet or Memrise.
Grammatical Errors rating: 5
The text contains very few grammatical errors.
Cultural Relevance rating: 5
The text is culturally appropriate for native-English learners of Hindi who are learning in a college setting. Additional content and cultural notes in each chapter provide ample additional opportunities for learning about culture.
Table of Contents
Chapter 1: Hindi Letters & Script
Chapter 2: Beginning Conversations
Chapter 3: परिवार "Family"
Chapter 4: Describing Places
Chapter 5: Expressing Likes, Dislikes, Needs, and Possession
Chapter 6: Giving Instruction and Making Request
Chapter 7: Expressing Present, Past, and Future Actions
Chapter 8: Talking About the Past and Completed Actions
About the Book
Basic Hindi I is an online, interactive, and tech-enhanced textbook that promotes speaking, listening, reading, writing, and cultural skills. Each Chapter in this book has clear stated learning outcomes, a review of previous chapters, reading/listening sections, study abroad section, relevant grammatical items, and cultural notes. The pedagogical approach in the book is mixed and informed by the socio-cultural approaches and the generative approaches of the Second Language Acquisition theory. The mixed theoretical backgrounds match diverse learning and teaching philosophies and styles. Following the learning outcomes guided by American Council of Teaching Foreign Language (ACTFL), this textbook aims for the novice learners to attain intermediate low to mid-level proficiency level. The textbook incorporates pictures, audio-visual materials, and activities developed on the H5P platform to keep learners engaged.
About the Contributors
Author
Rajiv Ranjan, Michigan State University