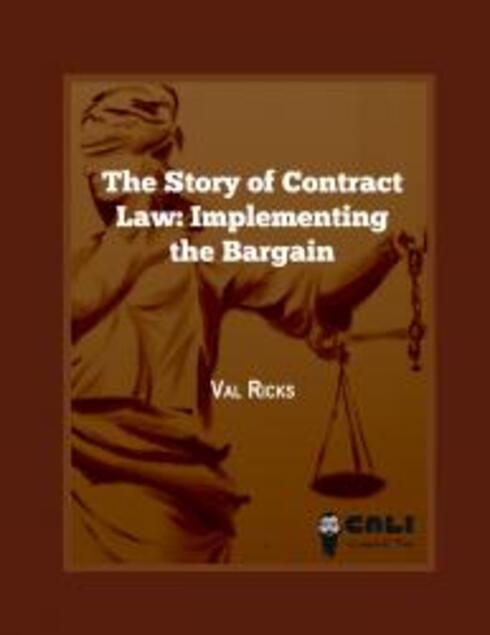 The Story of Contract Law: Implementing the Bargain
No ratings
Val Ricks
Copyright Year: 2017
Publisher: CALI's eLangdell® Press
Language: English
Table of Contents
Chapter I: What Is the Bargain?
Chapter II: Subsequent Events
Chapter III: Remedies
Chapter IV: Third-Party Rights and Obligations
About the Book
This book is a companion volume to Volume I, "The Story of Contract Law: Formation." Volume I introduces students to law study and teaches basic doctrines of contract formation along with formation defenses. This book, Volume II, The Story of Contract Law: Implementing the Bargain, covers the rest of basic contract doctrine, namely, laws that
1) determine the content of the bargain (plain meaning, usage and custom, good faith, mistake in transmission, parol evidence, and express and constructive conditions);
2) govern the effect of events that occur after formation (impracticability, frustration, failure of consideration, and risk of loss);
3) set remedies—rescission, damages, specific performance—available to courts when liability exists; and
4) establish the rights of third parties in contracts by assignment or delegation or as third-party beneficiaries.
This book includes many classic teaching cases and introduces new ones. The book also includes many problems, most based on actual cases. The book takes especial care with the doctrine of concurrent conditions, a common-law rule adopted in the late 1700s that required doctrinal readjustment across all the law governing contract performance and remedies.
This volume also continues several themes from Volume I. Volume II continues to tie rules to contract law's central structural idea, that of fair exchange. Also, to the extent helpful to student understanding, Volume II explains doctrines in part through their chronological development. The book introduces the doctrines in the order best conducive to students' understanding contract law as a regulatory whole; for this volume, it is the order in which the doctrines arise in litigation. Finally, where possible, this volume repeats ideas at helpful points and suggests ties between doctrines so that the structural coherence of contract doctrine becomes easier to understand.
About the Contributors
Author
Val Ricks has taught Contracts since 1996. His scholarship on contract law appears in the Georgetown LJ, Indiana LJ, BYU LR, George Mason LR, Baylor LR, and U. Kan. LR. He claims the original discovery that Isaac Kirksey actually made a bargain with Antillico. Professor Ricks also teaches, and writes about, business associations and other intersections of law and business. Before teaching, he clerked for Judge Charles Wiggins of the 9th Circuit and practiced transactional and appellate law in Salt Lake City. Professor Ricks received a B.A. summa cum laude in Philosophy and a J.D. summa cum laude, both from BYU. He and his bride are the parents of seven beautiful children.