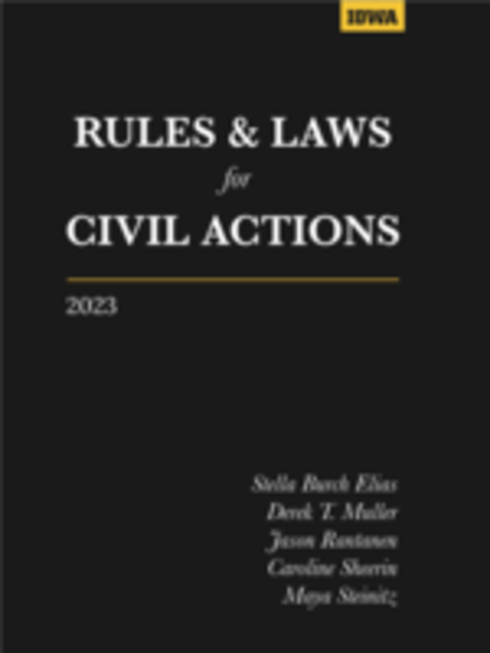 Rules and Laws for Civil Actions - 2023
No ratings
Stella Burch Elias, Johnson County, Iowa
Derek T. Muller, Johnson County, Iowa
Jason Rantanen
Copyright Year: 2022
Publisher: University of Iowa
Language: English
Table of Contents
Introduction
Some notes on reading the rules
United States Constitution
Federal Rules of Civil Procedure
Federal Rules of Evidence
Federal Rules of Appellate Procedure
Title 28 of the United States Code
Title 42 of the United States Code
Selected Iowa State Statutes
Selected Long Arm Statutes
Documents
About the Book
Rules and Laws for Civil Actions is an open-access resource for law students containing the U.S. Constitution, Federal Rules of Civil Procedure, Federal Rules of Evidence, Federal Rules of Appellate Procedure, and selected federal and state statutes. The book was created by a team of faculty members at the University of Iowa College of Law to supplement the study of Civil Procedure, Evidence, Constitutional Law, and other law school courses. In addition to containing the official text, each legal source found in Rules and Laws for Civil Actions is accompanied by an introductory section written by an Iowa Law professor explaining its significance and background.
About the Contributors
Authors
Stella Burch Elias is Professor and Chancellor William Gardiner Hammond Fellow in Law at the University of Iowa College of Law. She teaches civil procedure, international law, immigration law, and comparative law courses, and she directs Iowa's London Law Program. Her research involves public international and comparative law, with a focus on United States and foreign immigration and nationality laws. Before joining the Iowa Law faculty, Professor Elias clerked for Judge Stephen Reinhardt of the United States Court of Appeals for the Ninth Circuit, held a two-year appointment as a Climenko Fellow and Lecturer on Law at Harvard Law School, and served as a diplomat in the United Kingdom Foreign and Commonwealth Office. Since joining the Iowa Law faculty in Fall 2012, Professor Elias has won several awards for her teaching, scholarship, and service to the University, College, and local community, including the University of Iowa's highest teaching honor, the President and Provost Award for Teaching Excellence.
Professor Derek Muller is the Bouma Fellow in Law and Professor of Law at the University of Iowa College of Law, and he is a nationally-recognized scholar in the field of election law. He has published more than two dozen academic works, and his op-eds have appeared in the New York Times, the Los Angeles Times, and the Wall Street Journal. He has testified before Congress, he is a contributor at the Election Law Blog, and he is a co-author on a Federal Courts casebook published by Carolina Academic Press. At Iowa, Professor Muller teaches Election Law, Federal Courts, Civil Procedure, and Evidence.
Jason Rantanen is the David L. Hammer and Willard L. "Sandy" Boyd Professor at the University of Iowa College of Law and Director of the Iowa Innovation, Business & Law Center. He writes in the areas of patent law, federal courts, civil procedure, and empirical legal studies. In addition to his legal scholarship, Professor Rantanen is the creator of the Federal Circuit Dataset Project and Introduction to Intellectual Property: Cases and Questions, an open-access textbook.