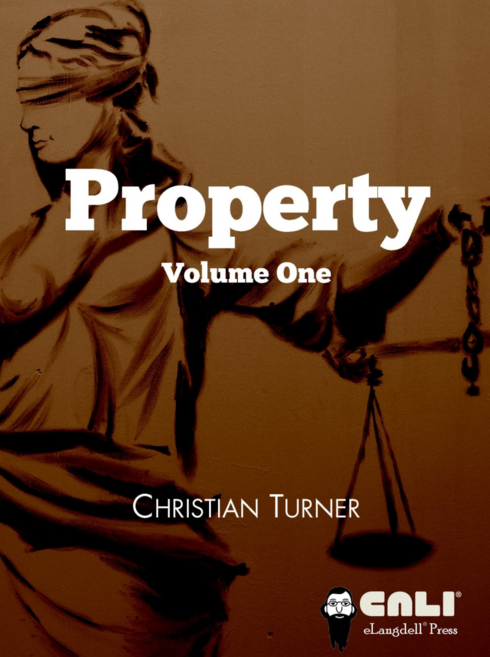 Property Volume 1
No ratings
Christian Turner, University of Georgia Law School
Copyright Year: 2012
Publisher: CALI's eLangdell® Press
Language: English
Table of Contents
1. Introduction
1.1. Finders vs. Landowners
1.2 Trespass
1.3 Nuisance
2. Acquisition by Possession
2.1 Possession Generally
2.2 Common Pool Resources
2.3. Review
3. Acquisition by Creation
3.1. Unfair Competition
3.2. Trademarks and Domain Names
3.3. Patents
3.4 Copyright
3.5. Publicity Rights
4. Transfers
4.1. Gifts
4.2 Real Estate Transactions
4.3. Adverse Possession
About the Book
This is Volume 1 of a two volume set written for Property Law. From the Preface: Property, as a vaguely defined collection of contract, tort, and criminal cases, does not take on the natural structure of a substantive area of the law through the systematic study of duty, breach, causation, defenses, and damages. Instead this textbook and most Property courses survey various topics in law with two goals in mind. First, we will study a number of traditional property topics, those where the issue of "ownership" and what that entails have long been thought to be a central issue. Second, but most importantly, our interdisciplinary study will introduce some of the major analytical techniques in law, from reasoning using precedent to law and economics to distributive justice. As we roam among topics, our goal is always, relentlessly to ask, "Why?" "Why should the law protect this party's interest?" These major techniques that we will pick up along the way will help us provide better and better answers to this question.
About the Contributors
Author
Christian Turner teaches courses in property, land use, legal theory, and the regulation of information. His research interests are in the public/private distinction and institutional analysis. Drawing from his mathematical training, he is interested in both the logic and illogic of the law -- and in understanding seemingly complex and diverse legal principles as consequences of basic, trans-substantive ideas. Prior to joining the faculty at the University of Georgia, Christian was a Visiting Assistant Professor at Fordham Law School, worked at Wiggin and Dana law firm in New Haven, and clerked for Judge Guido Calabresi on the Second Circuit. He is a graduate of Stanford Law School and holds a Ph.D. in mathematics from Texas A&M University.