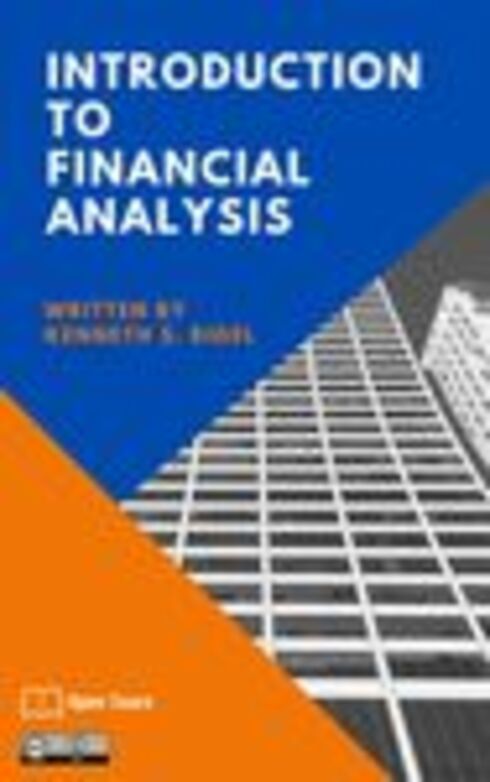 Introduction to Financial Analysis
No ratings
Kenneth S. Bigel, New York City, New York
Copyright Year: 2022
Publisher: Open Touro
Language: English
Table of Contents
About the Author
Author's Acknowledgements
Open Touro Acknowledgements
Preface
Part I: Financial Statements and Ratio Analysis, and Forecasting

Chapter 1: Introduction
Chapter 2: Financial Statement Analysis: The Balance Sheet
Chapter 3:

Financial Statements Analysis: The Income Statement

Chapter 4: Financial Statements and Finance

Part II: Ratio Analysis and Forecasting Modeling

Chapter 5: Financial Ratios and Forecasting; Liquidity and Solvency Ratios

Chapter 6: Profitability and Return Ratios, and Turnover

Chapter 7: Market Ratios

Chapter 8: Cash Flow, Depreciation, and Financial Projections

Chapter 9: Corporate Forecasting Models

Part III: The Time Value of Money

Chapter 10: The Time Value of Money: Simple Present- and Future-Values

Chapter 11: The Time Value of Money: Annuities, Perpetuities, and Mortgages

Part IV: Interest Rates, Valuation, and Return  

Chapter 12: Fixed Income Valuation

Chapter 13:  Interest Rates

Chapter 14: Equity Valuation and Return Measurement
About the Book
This Open Textbook is a dynamic guide incorporating the essential skills needed to build a foundation in Financial Analysis. Students and readers will learn how to insightfully read a Financial Statement, utilize key financial ratios in order to derive forward-looking investment-related inferences from the accounting data, engage in elementary forecasting and modeling, master the theory of the Time Value of Money, and learn to price stocks and bonds in an environment in which interest rates constantly change. Ample problems and solutions, and review questions are provided to the student so that s/he can gauge his/her progress. This text will be continually updated in order to provide novel information and enhance students' experiences. 
About the Contributors
Author
Dr. Bigel was formerly a fixed income analyst in the International Banking Department of the Bankers Trust Company (now DeutscheBank), analyzing international wholesale loans and debt instruments, and a graduate of its Institutional Credit Training Program. He later was affiliated with the Ford Motor Company, conducting investment analysis and planned car profits analysis, annual budgeting, and strategic planning. Subsequently, he worked as a senior portfolio manager attached to the wealth management division of Prudential Securities. He was formerly registered under Series 3, 7, 15, 24, 63, and 65.
As an independent consultant, he was involved in numerous high-profile cases including Enron. Dr. Bigel has conducted executive education programs for Morgan Stanley Capital Markets, Merrill Lynch Capital Markets, UBS, Lehman Brothers, CIBC, G.X. Clarke & Co. (now part of Goldman Sachs), and China CITIC Bank. He currently serves on the Financial Industry Regulatory Association's Board of Arbitrators.
His extensive published research relates to Financial Ethics and Moral Development, Behavioral Finance, and Political Economy. He has been teaching college and graduate level finance courses since 1989.
Dr. Bigel has been interviewed on American radio, was a visiting scholar at Sichuan University and at Xi'an Jiaotong University in China, and appeared on Chinese television. At Touro University, he is a member of the Faculty Senate, The Touro Academy of Leadership and Management, The Assessments Committee, and The Promotions Committee. He chairs the Integrity Committee at LCM.
His wife and their three children reside in New York City. He enjoys reading, playing 60's guitar, seeing his students succeed professionally, and watching his kids grow.
Educational Background:
Ph.D., (high honors) New York University, Steinhardt School of Culture, Education, and Human Development (Business Education and Financial Ethics)
M.B.A., New York University, Stern School of Business (Finance)
B.A. (honors), Brooklyn College of the City University of New York (Philosophy and Mathematics)
CFP™, International Board of Standards and Practices for Certified Financial Planners
Hebrew University of Jerusalem (one-year program)
Dr. Bigel welcomes questions and constructive suggestions. He can be reached at <kbigel@touro.edu>.