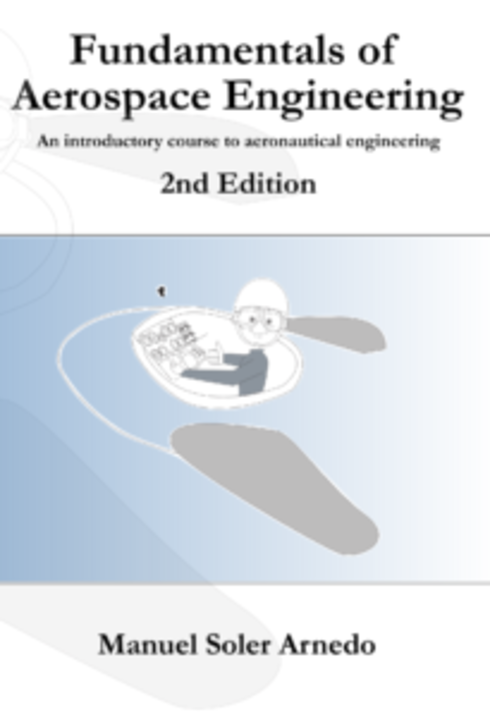 Fundamentals of Aerospace Engineering
No ratings
Manuel Soler Arnedo, Universidad Carlos III de Madrid
Copyright Year: 2014
Last Update: 2017
ISBN 13: 9781974427345
Publisher: Manuel Fernando Soler Arnedo
Language: English
Table of Contents
I Introduction 


1 The Scope
2 Generalities 

II The aircraft


3 Aerodynamics
4 Aircraft structures 
5 Aircraft instruments and systems
6 Aircraft propulsion
7 Mechanics of flight

III Air Transportation, Airports, and Air Navigation


8 Air transportation
9 Airports
10 Air navigation: ATM
11 Air navigation: CNS 
About the Book
Fundamentals of Aerospace Engineering covers an undergraduate, introductory course to aeronautical engineering and aims at combining theory and practice to provide a comprehensive, thorough introduction to the fascinating, yet complex discipline of aerospace engineering. This book is the ulterior result of three year of teaching a course called Aerospace Engineering in the first year of a degree in aerospace engineering (with a minor in air navigation) at the Universidad Rey Juan Carlos, in Madrid, Spain.
About the Contributors
Author
Manuel Soler received a Bachelor's Degree in Aeronautical and Aerospace Engineering (5-Year B.Sc, 07), a Master's degree in Aerospace Science and Technology (M.Sc, 11), both from the Universidad Politécnica de Madrid, and a Doctorate Degree in Aerospace Engineering (Ph.D, 13) from the Universidad Rey Juan Carlos, Madrid. He developed his early professional career in companies of the aeronautical sector. In 2008, he joined the Universidad Rey Juan Carlos, where he was a lecturer in the area of aerospace engineering. Since January 2014, Manuel Soler is Assistant Professor at the Universidad Carlos III de Madrid, where he teaches undergraduate and graduate courses in air navigation, flight mechanics and control, and air transport. He has been a visiting scholar at ETH Zurich, Switzerland, and UC Berkeley, USA. His research interests focus on optimal control, stochastic hybrid systems, and trajectory optimisation with application to flight planning and space mission planning and conflict detection and resolution problems. Dr. Soler has participated in several research projects, e.g., Clear-SKY POTRA, SESEAR WP-E HALA! project, OPTMet Project; SESAR's TBO-Met, and contract with different aerospace companies, e.g., Boeing, CRIDA-En Aire. He has published his work in international journal and conference proceedings, including two books. Dr. Soler was recognized with the SESAR Young Scientist Award 2013 and EnAire's Luis Azcarraga Award in 2016.