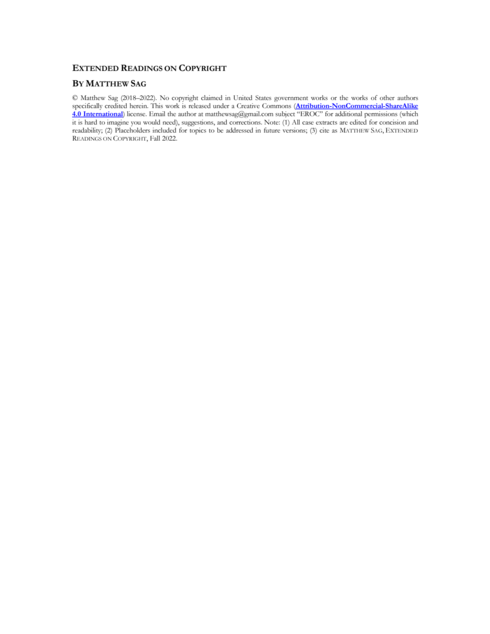 Extended Readings on Copyright - 2022
No ratings
Matthew Sag, Loyola University of Chicago School
Copyright Year: 2019
Publisher: Matthew Sag
Language: English
Table of Contents
1. Introduction to Copyright Law
2. Copyright Subject Matter and Questions of Creativity, Originality, and Intellectual Creation
3. The Exclusion of Facts, Ideas, Functions, and Processes from Copyright Protection
4. The Historical Development of the Concepts of Reproduction, Adaptation, and Fair Use
5. The Reproduction Right
6. An Overview of Copyright Limitations and Exceptions
7. Expressive Fair Use
8. Fair use and non-expressive use
9. Copyright subject matter and the boundaries of the work
10. Ownership, Authorship and Transfer
11. Moral Rights
12. Formalities and Duration
13. Copyright and Industrial Design
14. Copyright in Computer Software
15. Distribution & First Scale
16. Public Performance, Display & Transmission
17. Secondary Liability for Copyright Infringement
18. Internet Safe Harbors From Claims of Copyright Infringement
19. Digital Rights Management and Copyright Management Information
20. Volitional Conduct, Linking and Ancillary Copyright
21. Remedies for Copyright Infringement
22. Procedural Issues in Copyright Litigation
About the Book
Extended Readings on Copyright is subject to a non-commercial Create Commons license that allows you to add, subtract, and amend as you see fit, provided you extend those terms to any derivative work based on these materials and provided your provide appropriate attribution. I encourage you to share your edits and additions with me, but it is not obligatory.Extended Readings on Copyright can be used as a stand alone textbook on United States copyright law. The individual chapters are available on this website, and these can be used to supplement other materials. Individual chapters are likely to be more up to date than the consolidated build of the book.
About the Contributors
Author
Matthew Sag is the Associate Dean for Faculty Research and Development and Georgia Reithal Professor of Law at Loyola University of Chicago School, where he is also the Associate Director for Intellectual Property of the Institute for Consumer Antitrust Studies.
Professor Sag studied economic history, political science and law at the Australian National University where he graduated with honors. He clerked for Justice Paul Finn at the Federal Court of Australia and practiced law in Australia, the United Kingdom and the United States.
Professor Sag is an expert in copyright law and intellectual property. He is currently working on a book on the fair use doctrine and a series of empirical papers using text-mining and machine learning tools to study judicial behavior. His work has been published in leading journals such as Nature, and the law reviews of the University of California Berkeley, Northwestern, Georgetown, Iowa, and Notre Dame, among others. His research on copyright and fair use has been widely cited in academic works, court submissions, judicial opinions and government reports.Professor Sag is the co-founder of ScotusOA.com and he is an Advisory Board Member of the HathiTrust Research Center.