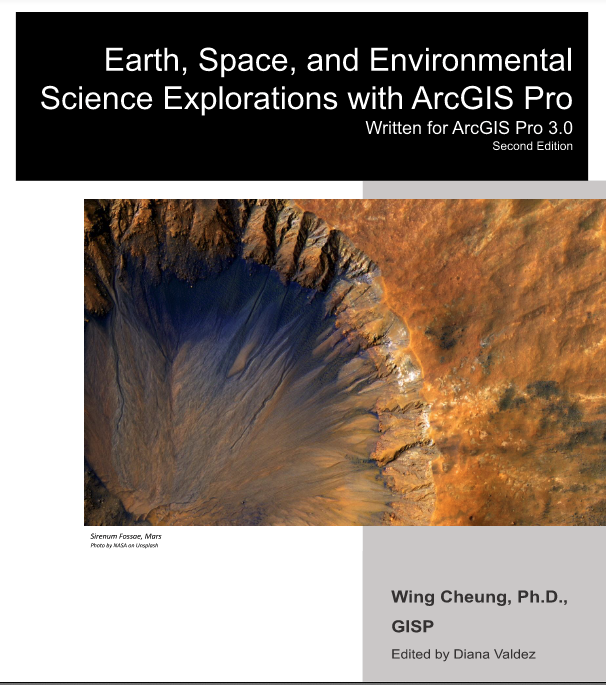 Earth, Space, and Environmental Science Explorations with ArcGIS Pro - Second Edition
No ratings
Wing Cheung, San Marcos, CA
Publisher: Wing Cheung
Language: English
Table of Contents
Chapter 1:

Where are our flood hazard areas? And who is living there?

Chapter 2:

Exploring the characteristics and impacts of historical hurricanes

Chapter 3:

Want to fly a drone? Know B4UFLY!

Chapter 4:

Analyzing wildfire extent and response in California

Chapter 5:

Assessing social vulnerability in areas impacted by Hurricane Florence

Chapter 6:

Analyzing volcanic hazards near Kilauea Volcano, Hawai'i

Chapter 7:

Collecting field data with Collector for ArcGIS

Chapter 8:

Natural hazards on the edge

Chapter 9:

Exploring the world's water resources

Chapter 10:

Visualizing global climate change under different emission scenarios

Chapter 11: Plan your Mars landing
About the Book
When I first started teaching Geographic Information Systems (GIS) over 15 years ago, there were only a handful of GIS tutorial books on the market. While a few of them focused on a particular theme, many of them were mainly technical publications with no unifying theme. These publications are perfect for teaching new users about basic GIS operations and continue to be invaluable to many users today. However, these publications consisted of tutorials focusing on vastly different real-world scenarios, and felt a little disjointed to integrate into a class that focuses on a specific field (e.g. Environmental Science, Geography, Urban Planning). Since then, I am happy to see that there has been a proliferation of publications that are not only focused on introducing the technology, but also provide an introduction to a specific field as well as GIS. 
It is with this consideration in mind that I wrote this book to not only introduce students to the tools in ArcGIS Pro, but also to provide a glimpse into some of the topics that may be covered in an introductory course in Geography, Environmental Science, or related disciplines. I aimed to achieve a balance of technical instruction and information about Earth, Space, and Environmental Sciences, to make this publication helpful for new GIS learners, as well as students who may be interested in learning about the applications of GIS in the Earth, Space, and Environmental Sciences.
Before you begin with the book, please download and unzip the data for the book at https://tinyurl.com/ESESGIS. Each chapter will begin with a list of the technical objectives for the lab exercise, which is particularly useful to refer to should you need a refresher on how to perform a particular task at a later date. The list of technical objectives is followed by a short introduction that provides the context for the exercise. Subsequently, you will find the step-by-step directions for the exercises with questions embedded throughout (in yellow highlight) to ensure that you are on the right track. To obtain a copy of the answer key for the questions, please email me at wcheung@palomar.edu with a copy of your current faculty identification or other forms of professional identification. 
To complete the exercises in this book, you will need access to ArcGIS Pro 3.0 (and ArcGIS Online with credits for some chapters). Please remember to first download the exercise data for the book at https://tinyurl.com/ESESGIS.
I wish you a wonderful time exploring various topics in GIS and Earth, Space, and Environmental Sciences in this book. 
About the Contributors
Author
Wing Cheung, Palomar College