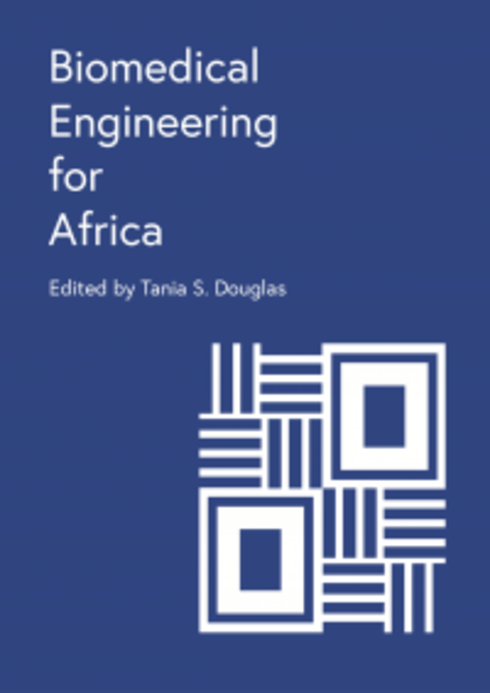 Biomedical Engineering for Africa
No ratings
Tania S Douglas, Cape Town, South Africa
Copyright Year: 2019
Publisher: University of Cape Town Libraries
Language: English
Table of Contents
Preliminary Pages
Chapter 1. Introduction 
Chapter 2.

The Case for Biomedical Engineers in African Hospitals: A Clinician's Point of View

Chapter 3.

Recent Developments in Biomedical Engineering Education in Africa: A Focus on Nigeria and the University of Ibadan

Chapter 4.

Creating a Department of Biomedical Engineering and an Undergraduate Programme – The University of Lagos Experience

Chapter 5.

Biomedical Engineering in Ethiopia

Chapter 6.

Biomedical Engineering and Entrepreneurship

Chapter 7.

Problem Identification and Needs Assessment for Healthcare Technologies

Chapter 8.

Frugal Biodesign: An approach for Developing Appropriate Medical Devices in Low-resource Settings

Chapter 9.

Materials for Medical Devices

Chapter 10.

User-Centred Design in a Health Innovation Course to Address Hearing Loss in the Elderly

Chapter 11.

Implementing a Design Methodology: Concept for a Head Positioning Device for Hospital Beds

Chapter 12.

Medical Device Concept for Burn Wound Exudate Detection

Chapter 13.

Infant Warming Device for Neonatal Surgery in a Low-Resource Settings

Chapter 14.

Needle Disposal Device for Use in Low-Resource Settings

Chapter 15.

An Electronically Controlled Gravity Feed Infusion Set for Intravenous Fluids

Chapter 16.

A Prototype Metabolic Cage for Rats and Mice for Biomedical Research in Nigeria

Chapter 17.

Biomedical Engineering Ethics

Chapter 18.

Intellectual Property Protection and Commercialisation

Chapter 19.

Medical Device Regulation in Africa

Chapter 20.

Healthcare Technology Management

Chapter 21. Healthcare Technology Management in Zimbabwe

Chapter 22. Mobile Health for Africa
About the Book
Health technology innovation in low- and middle-income countries (LMICs), including countries in Africa, falls far short of meeting the healthcare needs of these settings. The result is a heavy reliance on products and technologies imported from industrialised countries that are often not suited to, or sustainable for, LMICs.
Appropriate healthcare products for LMICs are best developed in these countries, where local knowledge and understanding of needs, context and available resources may be incorporated into designs and implementation plans. The objectives for enabling health technology development in LMICs include: 1) expanding the base of expertise through research training programmes with a problem-solving focus; 2) stimulating new knowledge, approaches and solutions by enabling innovation; and 3) integrating research communities within and across institutions to build critical mass.
The field of biomedical engineering is central to health technology innovation. This book is a response to the need for biomedical engineering capacity in Africa. It is grounded in the African context. It serves as a resource for academics and students in biomedical engineering, for those interested in entering the field in any capacity and for practitioners at every stage of product development. University leaders intent on establishing new biomedical engineering programmes or departments, may draw on the content for guidance on structuring their offerings. The book reaches beyond Africa, as it is relevant to other LMIC settings, and provides insights to guide global health initiatives focused on technology innovation.
About the Contributors
Editor
Tania S. Douglas, Division of Biomedical Engineering, University of Cape Town, South Africa