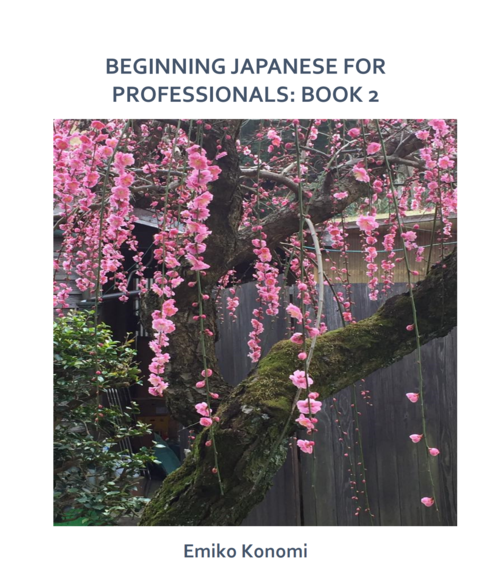 Beginning Japanese for Professionals: Book 2
No ratings
Emiko Konomi, Portland State University
Copyright Year: 2017
ISBN 13: 9781387254149
Publisher: Portland State University Library
Language: English
Table of Contents
Before We Begin
Lesson 5: In the Town
Dialogue 1
5-1-1 Particle De indicating the Location of Activity
5-1-2 Particle Ni indicating the Location of Existence
5-1-3 Irasshaimasu: Honorific Verbs
5-1-4 Ko-so-a-do series #3
Dialogue 2
Dialogue 3
5-3-1 Deshou 'Probably'
5-3-2 Mou and Motto 'More'
5-3-3 More classifiers: ?kai? ?do /?kai
Dialogue 4
5-4-1 More classifiers : ?ko, ?mai, ?satsu
5-4-2 Colors Nouns and Adjectives
Review
Drill Tape Scripts
Lesson 6: Let's Take a Train
Dialogue 1
6-1-1 Location Particles ni and e
6-1-2 ?fun/pun: Naming and Counting Minutes
6-1-3 Time Particle ni
Dialogue 2
6-2-1 Counting Hours
6-2-2 Approximation: ?gurai??hodo?yaku?
6-2-3 Particle de "by means of"
6-2-4 The Starting Point ~kara, The Ending Point ~made
Dialogue 3
6-3-1 Nan-ji goro: Approximation of Naming Time
6-3-2 sugi/ mae: More about telling time
6-3-3 Learning Verbs with Particles
Dialogue 4
Review
Drill Tape Scripts
Lesson 7: Calendar
Dialogue 1
7-1-1 Calendar time: Counting and Naming Dates
7-1-2 Counting Weeks
Dialogue 2
7-2-1 Naming and Counting Months and Years
7-2-2 Counting age: ~sai for people and animals, ~nen for others
7-2-3 Japanese Calendar
7-2-4 Informal Style: Noun Sentence and Adjective Sentence
Dialogue 3
7-3-1 Verb ~te Form
7-3-2 Verb ~te form + motion verbs
7-3-3 Particle To indicating accompaniment 'with'
Dialogue 4
7-4-1 ~te itadakemasen ka: More on Requests
7-4-2 Relative Time Words
7-4-3 Raigetsu kara no sukejuuru: Noun + Particle as a Noun Phrase
Review
Drill Tape Scripts
Lesson 8: Pastime
Dialogue 1
8-1-1 Verb Plain Form, Non-Past, Affirmative
Dialogue 2
8-2-1 Plain Form + n desu
8-2-2 [Purpose X] ni iku 'go to do X'
8-2-3 Plain Form + deshou / darou
Dialogue 3
8-3-1 Comparing Two or More Items
8-3-2 Sentence + shi
Dialogue 4
8-4-1 Non-Past Plain Negative Forms of Verbs
8-4-2 ~te form of desu; X de ii 'X will do'
Review
Drill Tape Scripts
About the Book
This textbook is designed for beginning learners who want to learn basic Japanese for the purpose of living and working in Japan. Unlike textbooks written primarily for students, whose content largely centers on student life, this book focuses more on social and professional life beyond school.
As a beginning level textbook, this book includes many elementary grammar patterns (Japanese Language Proficiency Test Levels 5 and 4), but the vocabulary and situations are selected specifically for working adults. Explanations are kept concise so as to only cover key points. The main focus is on oral communication and the accompanying audio is to be used extensively. This textbook can be used for self-study, as part of an online course, or as a traditional college course.
About the Contributors
Author
Emiko Konomi is an assistant professor of Japanese in the School of Business at Portland State University and currently teaches in the Masters of International Management (MIM). She received a PhD in Linguistics from Cornell University. Emiko has taught all levels of Japanese throughout her career. She also has extensive experience training Japanese language instructors at various teacher-training programs across the country. Known for her passionate teaching style and dedication to quality teaching, Emiko has been honored by universities such as Portland State for her excellent teaching. Her academic research focuses on Japanese linguistics and pedagogy. She has authored several Japanese textbooks and flash card sets, and is currently developing a series of textbooks for professionals. Emiko has trained in various Japanese martial arts and is also a certified yoga instructor.