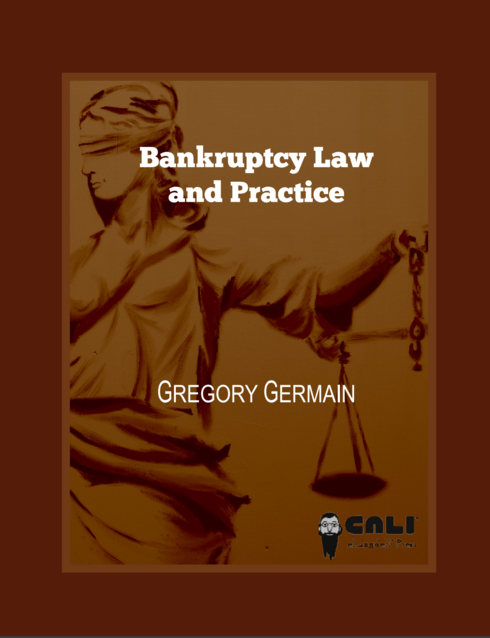 Bankruptcy Law and Practice
No ratings
Gregory Germain, Syracuse University College of Law
Copyright Year: 2016
Publisher: CALI's eLangdell® Press
Language: English
Table of Contents
Chapter 1: A World without Bankruptcy
Chapter 2: Secured Claims
Chapter 3: The Bankruptcy System
Chapter 4: The Bankruptcy Estate
Chapter 5: Exemptions
Chapter 6: The Automatic Stay
Chapter 7: Operating the Estate
Chapter 8: Enhancing the Estate
Chapter 9: Secured Claims in Bankruptcy
Chapter 10: Unsecured Claims in Bankruptcy
Chapter 11: The Discharge
Chapter 12: Wage Earner Reorganizations under Chapter 13
Chapter 13: Business Reorganizations under Chapter 11
About the Book
This is the third edition of Bankruptcy Law and Practice, a Casebook Designed to Train Lawyers for the Practice of Bankruptcy Law. It is designed for a one-semester course in debtor/creditor law and bankruptcy. The book deals with both creditor remedies and debtor protections, starting with state law collection remedies, exemptions, and the important special protections for secured creditors under both Article 9 of the Uniform Commercial Code and state real property recording acts. After a thorough review of state law debt collection practice, the book covers the basics of straight bankruptcy law with a focus on Chapter 7 of the Bankruptcy Code, both for individuals and businesses. Although the book has a practice focus, it covers the major Supreme Court cases, and important appellate cases with an emphasis on areas of uncertainty. The book also emphasizes the Bankruptcy Code itself, using problem sets to get students to work through the language of the Bankruptcy Code.
At the end of the book are two abbreviated chapters on bankruptcy reorganizations for consumers under Chapter 13 and for businesses under Chapter 11. These chapters are intended to outline the reasons that debtors choose to file for reorganization rather than liquidation, and focuses on the rules for confirming a plan.
The primary goal of the book is to prepare students for the practice of bankruptcy law. Students who understand these materials should be well prepared to anticipate and address the kinds of issues that arise in real bankruptcy cases, whether in a small dollar consumer practice or a big dollar corporate reorganization. Students will learn the language of commercial law and bankruptcy, along with the skills to find their way around the Bankruptcy Code.
About the Contributors
Author
Gregory Germain is a professor at Syracuse University College of Law where he teaches courses in Contracts, Commercial Transactions, Corporations, Taxation and of course Bankruptcy Law. He also runs a pro bono bankruptcy program for first year law students, and a bankruptcy clinic for upper division students. The clinic represents indigent individuals in bankruptcy cases.
Professor Germain received his JD Degree Magna Cum Laude from the University of California Hastings College of Law, practiced law for 15 years in Los Angeles and San Francisco, and then obtained his LLM in Tax from the University of Florida. Following tax school, he worked as an attorney advisor for the Honorable Renato Beghe of the United States Tax Court before beginning his teaching career at Syracuse University College of Law.