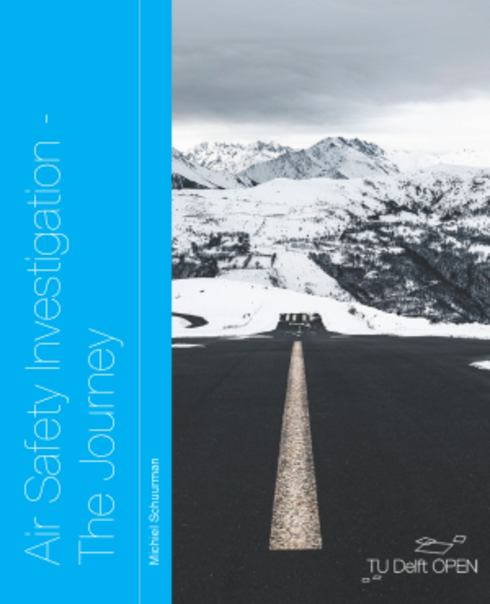 Air Safety Investigation: The Journey
No ratings
Michiel Schuurman, Delft University of Technology (TU Delft)
Copyright Year: 2023
ISBN 13: 9789463666923
Publisher: TU Delft Open
Language: English
Table of Contents
Dedication
Introduction
How to read this book
Chapter 1 What is an Air Safety Investigation?
Chapter 2 Gathering the Facts
Chapter 3 Logic and Hypothesis
Chapter 4 Scrutinizing the Speculation
Chapter 5 What do we Know?
Chapter 6 Can we Learn Anything?
Epilogue
Answers to questions
References
About the Book
"Air Safety Investigation – The Journey" is an introductory book that explores the world of air safety investigation. Unlike a how-to manual for investigating aviation accidents, this book focuses on the essential knowledge and mindset required to conduct a safety investigation. It covers the various phases of an investigation, from gathering facts to formulating safety recommendations, with each chapter addressing a different relevant aspect. With the increasing complexity of investigations, critical thinking, logic, and speculation are essential skills for investigators to possess. This book delves into these topics, offering thought-provoking examples and questions to address the challenges of drawing conclusions and obtaining positive investigative outcomes. Its aim is to help students and readers interested in air safety develop the necessary mindset and knowledge to conduct an investigation. By the end of the book, readers will gain a deeper understanding of the complexities involved in an air safety investigation.
About the Contributors
Author
Michiel Schuurman earned his MSc degree from TU Delft and has been an assistant professor in the Department of Aerospace Structures and Materials at the Faculty of Aerospace Engineering, TU Delft since 2013. Prior to his teaching position, he worked as an air safety investigator for the Dutch Safety Board for over 10 years, during which he conducted numerous air safety investigations both in the Netherlands and abroad. Leveraging his extensive expertise and experience, Schuurman now teaches the MSc course in Forensic Engineering at TU Delft, where he imparts his knowledge to the next generation of aerospace engineers. Through his teaching, Schuurman contributes to the field of aerospace engineering and aviation safety, inspiring and shaping the minds of young engineers.