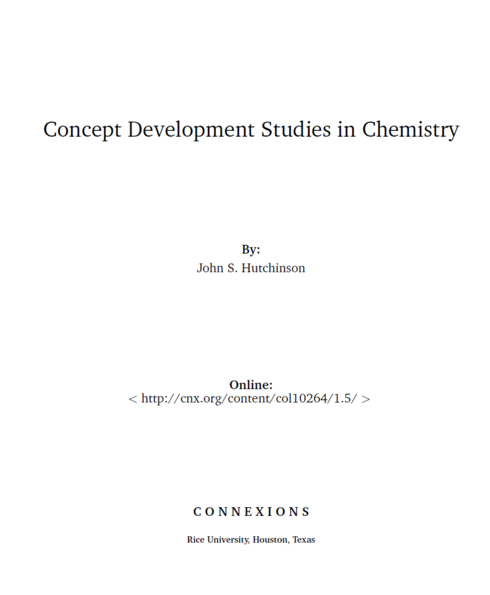 Concept Development Studies in Chemistry
No ratings
John S. Hutchinson, Rice University
Copyright Year: 2013
Publisher: OpenStax CNX
Language: English
Table of Contents
1 Preface to Concept Development Studies in Chemistry
2 The Atomic Molecular Theory
3 Relative Atomic Masses and Empirical Formulae
4 The Structure of an Atom
5 Quantum Energy Levels In Atoms
6 Covalent Bonding and Electron Pair Sharing
7 Molecular Geometry and Electron Domain Theory
8 Molecular Structure and Physical Properties
9 Chemical Bonding and Molecular Energy Levels
10 Energetics of Chemical Reactions
11 The Ideal Gas Law
12 The Kinetic Molecular Theory
13 Phase Equilibrium and Intermolecular Interactions
14 Reaction Equilibrium in the Gas Phase
15 Acid-Base Equilibrium
16 Reaction Rates
17 Equilibrium and the Second Law of Thermodynamics
Index
Attributions
About the Book
This collection of Concept Development Studies in Chemistry is presented to redirect the focus of learning. In each concept development study, a major chemical concept is developed and refined by analysis of experimental observations and careful reasoning. Each study begins with the definition of an initial Foundation of assumed knowledge, followed by a statement of questions which arise from the Foundation. Analysis of these questions is presented as a series of observations and logical deductions, followed by further questions. This detailed process is followed until the conceptual development of a model provides a reasonable answer to the stated questions.
About the Contributors
Author
Dr. John S. Hutchinson is the Dean of Undergraduates and Professor of Chemistry at Rice University.
As dean of undergraduates, he is responsible for overseeing the undergraduate curriculum, especially those aspects related to general education, as well as all non-curricular components of student life including the residential colleges. Dean Hutchinson came to Rice in 1983, after completing his bachelor and doctoral degrees at the University of Texas at Austin and his postdoctoral studies at the University of Colorado, Boulder. His research interests are in Theoretical Chemical Physics and Chemical Education. He has taught General Chemistry at Rice since 1988. He is a six time winner of the George R. Brown Awards for teaching and in 2007 received the George R. Brown Certificate of Highest Merit for Teaching Excellence. He and his wife, Paula, served as Wiess College Masters from 1994 to 2001 and as Brown College Masters from 2003 to 2008.