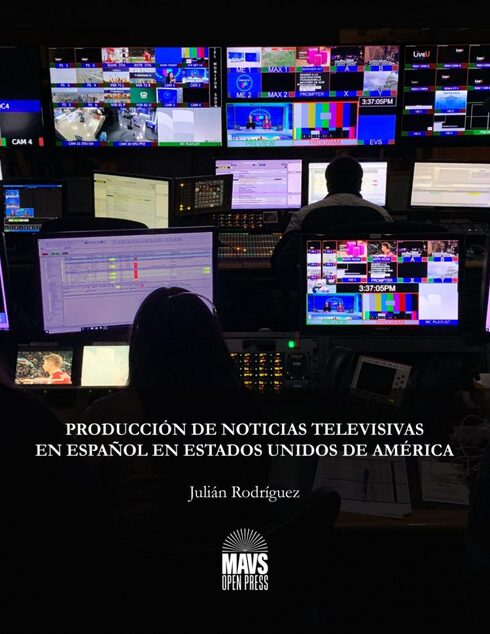 PRODUCCIÓN DE NOTICIAS TELEVISIVAS EN ESPAÑOL EN ESTADOS UNIDOS DE AMÉRICA
No ratings
Julián Rodríguez, Arlington, Texas
ISBN 13: 9781648169854
Publisher: Mavs Open Press
Language: Spanish; Castilian
Table of Contents
About the Publisher
Accessiblility Statement
ACERA DE ESTE PROYECTO
AGRADECIMIENTOS
1. INTRODUCCIÓN
2. LAS NARRATIVAS DE LAS NOTICIAS EN ESPAÑOL EN TELEVISIÓN
3. LAS SALAS DE REDACCIÓN DE TELEVISIÓN
4. LOS MERCADOS DE TELEVISIÓN Y EL AVANCE DE LA CARRERA PROFESIONAL
5. SISTEMAS DE PRODUCCIÓN AUTOMATIZADOS PARA NOTICIEROS TELEVISIVOS
6.  LAS LIMITANTES DE LA LENGUA Y LAS TÉCNICAS DE EDICIÓN
7. CONCLUSIÓN
Accessiblity Rubric
Errata and Versioning History
About the Book
Producción de Noticias Televisivas en Español en Estados Unidos de América es el primer Recurso Educativo Abierto (REA) dedicado exclusivamente al tema. Este REA expone la terminología empleada en las salas de redacción, facilita el entendimiento de la profesión y presenta ejemplos reales que conllevan al mejoramiento de la educación y la producción de noticias televisivas estadounidenses.
About the Contributors
Author
Julián Rodríguez es profesor del Department of Communication de la University of Texas at Arlington (UTA) en Estados Unidos de América. Julián enseña periodismo televisivo con énfasis en los medios de comunicación en español, investiga los medios hispanos estadounidenses y la adopción de tecnologías mediáticas para el desarrollo de sistemas de conciencia. Julián es el director del UTA Hispanic Media Initiative, un programa enfocado en el avance de la educación, el periodismo y la investigación de los medios de habla hispana. Más información en www.utahispanicmedia.com.