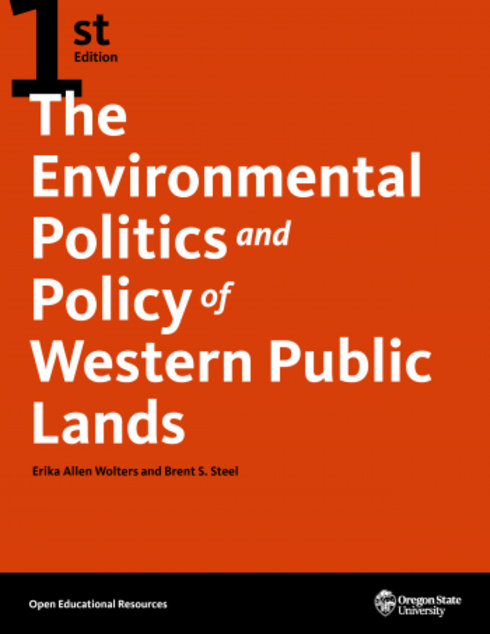 The Environmental Politics and Policy of Western Public Lands
No ratings
Erika Allen Wolters, Oregon State University
Brent S. Steel, Oregon State University
Copyright Year: 2020
ISBN 13: 9780870710223
Publisher: Oregon State University
Language: English
Table of Contents
I. The Changing West


The Old West, the New West, and the Next West?
Western Public Land Law and the Evolving Management Landscape
Rangeland Policy and Management in a Changing West

II. Forest, Wildfire, and Water


Professionalism versus Politics
Wildland Fire Policy and Climate Change
The Changing Fate of Western Rivers

III. Wilderness and Wildlife


Wild Places and Irreplaceable Resources
National Parks
Introduction to Wildlife Management on Public Lands
Endangered Species, Wildlife Corridors, and Climate Change in the US West

IV. Development, Sovereignty, and Conflict in the West


Renewable Energy Development in the American West
Regulating Oil and Gas on Federal Lands under Presidents Bush, Obama, and Trump
Mining on Federal Land
Implications of Tribal Sovereignty, Federal Trust Responsibility, and Congressional Plenary Authority for Native American Lands Management
Western Rebellion

Conclusion
About the Book
In this volume, Erika Allen Wolters and Brent Steel have brought together the experts who can explain the evolution of public lands policies and politics in all their complexities. While their subject is complex, their prose is clear, and while their subject is torn by some of the most viciously self-interested, deceitful arguments in politics today, their prose is calm, factual, and evenhanded. No one should underestimate what a rare and valuable gift this is.
About the Contributors
Editors
Erika Allen Wolters is an assistant professor in the School of Public Policy at Oregon State University. She is the former director of Oregon State University's Policy Analysis Laboratory. Her research and teaching interests include science and policy, environmental politics and policy, and the politics of climate change. She is coauthor of When Ideology Trumps Science: Why We Question the Experts on Everything from Climate Change to Vaccinations.
Brent S. Steel is a professor and director of the Public Policy Graduate Program in the School of Public Policy at Oregon State University. He teaches courses in comparative public policy, politics, and administration. Steel is coeditor of New Strategies for Wicked Problems: Science and Solutions in the 21st Century and editor of Science and Politics: An A-to-Z Guide to Issues and Controversies.